Catt Center director Dianne Bystrom and alumna Maggie Luttrell Roby are being honored by the Iowa State Alumni Association in spring 2015.
Bystrom is one of six selected to receive the 2015 Faculty/Staff Inspiration Award. This award recognizes current or former ISU faculty or staff members who had a significant influence in students' lives at ISU. Bystrom has been director of the Catt Center since 1996. She has taught courses on leadership, women and politics, and political campaigns and established Iowa State's interdisciplinary leadership studies program. Bystrom is a highly sought-after commentator on women's and political issues for state, national and international media and is a co-author, co-editor or contributor for 19 books and other publications.
Brooke Prestegard, a 2003 Iowa State graduate and Catt Center alumna, nominated Bystrom for the award. "Dr. Bystrom has always displayed a high degree of integrity, and her leadership is nothing short of inspiring," she noted. "Through persuasion and personal connections, she has the ability to make others see her vision and feel personally invested in the accomplishments of the Center as well as the political arena."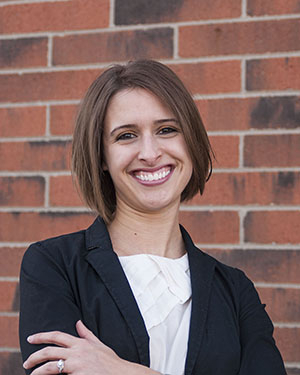 Roby, a former Helen Jensen Howe and Jane Greimann Legacy of Heroines scholar at the Catt Center, is one of 14 recipients of the 2015 STATEment Makers Award. She earned a Bachelor of Science in history and women's studies and certificate in community leadership and public service in 2009 and a Master of Education in 2011 from Iowa State. The STATEment Makers Award recognizes the accomplishments and contributions of ISU's young alumni who have made differences in their own lives, the lives of others, their communities and/or their professions. Roby was nominated for the award by Bystrom, whom she states is one of her role models.
As a child of deaf adults, Roby grew up as a volunteer sign language interpreter and advocate for the deaf community. She continues these activities in the Kansas City area today. She is currently employed as an account manager for Target Corp.'s Sunflower group. In 2013-2014, while Roby was employed with Target as an executive team leader and community captain, her store in Overland Park, Kansas, more than doubled its volunteer service goals and ranked among the top 25 percent of Target stores nationally. She is up for election this month to her Homeowners Association Board and has been nominated to serve on a Johnson County Sanitation Committee starting in July.
A reception and award ceremony will take place on May 29 at the Alumni Center to honor the Faculty/Staff Inspiration Award recipients. In addition to Bystrom, other faculty and staff receiving the award are: Michael Gaul, director of career services for the College of Agriculture and Life Sciences; Patrick Gouran (posthumous), who taught theatre for 35 years at Iowa State; James Noxon, professor of veterinary clinical sciences; Jane Peterson, professor in the Greenlee School of Journalism and Communication; and Ann Thompson university professor in the College of Human Sciences.
Published: May 11, 2015