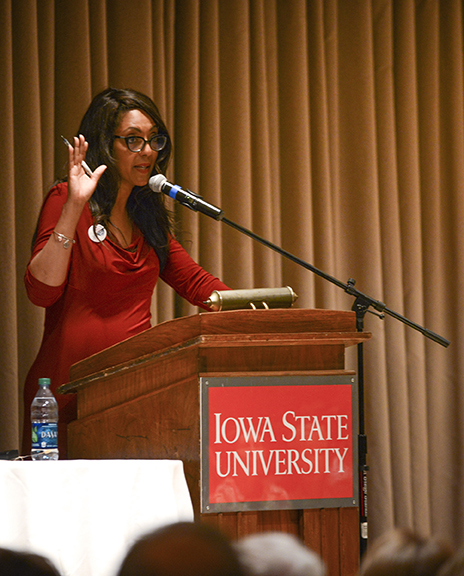 Attorney, author and political analyst Michelle Bernard was the 27th woman to join the elite group of speakers visiting Iowa State University
through the sponsorship of the Mary Louise Smith Chair in Women and Politics.
"I am here tonight to tell you that American women are changing politics," Bernard told a crowd of about 400 in the Sun Room of the Memorial Union on March
31.
Bernard – the founding president and CEO of the Bernard Center for Women, Politics and Public Policy – emphasized the role of voters in elections and how
they should be clear about who they want in office through casting their ballots.
"It is of the utmost importance that we have more women politicians," she said, on both sides of the aisle. Women on both ends of the political spectrum
change the narrative, the script and terminology like the phrase "women's issues," Bernard said.
The role Iowa plays in presidential elections also was explored in Bernard's lecture.
"Iowa could give us the first female president in the history of the United States," she said, adding that the state shows which candidates can go the
distance because of the caucuses and organizational demands placed on campaigns. "Iowans say 'you have to come to us prepared.'"
Former U.S. Secretary of State Hillary Clinton, who had not yet announced her candidacy for the 2016 Democratic nomination for president at the time of the
lecture, was also a major discussion point.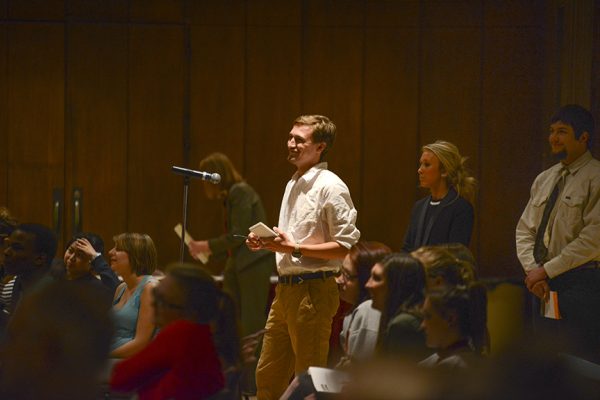 "She is considered by many to be the Democratic frontrunner. It is crystal clear she is ready; it is crystal clear she is running," Bernard predicted.
She said some people claim the United States is not ready for a woman president.
"When Hillary Clinton is not in the media, her polling numbers are sky high," Bernard said, adding that women are often "destroyed" by traditional and
social media.
"If you're going to come for us, come for us on our issues," she said on behalf of women candidates, rather than attacking them on dress, families, etc.
"We are moving forward and not looking back," Bernard said. "We do have a record number of women in Congress. We are probably very, very close to seeing
our first woman president in the United States."
Following the lecture, Bernard addressed questions from the audience. Her visit to Iowa State was sponsored by the Carrie Chapman Catt Center for Women and
Politics, the Office of the Senior Vice President and Provost, and the Committee on Lectures. Bernard was introduced by Krista Klocke, a Catt Center Legacy
of Heroines scholar and senior in speech communication and communication studies with a minor in psychology and certificate in leadership studies.
Published: May 11, 2015