By Clare Vilmont, Catt Center public relations intern
On Nov. 3, a number of notable Iowa State alumni were recognized at the Iowa State University Alumni Association Honors and Awards ceremony at Stephens Auditorium, including a long-time Catt Center friend and donor and two co-recipients of an award named for Carrie Chapman Catt.
Kay Kretschmar Runge received a 2023 Alumni Medal. This award was established by the Alumni Association in 1948 to recognize ISU alumni for long loyal service to the university through alumni-related activities, and is the premier award given to alumni by the Alumni Association.
Jennifer Jacobs and Paxton Williams are co-recipients of the 2023 Carrie Chapman Catt Public Engagement Award. This award, one of the highest awards bestowed by the College of Liberal Arts and Sciences, recognizes an alumnus or friend of the college who has demonstrated exemplary performance at the local, state, national or international level.
Kay Kretschmar Runge "checks every volunteer box when it comes to service to Iowa State University," according to ISU Alumni Association president and CEO Jeff Johnson, who nominated Runge for her award.
Runge earned her undergraduate degree in history from Iowa State in 1969. Although she went on to get her master's degree in library science from the University of Iowa, "Kay is unmistakably a Cyclone at the core," Johnson said.
Runge recalls her favorite Iowa State memory as the four years she spent working on Stars Over VEISHEA, a student-run production, on such shows as "My Fair Lady," "West Side Story," "Camelot," "Oklahoma" and "Oliver." Runge was highly involved on campus in many ways, participating in band, student government, Alpha Delta Pi sorority, and more. Her involvement as a student is one of the reasons Runge says she has such a strong relationship with Iowa State now as an alumna.
Runge has kept the Cyclone spirit with her after graduation, connecting with alumni in the Quad Cities area through local game-watch events and ISUAA special events, such as the former Quad Cities Cardinal & Gold Gala and the more recent Bells of Iowa State event.
Her favorite activity to be involved with as an alumna is her assignment to the Carillon Foundation. She is still working on her "love of the carillon" in her soon-to-be-published book, "The Bells of Iowa State: An Enduring Love Story," with the Campanile Board.
She added that her other favorite alumni activity was turning the Old Botany building into a home for LAS administrative offices and the Carrie Chapman Catt Center, along with the development of the Plaza of Heroines outside that building.
Runge has been a public library director for over 40 years, building a new library and additions, such as the Central Library for the Des Moines Public Library. In her retirement she works as a library building consultant with KK Runge Associates.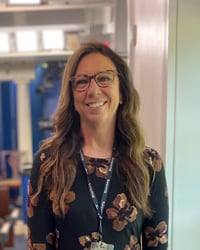 Jennifer Jacobs, a 1993 graduate in English, was nominated for the Carrie Chapman Catt Engagement Award because of her "exceptional talent, character and commitment to journalistic integrity," one of her nominators states.
Jacobs cited her professors at Iowa State for shaping her career, saying, "Dick Haws, Giles Fowler and Jeff Stein showed us how to listen carefully and get the straight facts; Fern Kupfer and Jane Smiley how to write; and Steffen Schmidt how politics is often laugh out loud funny." She said that Iowa State also gave her a "lifelong tribe" with whom she even joined in a RAGBRAI team called "Butt Ice."
Following graduation, Jacobs was a reporter at the Waterloo-Cedar Falls Courier for five years, writing about college gambling rings, the Sons of Silence M and other stories about life in northeast Iowa. From Waterloo, she went on to report in Syracuse, New York, for five more years until she returned to Iowa as a reporter for The Des Moines Register, working her way up to chief politics reporter. In this role, she covered the historic caucus years of 2008 and 2012.
In 2016, Jacobs received a call from Bloomberg News, offering her a job as a national politics reporter in Washington, D.C. She accepted the offer and moved. Not even a year later, she was appointed to be a White House reporter, a position she still holds today, providing coverage of federal, economic and foreign policy.
Jacobs said she was drawn to the position because it gave her the chance to "work at the White House with some of the best journalists in the world, who bang out news in mere seconds, ferret out uncomfortable truths and remind the people in power what it means to live in a democracy."
She says her favorite part of the job is witnessing history up close, including unexpected moments like when President Biden came to visit reporters in the press cabin on Air Force One on his flight back from Israel — for only the second time during his presidency. She is most proud of maintaining her objectivity and neutrality throughout her career, even during some of the most contentious periods in U.S. politics.
Throughout her career, Jacobs has shown a strong commitment to public engagement, often appearing as a guest on Iowa and other national news programs and giving speeches at ISU and conferences to inform others and motivate the public to engage in the political process.
Jacobs was nominated for her award by Kent Lucken, a 1986 graduate in political science and a managing director at Citi Private Bank in Boston, Massachusetts, and David Kochel, a 1992 graduate in political science and president of Redwave Communications in Des Moines.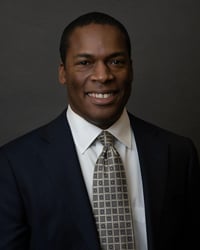 "Paxton Williams' record of public engagement is well-deserving of this honor," said his nominator Alex Tuckness, chair of the Department of Political Science, who cited William's work promoting the legacy of ISU alumnus and renowned scientist George Washington Carver as one of the examples of his impact.
Williams graduated from Iowa State University in 2000 with a degree in political science and communications studies. Williams says he had a number of great mentors at Iowa State, naming Sande and Margo McNabb, Liz Beck, Anne Beddingfield, and Jane Cox as people who encouraged his interest in Carver and in continuing his education.
Following graduation from Iowa State, Williams earned master's degrees in public policy from the University of Michigan and in health care management and policy from the University of Birmingham in England, and then a law degree from the University of Chicago Law School.
Williams spent five years (2005-2010) promoting George Washington Carver, researching and writing a one-man play and performing that play across 24 states and in England. Williams said that he found that his audiences have all been struck by the universal appeal of Washington's story. On Iowa's inaugural George Washington Carver Day on Feb. 1, 2023, ISU president Wendy Wintersteen recognized Williams for his role in promoting Carver and helping to make that day possible.
Williams is also highly active in the state of Iowa within his profession as an attorney. He served as an assistant state attorney general from 2014-2022 for income and tax cases. In 2020, Williams became president of the Iowa National Bar Association, the largest association of African American attorneys, judges and lawyers in the state of Iowa. In 2021, he was elected chair of the Board of Directors of the Federation of State Humanities Council.
Williams has been an attorney at Belin McCormick law firm in Des Moines since 2022. He likes being attorney because, as he says, he gets to help others "in some of the most trying, exciting, or impactful times in their life."
Tuckness said, "Williams has leveraged his impressive educational résumé, which includes degrees from Michigan, Birmingham (UK), and the University of Chicago, into an important role in public service."
Published: November 9, 2023