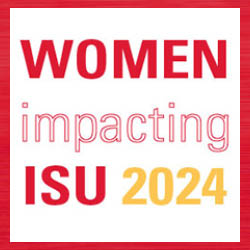 Twelve women whose leadership has made a difference at Iowa State University will be honored on the 2024 Women Impacting ISU calendar.
The 2024 calendar will be officially unveiled during a reception recognizing the honorees on Wednesday, Jan. 17, 2024, from 3:30 to 5 p.m. in the Sun Room of the Memorial Union. The program will begin at 4 p.m. and will be livestreamed at https://go.iastate.edu/NU0PEI. After the program, copies of the calendar will be distributed for free. The event is free and open to the public.
Students selected for the 2024 calendar are: Mia Kawamitsu, a senior in journalism and mass communication and international studies, and Alycia West, a Ph.D. candidate in higher education.
Faculty selected are: Erica Beirman, teaching professor and culinary food science coordinator in the Department of Food Science and Human Nutrition; Sara Marcketti, assistant provost, executive director for the Center for Excellence in Learning and Teaching (CELT), and Morrill Professor in the Department of Apparel, Events, and Hospitality Management; Sara Nelson, director of the NASA Iowa Space Grant Consortium; Beate Schmittmann, dean of the College of Liberal Arts and Sciences; and Jodi Sterle, Harman Endowed Professor in Teaching and Learning and associate department chair for teaching in the Department of Animal Science.
Staff chosen for the calendar are: Lisa Lund, manager of information technology support for the College of Veterinary Medicine; Karen Rodekamp, director of ISU Dining; Emily Wilcox, assistant director for First-Year Programs in the University Honors Program; Cyndi Wiley, digital accessibility lead for Information Technology Services and assistant teaching professor for the Department of Graphic Design; and Svitlana Zbarska, campus-wide undergraduate research program coordinator.
Each year, a committee of students, faculty and staff – including past calendar honorees – evaluates the nomination packets to select the final honorees. This year's selection committee included three faculty members, two students, one post-doctoral researcher, and eleven professional and scientific staff members.
Forty-two women were nominated for the 2024 Women Impacting ISU calendar, including four students, two merit staff members, 18 professional and scientific staff members, and 18 faculty members.
"The decision-making process was particularly challenging this year, as we were fortunate to have a multitude of exceptional candidates," said committee member Anastasiia Prydius, a graduate student in information systems and business analytics.
The committee chose the 12 honorees based on their impacts in service, teaching, research, administration, scholarship and involvement in campus activities, depending on each nominee's role on campus.
"Wow, wow, wow, this was hard," said committee member Jayna Grauerholz, a government contracting specialist at CIRAS. "These individuals are all amazing and accomplished. I want them ALL to be selected."
The Catt Center sponsors the calendar with funding provided by the Office of the Vice President for Diversity, Equity and Inclusion.
"Thank you to the selection committee for their time and hard work in reviewing the nominations," said Sue Cloud, communications specialist at the Catt Center. "The Catt Center is grateful to be able to coordinate such a wonderful project that recognizes the positive impact of Iowa State women on this campus and beyond."
Copies of the calendar will be available after January 17 at various campus locations, including the Catt Center, Sloss House, Beardshear Hall and the Memorial Union. If you would like calendars for distribution at your campus office, email the Catt Center at cattcntr@iastate.edu.
Visit the Catt Center's website to see previous calendars and a list of past honorees.
Published: November 9, 2023