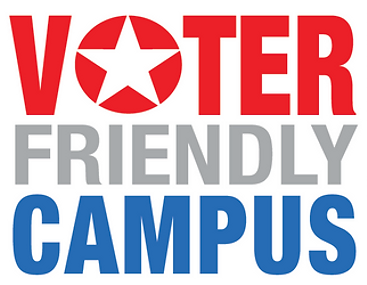 Iowa State University has again been named a Voter Friendly Campus, one of 258 campuses in 38 states and the District of Columbia, by Fair Elections Center's Campus Vote Project and NASPA – Student Affairs Administrators in Higher Education. The initiative recognizes institutions that have planned and implemented practices that encourage their students to register and vote in the 2022 elections and in coming years.
The mission of the 2023 Voter Friendly Campus designation is to bolster colleges and universities' efforts to help students overcome barriers to participating in the political process—every year, not just during years featuring federal elections. Iowa State was evaluated based on a written plan for how it planned to register, educate, and turn out student voters in 2022; how it facilitated voter engagement efforts on our campus; and a final analysis of its efforts.
"This recognition is a product of the hard work of the center and its #CyclonesVote students, who are building a civic culture at ISU," said Karen M. Kedrowski, director of the Carrie Chapman Catt Center for Women and Politics at Iowa State and the university's campus leader for student voter engagement.
In addition, Demarquis Heard, a senior in political science and a voting engagement intern with the Catt Center, was recently recognized on the 2023 ALL IN Student Voting Honor Roll, which awards college students doing outstanding work to advance nonpartisan democratic engagement at participating campuses. Members of the honor roll are recognized for their voter registration, education and turnout efforts ahead of the 2022 midterm elections.
Iowa State's student voter engagement efforts have earned national recognitions since 2016. Overall voter turnout was recognized by the ALL IN Campus Democracy challenge with a Bronze Seal in 2016 and Gold Seals in 2018 and 2020. ISU received accolades for having the greatest increase in student voter turnout in the Iowa Voting Challenge in 2018 and for having the best Action Plan in 2020 for the Big XII Votes challenge. Iowa State also earned the Voter Friendly Campus designation for 2021-2022 and was recognized by Washington Monthly for its commitment to student voter engagement. In 2022, Kedrowski was honored by the Andrew Goodman Foundation with its Hidden Heroes 2022 Campus Champion of the Year Award and the university earned the 2022 Highly Established Action Plan and Most Engaged Campus seals from the ALL IN Campus Democracy Challenge.
Published: May 8, 2023