On April 14, undergraduate research interns with the Carrie Chapman Catt Center for Women and Politics gave a presentation at the National Conference of Undergraduate Research at the University of Wisconsin-Eau Claire on the findings from the center's multi-year undergraduate research project.
The presentation, titled "'That's Like the Inherent Sexism That We All Deal With': Women's Experiences Running for Office," was put together by Kathryn Burns, a senior in political science and Spanish; Mariana Gonzalez, a senior in political science and public relations; and Ashleigh O'Brien, a senior in women's and gender studies. Burns and Gonzalez presented at the conference, and then all three students gave the presentation at the Ready to Run® Iowa workshop in Ames on April 21.
The project began in January 2020, when the Catt Center was one of a handful of programs on campus to pilot a vertically integrated project in which undergraduate students from several disciplines and over several years would conduct research under the supervision of a faculty member. Kelly Winfrey, then the center's research and outreach coordinator and an assistant professor in the Greenlee School of Journalism and Communication, and Carrie Ann Johnson, then a graduate assistant with the center, led the project. Since then, 10 students have participated.
"People would graduate and then it was so fun to have new people come in, because every single time somebody new came in, they came in with new personal experiences, new ideas of what it looks like to be a woman in politics," said Burns, who was in the original group of researchers.
Winfrey and Johnson began by having the students examine the existing research and do a content analysis of political ads. The team then created a survey with questions about candidate experiences and sent the survey to everyone in Iowa who ran for office in 2020. From the responses, the students identified themes such as sexism, encouragement to run, qualifications and imposter syndrome. They formulated follow-up questions and interviewed seven women. This year, Burns, O'Brien and Gonzalez coded the responses from those interviews and analyzed the results.
Burns' analysis focused on the themes of motivation and encouragement. "The most fascinating thing to me was when they had a woman in politics encourage them to run and then become a mentor during the campaign, because that is something that is so important," she said. "When you have a woman in politics willing to recruit other women, that's where you're more likely to grow."
Gonzalez, who joined the research team in January, focused on imposter syndrome—a feeling self-doubt or anxiety because of an inability to believe that one's success is deserved or has been legitimately achieved—and found a high incidence of this among the respondents.
"A lot of times women fall into the idea that they have to do it all, which is a version of imposter syndrome," she said. "Respondents would answer with things like 'I didn't know how to ask for help, because I thought that all the responsibility should be on me.'" Gonzalez said candidates sometimes did not recognize that being a candidate, even if running unopposed, is an accomplishment in itself and so they would downplay it.
The students see several areas in which further research would be informative.
Gonzalez would like to see more research into remedies for the barriers to running that the research identified. "I would also add that there has never been a Latina representative in the Iowa legislature," she said. "So maybe I would go into BIPOC women and try to understand their specific struggles in running for office."
Burns would also like to do more interviews. "It would be interesting to hear more about the experiences of Republican women, since Republican women in Iowa are currently running and winning at higher percentages than Democratic women, Democratic men or Republican men," she said. She would also like to delve more into candidates from under-represented groups, such as the LGBTQ+ and BIPOC communities.
"We as a society need to understand what is causing women to hold back from running for office and being the leaders that we know that they are," Gonzalez said. "This research is another step in the right direction of trying to break down those barriers, by listening to women and learning from their experiences."
Last fall, the team decided to present their findings at the undergraduate research conference after Burns received information about the conference from Svitlana Zbarska, the campus-wide undergraduate research program coordinator at Iowa State. The students received funding from several campus units, including the Women's and Gender Studies Program, LAS Student Services, the Division of Student Affairs and the Catt Center.
"They were literally the only reason why we could pay to attend the conference, so shout out to everyone who funded undergraduate researchers to be able to present at the conference," said Gonzalez.
At the conference, Burns and Gonzalez were paired in a session with a student from another university who also studied politics. After both presentations, there was time for a roundtable discussion with the audience.
"It turned into a super interesting conversation with people asking questions about like, what is the root of sexism, how this is happening?" said Burns. "It was really interesting hearing other students interact with our research. It got to the point where Mariana asked the men in the room what their experiences were uplifting women or if they just sit back."
"I wanted to throw the question back at the men in the room because I wanted to see if they felt like them not addressing sexism up front was helping or hurting progress for women," Gonzalez said. "I think it is important to have those conversations, and I'm glad that we had the opportunity to be able to speak with people we probably wouldn't normally have been able to share a room with."
She added, "Also, a super cool thing happened to us. When we were packing up to leave, one of the audience members, a student from Towson University that is the director of submissions for the journal they have at Towson, asked us if we were interested in publishing our research."
Burns said, "We gave her a Catt Center business card and she's going to email us, so shout out to Ashley [Montgomery, the center's administrative assistant, who made the cards for the students]. So that's awesome."
At the conference, Burns and Gonzalez also attended a poster presentation where another Iowa State student presented her research, as well as talked with other Iowa State students about their presentations.
On April 21, Burns, Gonzalez and O'Brien presented the findings of the research at the Ready to Run Iowa workshop held at Iowa State University's Reiman Gardens, taking a number of follow-up questions from the workshop attendees.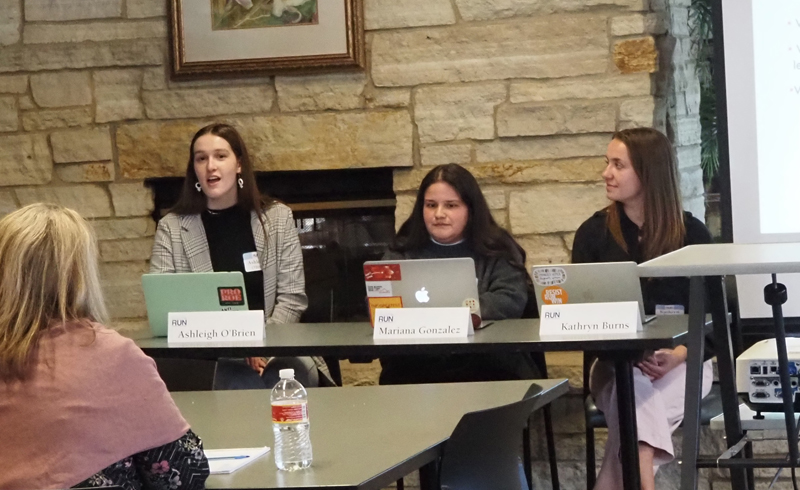 Reflecting on their experience in the project, the students shared what they had learned.
Burns said that the project was an important factor in her decision to major in political science and opened up the possibility of what a career in politics could look like. The mentorship she and the other students received from Winfrey and Johnson was also an important part of the experience. "Building that relationship with Carrie Ann and Kelly was so awesome for me," said Burns.
"I truly learned so much in the process of conducting this research—skills that I will take with me into my graduate degree in the fall," O'Brien said. She added that she also learned about delegating work and working off of one another as a team. "Being in this setting, surrounded by intelligent, highly achieving women who are constantly lifting one another up and caring for one another is what I want to do for the rest of my life."
Gonzalez said that the research showed her a lot about what it takes to run for and serve in office—something that she sees for her future. She also said that the supportive and collaborative atmosphere of the team was a key factor in its success, saying, "I think the biggest thing that I learned is that surrounding yourself with the right people will create the outcome that you are hoping for."
The students credit Johnson for her role in creating a successful research team.
Gonzalez said, "Carrie Ann helped us so much with our research and analysis and getting our data ready to present. She has been extremely instrumental in this research."
O'Brien also cites Johnson's mentoring skills. "The way that she knows how to uplift individuals and bring out the best in them is absolutely remarkable," she said.
"Working with these undergraduates, who are able to work on graduate-level ideas and who are passionate about the success of each other and women in general has been such a joy in my life," said Johnson, currently the center's interim research and outreach coordinator. "They give me faith in humanity and a hope for better things to come."
Following graduation, all three women would like a career in politics. Burns would like to work on a political campaign as well as continue doing research in politics. Gonzalez is looking for a position in public relations, public affairs or political communications, and also sees holding political office as goal. O'Brien will be attending the George Washington University to earn a dual master's degree in women, gender and sexuality studies and public policy.
Published: May 8, 2023