The 2023 Ready to Run® Iowa six-part workshop series opened on Feb. 24 with two virtual workshops that focused on the importance of getting involved in Iowa politics—in both elected and appointed office—and the steps to take when deciding to run for elective office.
"It was amazing to be with people who are so committed to serving their communities," said Carrie Ann Johnson, interim coordinator of research and outreach for the Catt Center and organizer of the Ready to Run Iowa workshops. "The presenters shared helpful wisdom and information, and participants were fully involved with great questions and ideas."
Kelly Winfrey, interim director of Iowa State's Women's and Gender Studies Program and associate professor in journalism, opened the morning workshop with a discussion of the importance of women's involvement in politics and the current status of women's representation in Iowa politics.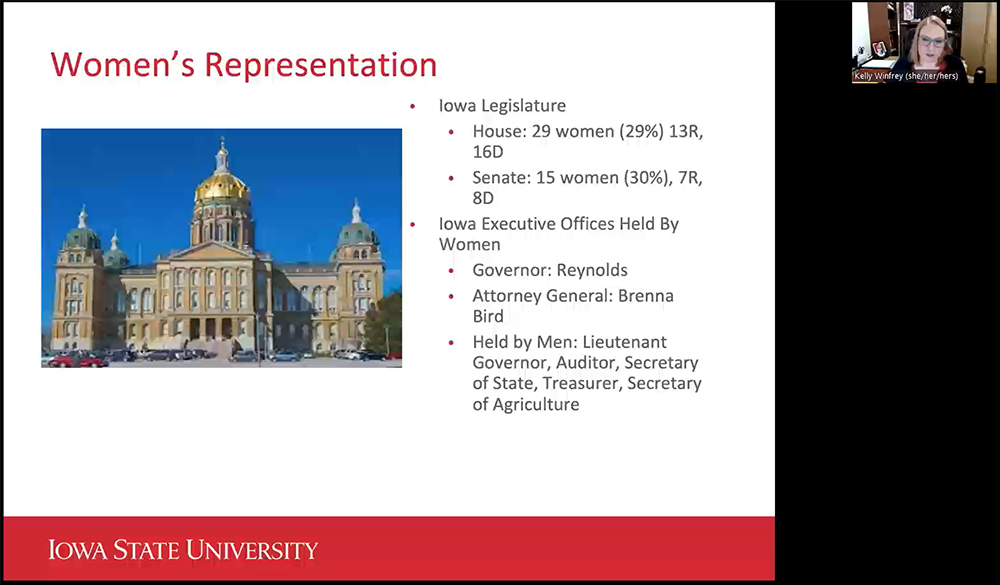 Winfrey shared data from research done by the Catt Center for the Gender Balance Project and the Women in Iowa Politics Database, which showed that while there has been improvement in women's representation in Iowa over the years in both elected and appointed office, there is still room for improvement in many areas.
Looking at women's representation in the Iowa legislature, Winfrey said, "Thirty percent—given that that's where the U.S. Congress is—doesn't sound too bad, but we need to remember that women make up half or a little more of the population, so we still have a long way to go."
Kimberly Baxter, advocacy chief for the Community Advocacy and Services Division of the Iowa Department of Human Rights, then discussed different ways that one can be civically involved, depending on their interests and availability. In her presentation, Baxter highlighted the Iowa Talent Bank, an online resource that helps pair people seeking a position on a board or commission with state, county and city governments looking for people wanting to serve, as well as facilitating mentor/mentee relationships between Iowans.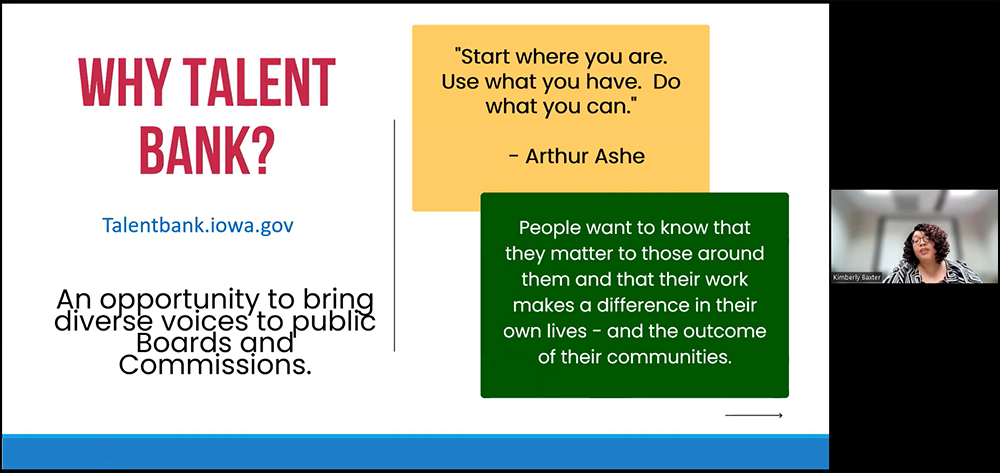 "I'm so excited to talk about [the Iowa Talent Bank] because it's one of the premier programs I manage here in the Department of Human Rights," said Baxter. "I'm happy to report that we've been able to automate the process [of applying to boards and commissions], making it much easier and making it much more transparent. It also gives an opportunity to bring diverse voices to public boards and commissions."
The morning workshop closed with a session lead by Danielle Brazant, a business professional and civic volunteer who reiterated the importance of women's representation and political participation. She shared her story and provided encouragement and advice to women interested in becoming more civically involved.

Blake Hanson, an attorney at Bradshaw, Fowler, Proctor & Fairgrave, P.C., opened the afternoon workshop with several real-life examples from recent Iowa elections of how election law issues within a campaign were decided by officials at the statehouse or even litigated in court, and how issues such as these can lead to the end of a campaign.

Next, Heidi Burhans, director of elections in the Iowa Secretary of State's Office, explained the administrative process of becoming a candidate for elective office in Iowa. She explained the different types of elections, the candidate qualifications for office, and process to file as a candidate.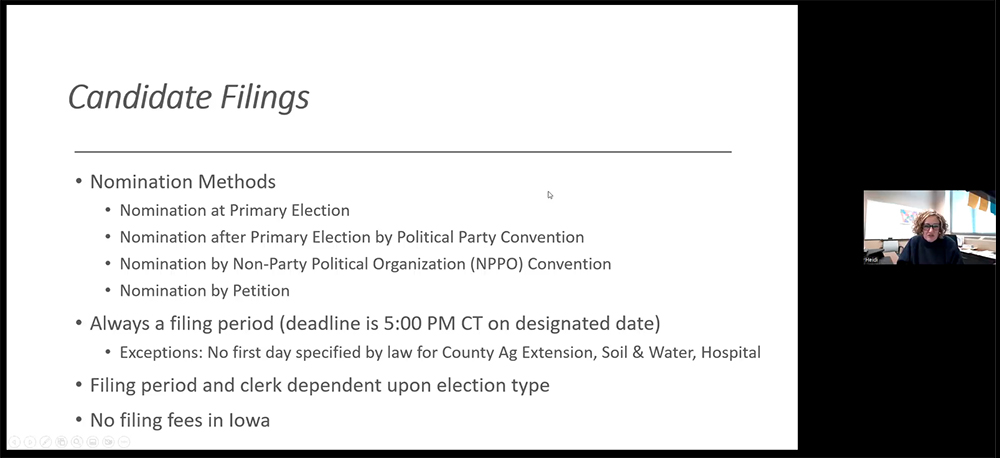 "When you are preparing your filing, you are making sure that you have provided all of the information required, and ultimately, you want to make it challenge-proof," she said. "Take the time to review [the Candidate's Guide on the Iowa secretary of state's website] before you start preparing your nomination so that you understand everything that's required, and then at the end, when you're ready to submit the filing, take time to review everything again."
In the final session of the workshop, a panel of three female elected officials from Iowa—Gloria Betcher, Ames City Council member; Claire Celsi, Iowa state senator; and Latifah Faisal, Story County supervisor—shared their experiences on the campaign trail and offered advice and encouragement to the workshop participants. All three women have experience in both appointed and elective office, and answered a number of questions from moderator Carrie Ann Johnson and the workshop participants.
The next two workshops, which will also be held virtually, will be on March 24. The morning workshop, "Campaign Fundraising," will cover identifying fundraising goals and donors, asking for donations, following campaign finance laws and reporting donations. Candidates and campaign treasurers are both encouraged to attend this workshop. The afternoon workshop, "Launching Your Campaign," will cover creating a campaign plan, building a team, field work and direct voter contact. Candidates and campaign managers are both encouraged to attend this workshop.
Registration for the March 24 workshops is free and is open through March 21 at https://go.iastate.edu/ETRPYK. Visit the Ready to Run Iowa webpage for workshop agendas.
The final two workshops will be held in person on April 21 at Iowa State University's Reiman Gardens. The morning workshop, "Communicating Your Campaign Message," will cover creating an overarching campaign messaging theme; writing and delivering a stump speech; and communicating in forums, debates and on camera. In the afternoon workshop, "Traditional and Social Media Best Practices," participants will get tips for getting media attention and being interviewed, and how to use online resources to spread their message and mobilize voters. Between the workshops, participants will enjoy a networking lunch and can also have a free professional headshot taken.
Full agendas and speakers for the April workshops will be posted on the Ready to Run Iowa webpage as they become available. Registration will open on March 21 and run through April 18. The registration fee of $25 per workshop includes lunch and refreshments, and is waived for Iowa State University students.
The 2023 program is sponsored by the Ames Chamber of Commerce, the League of Women Voters of Ames and Story County, and the late Richard and Mary Jo Stanley. Their sponsorships provide funds that allow the Catt Center to offer the February and March virtual workshops at no cost and to provide live closed captioning, as well as helping to offset the costs associated with the April in-person workshops.
If you would like to be added to the Ready to Run Iowa mailing list, please email the Catt Center at cattcntr@iastate.edu.
Published: March 13, 2023