This issue of Voices features three women honored in the Plaza of Heroines who worked in the corrections field and made a difference in the lives of everyone they touched.
If you are interested in purchasing a brick or a paver to honor a heroine in your life, fill out the online order form or email the Catt Center at cattcntr@iastate.edu. To add or edit a narrative or include a photograph in the profile of a woman you have previously honored on the plaza, email the Catt Center or mail your submission to Plaza of Heroines, 309 Carrie Chapman Catt Hall, 2224 Osborn Drive, Iowa State University, Ames, IA 50011-4009.
---
Rita Lundt Frevert received her B.S. degree from the University of Northern Iowa in 1964. She was a teacher and guidance counselor in the Webster City Community Schools from 1964-1970, while also completing post-graduate work at the University of Minnesota and the University of Northern Colorado and earning an M.S. degree at Iowa State University.
From 1970-1978, Frevert was director of volunteer probation services for the 2nd Judicial District of the Iowa Department of Corrections.
In 1982, Frevert earned a Ph.D. in psychology from Iowa State University. Her dissertation focused on the mental well-being of middle-aged women. Since earning her doctorate, Frevert has worked as chief psychologist at the Northwest Iowa Mental Health Center in Spencer, Iowa; an adjunct professor at Buena Vista College in Storm Lake, Iowa; a consultant at Cherokee Mental Health Institute; a part-time instructor at Iowa State University; director of Mental Health Services and director of the Chemical Dependency Outpatient Treatment Center at Queen of Peace Hospital New Prague, Minnesota; and in private practice.
A fundamental theme of Frevert's career has been to help everyone she meets, but particularly children and adolescents. Her early career in elementary teaching combined with an extraordinary ability to communicate with and understand children and young adults has enabled her to guide and motivate them to be competent and productive adults. Her commitment to educate and assist others is also evidenced by the more than one hundred articles she has authored and the workshops and seminars she has presented.
Frevert has been a role model for students her patients and her family and friends as a competent, caring, committed woman. She was honored on the plaza by Michael Boehlje.
Kathryn Ruth Miller graduated from the University of Iowa in 1975 with a bachelor's degree in sociology and earned an MBA from the University of Phoenix.
While at the University of Iowa, Miller was employed as a pretrial release interviewer by the Sixth Judicial District of the Iowa Department of Corrections. She later served as a presentence investigator area supervisor and eventually as associate director. While with the Department of Corrections, Miller helped found an Alternative Jail for Women, an Alternative Jail for Men, and a volunteer program. She was the first woman president of the Iowa Corrections Association and helped establish a Women's Political Caucus to educate and encourage women to use the available Equal Employment Opportunity laws to advance in a male-dominated field.
She also served on several community boards, including the Citizens Committee on Alcohol and the Kirkwood Community College Advisory Board for Criminal Justice.
While in working in corrections, Miller developed an interest in computers, which lead her to leave Iowa in 1979 to go to work for DELTAK Inc., a computer training firm in Chicago. At DELTAK, she was director of the business unit to provide personal computer training when the first PC was introduced by IBM in 1980. She left DELTAK in 1982 to be an independent computer consultant and author. She later was the founding chairperson of the Business Technology Expo in Tucson, Arizona.
Miller was honored on the plaza by Cheryl Miller.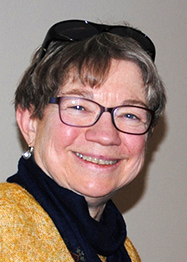 Linda Murken began her career in the corrections field in Iowa in 1973. The first woman parole officer in Iowa to supervise male clients, she was soon appointed the first executive director of the Second Judicial District Department of Community-Based Corrections and was the only woman director until a few years before her retirement in 2010. She was instrumental in the development of treatment programs for domestic abusers and for sex offenders. Highly regarded by her peers, she received the Iowa Corrections Association's Larry Brimeyer Exceptional Leadership Development Award in 2010.
After retirement, Murken became involved in the League of Women Voters of Ames and with the League of Women Voters of Iowa Justice Coalition, combining her professional knowledge with her passion for League justice positions to advocate for restoring rights to those who successfully complete their sentences in the corrections system.
As president of the board of directors of the Ames League in 2014-2015, Murken mentored new board members, increased League visibility in the community through new voter service projects, and moved the Ames League toward becoming a countywide organization. As past president, she spearheaded VOTE 411, a web-based, know-the-candidates project that serves the general public. She continues to be active with both the local and state League chapters.
Murken has served a number of community organizations, including the Gilbert Volunteer Fire and Emergency Medical Services Board, ACCESS, ACLU of Iowa, NAMI (National Alliance on Mental Illness), the ACCESS shelter for victims of domestic violence, and the Story County Planning and Zoning Commission. In 2018 she was elected to the Story County Board of Supervisors.
Murken was honored on the plaza by the League of Women Voters of Ames and Story County as the recipient of its 2016 Carrie Chapman Catt Award.
Published: January 9, 2023