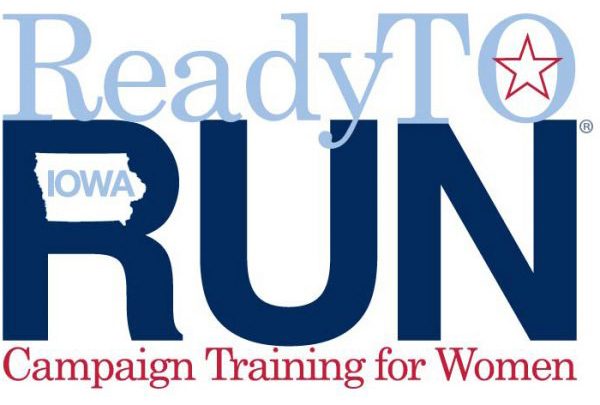 The Carrie Chapman Catt Center for Women and Politics will accept registrations for the first two workshops in the 2023 Ready to Run® Iowa Campaign Training for Women workshop series starting on Jan. 24.
Register for the Feb. 24 workshops here (registration opens Jan. 24)
In an effort to increase the number of women in elected and appointed political office, the Catt Center has offered the Ready to Run Iowa program every other year since 2007. This nonpartisan program prepares women to run for elected office, serve in appointed office or become more involved in community leadership.
The six 2023 Ready to Run Iowa workshops will be held on Feb. 24, March 24 and April 21. Each workshop will address a different topic to help participants as they prepare to engage with their political communities or run for office.
Following the positive response to the virtual 2021 Ready to Run Iowa workshops, the Catt Center is offering the first four 2023 workshops in a virtual format, with the final two workshops held in person at Iowa State University's Reiman Gardens. All workshops will be held on Fridays, with a morning workshop from 9-11:30 a.m. and an afternoon workshop from 1-3:30 p.m. On April 21, a networking lunch between the workshops is also included with registration.
Registration will open one month prior to each workshop date. Registration for the virtual workshops in February and March is free. For the April workshops, the registration fee of $25 per workshop includes lunch and refreshments. The fee is waived for Iowa State University students. People can register separately for as many workshops as they wish to attend.
"In Iowa, women won their races in the Iowa legislature at a higher rate than in 2020, increasing from 49.33% in 2020 to 53.24% in 2022," said Carrie Ann Johnson, interim coordinator of research and outreach at the Catt Center. "However, the overall number of women in the Iowa legislature—44, or 29.33%—has not changed. We'd like to see that number increase during the 2024 election."
Research by the Catt Center shows women also make up the minority of members serving on county and city appointed boards and commissions, even though Iowa law requires gender balance.
"There is still room for improvement for women's representation in both elected and appointed office in Iowa. We hope the 2023 Ready to Run Iowa workshops will encourage more women to apply for boards and commissions and to run for local, state and national office," Johnson said.
Although some of the workshops address topics unique to women as they seek greater participation in the political process, the program is open to anyone wishing to attend.
The February 24 morning workshop will cover the importance of women's involvement in politics and ways to be involved, such as serving on a board, volunteering with a campaign and running as a candidate. The afternoon workshop will include a discussion of Iowa's election laws, procedures for entering a race and women's campaign experiences.
On March 24, the morning workshop will cover identifying fundraising goals and donors, asking for donations, following campaign finance laws and reporting donations. Candidates and campaign treasurers are both encouraged to attend this workshop. The afternoon workshop will cover creating a campaign plan, building a team, fieldwork, and direct voter contact. Candidates and campaign managers are both encouraged to attend this workshop.
The morning workshop on April 24 will cover creating an overarching campaign messaging theme; writing and delivering a stump speech; and communicating in forums, debates and on camera. In the afternoon, participants will learn how to work with news media, including tips for getting media attention and being interviewed and how to use online resources to spread their message and mobilize voters. Between the workshops, participants will enjoy a networking lunch at the gardens.
Presenters at the Ready to Run Iowa workshops include public officials, former candidates, campaign strategists and journalists.
"With the move to a virtual format for the initial workshops, we can have guest speakers and panelists who can share their expertise but do not have spare time to travel," Johnson said. "We are bringing in experts who have lived and worked in Iowa and also work on national-level politics."
The Ready to Run Iowa Advisory Board consists of nine members with expertise in Iowa politics who provide input on the speakers, content and format for the workshops. Advisory Board members are: Amy Campbell, a partner at the Advocacy Cooperative; Barbara Hames-Bryant, president of the Iowa Federation of Republican Women; Blake Hanson, an attorney at Bradshaw, Fowler, Proctor & Fairgrave, P.C. in Des Moines; Paula Martinez, labor leader and member of the Warren County Democrats Central Committee; Kellie Paschke, an attorney with Skinner and Paschke of Waukee, Iowa; Greg Piklapp, director of economic development outreach and government relations, Ames Chamber of Commerce; Kim Reem, executive director of Mission of Hope and alternate member of the Iowa Board of Parole; Georgia Van Gundy, executive director of the Iowa Business Council; and Andrea Woodard, public policy manager at the Greater Des Moines Partnership.
The 2023 program is sponsored by the Ames Chamber of Commerce, the League of Women Voters of Ames and Story County, and the late Richard and Mary Jo Stanley. Their sponsorships provide the funds necessary to keep registration costs low.
Since the Catt Center began offering Ready to Run® Iowa in 2007, more than 500 people have participated in the program. Many past participants serve or have served in elected and appointed positions at the state, county and local levels.
If you would like to be added to the Ready to Run Iowa mailing list, please email the Catt Center at cattcntr@iastate.edu.
Published: January 9, 2023