The staff of the Carrie Chapman Catt Center for Women and Politics, led by center director Karen Kedrowski, spent much of the spring and summer working with students to prepare Iowa State's student voting engagement work for the 2022 midterm elections.
Political science students Demarquis Heard and Faith Toweh, who were participants in the Vote 2.0: We Are the (Voting) Champions innovation sprint in 2021-2022, were involved with the national group, Science Rising, which is focused on voter engagement of STEM students. They were contributing authors to Science Rising's "Science and Civics Guide," which will be used by voting activists on campuses nationwide. This guide was released nationally on August 3.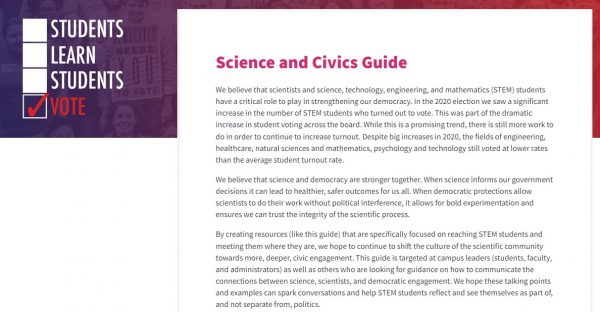 Heard also worked with Kedrowski for most of the summer to develop a student voter engagement campaign for the fall.
"We've put a lot of effort into building the foundation for Cyclones Vote. College can be a really overwhelming experience for most people, so it's our job to make voting as accessible as possible for students," Heard noted.
Their efforts have earned Kedrowski and Iowa State national recognition.
On August 9, Iowa State was informed that it was awarded the Highly Established Action Plan Seal from the ALL IN Campus Democracy Challenge. This seal is awarded to campuses whose action plans scored at least 32 of 36 possible points based on a rubric published in Strengthening American Democracy.
"We are doing our best to create a civic ethos on campus," said Kedrowski. "It's a lot of work, but we are building for the future."
Two days later, on August 11, Kedrowski herself was honored by the Andrew Goodman Foundation with its Hidden Heroes 2022 Campus Champion of the Year Award, which recognizes an Andrew Goodman Foundation Campus Champion who creates and supports sustainable pathways of engagement between university administration and the student body at large.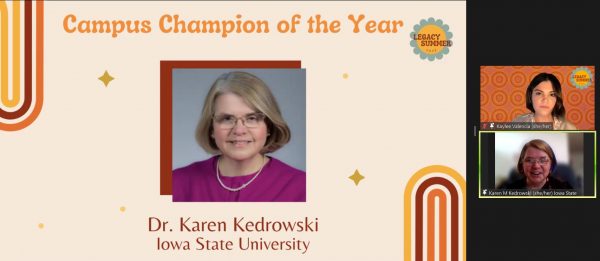 The Catt Center has partnered with the Andrew Goodman Foundation, which provides financial support and other voting engagement resources, since 2005.
"We are so honored to recognize Dr. Kedrowski's service and dedication to student civic leadership by naming her Andrew Goodman Foundation Champion of the Year," said Wambui Gatheru, the Andrew Goodman Foundation director of programs. "The Andrew Goodman Foundation is proud to support the work of the Catt Center to further our mission of making young voices and votes a powerful force in democracy."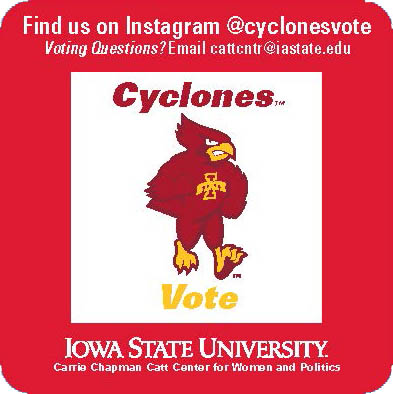 In the spring, the team secured permission to use the "Cyclones Vote" moniker and #CyclonesVote hashtag, and this fall will debut a new logo for its branding.
The Cyclones Vote team has an ambitious agenda in the works to get out information about voter registration, absentee voting requests and submission deadlines, and voter education materials to various audiences on campus. The messages will be targeted to various student populations, be it through residence halls and Greek organizations, academic colleges, athletics or affinity groups. Students will also receive emailed reminders of upcoming deadlines and early voting opportunities.
A successful voter registration drive was held at Destination Iowa State, and additional registration drives are scheduled for Constitution Day, Club Fest, National Voter Registration Day and at an upcoming home Iowa State football game.
Kedrowski has worked to engage with faculty as well. She has updated a Canvas (course management system) module for download, plus has worked with the Provost's office and University Counsel to craft guidance for faculty that focuses on how to encourage students to vote while complying with state and university policies. In addition, the Faculty Senate, Student Government, and Graduate and Professional Student Senate all passed resolutions in spring 2022 encouraging faculty to refrain from scheduling exams or major assignments on Election Day and to be flexible with attendance policies.
Iowa State's student voter engagement efforts have earned national recognitions since 2016. Overall voter turnout was recognized by the ALL IN Campus Democracy challenge with a Bronze Seal in 2016 and Gold Seals in 2018 and 2020. ISU received accolades for having the greatest increase in student voter turnout in the Iowa Voting Challenge in 2018 and for having the best Action Plan in 2020. ISU also received Best Action plan awards for the Big XII Votes challenge in 2020.
Iowa State has also earned Voter Friendly Campus designation for 2021-2022 and was recognized by Washington Monthly for its commitment to student voter engagement.
Published: September 12, 2022