Two alumni of the Carrie Chapman Catt Center for Women and Politics — Dr. Lauren Hughes and Maggie Luttrell Roby — have been selected by the College of Liberal Arts and Sciences at Iowa State University to receive awards at the Iowa State Alumni Association's honors and awards ceremony in November.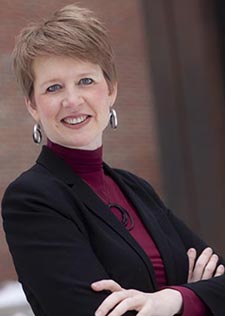 Hughes is the recipient of the Carrie Chapman Catt Public Engagement Award, which recognizes an alumnus or friend of the college who has demonstrated outstanding achievement for their work with public entities at local, state, national or international levels.
"From her leadership on campus at Iowa State to her public service in health administration and public policy, Dr. Hughes has leveraged her time and talents to improve the lives of others," said LAS Dean Beate Schmittmann. "Her professional knowledge and skills, combined with her compassion for others, drives her engagement in public policy and advocacy for the common good. We love seeing how our alumni pursue meaningful change."
Hughes was nominated for the award by Dianne Bystrom, director emerita of the Catt Center.
"Dr. Hughes has made a significant impact through her more than 20 years of community engagement and public service as an undergraduate student at Iowa State University, throughout her studies toward a medical degree and two master's degrees, and her professional career in the fields of medicine and health," Bystrom said.
A 2000-2002 Helen Jensen Howe Legacy of Heroines scholar, Hughes earned bachelor's degrees in zoology and Spanish with minors in English and entrepreneurial studies from Iowa State in 2002, a master's degree in public health from George Washington University in 2007, and a doctor of medicine from the University of Iowa Carver College of Medicine in 2009, and a second master's degree in health and health care research from the University of Michigan in 2015.
Through her involvement in the Legacy of Heroines scholarship program, Hughes attended a number of Catt Center leadership events and lectures and participated in a research project with then-center director Dianne Bystrom that analyzed news coverage of male vs. female candidates in the 2000 presidential election.
"Having the opportunity for peer-to-peer networking and learning through the Legacy of Heroines program and getting to know Dianne were important parts of my experience at Iowa State," Hughes said.
Hughes has worked in policy development and implementation in a number of ways: at a research policy think tank, with a foundation, through her professional membership associations, in government positions at both the state and federal level – including an internship with then-Sen. Tom Harkin – and now in academics. Her work has included formulating legislation and regulatory guidelines, performing research, translating findings for decision makers, and conceptualizing how to operationalize and oversee policy.
"I love public sector opportunities," said Hughes. "Serving others aligns with how I'm wired, and I think those roots come from having grown up in Iowa, having been involved with 4-H, really having that grounding in looking out for your neighbor and showing up when you're needed."
Hughes is currently the state policy director of the Farley Health Policy Center at the University of Colorado Anschutz Medical Campus and associate professor of family medicine in the University of Colorado Department of Family Medicine. In these roles, she leads initiatives to generate and/or translate data for policymakers to inform the design and implementation of evidence-based health policy. Her research interests include improving rural health care and strengthening primary care and public health.
"Making a difference in the lives of people through policy and through service aligns with my core interests and values," she said. "Particularly in state government, the opportunity through policy change to impact thousands if not millions of lives – to me, that magnitude of scale and the opportunity to bring all of my skills together to make that change happen is really exciting."
In her personal life, Hughes applies her philosophy of public services in a variety of ways, including volunteering, donating to causes and candidates, getting involved in campaigns, and of course, voting.
"Under the broad umbrella of public service, there are a variety of different opportunities you can engage in to effect change," she said. "The most important thing is to keep marching forward, planting seeds for something bigger that is going to outgrow you."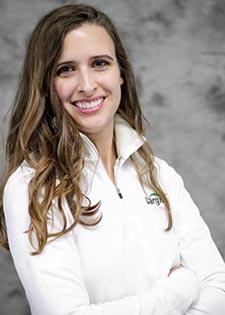 Roby is the recipient of the 2022 Young Alumni Award, which recognizes a College of Liberal Arts and Sciences alumnus under 40 years of age who has excelled in their profession and provided service to their community.
"Maggie's achievements are both remarkable and inspiring, especially at such an early stage of her career," said Dean Schmittmann. "She is an innovator on multiple fronts, implementing critical change in operations for a Fortune 50 company and transforming the culture at Cargill to support women and other underrepresented employees in leadership and professional growth. Her success is a great example of how students can engage in a variety of learning opportunities in the College of Liberal Arts and Sciences, then shape a unique career path with real impact."
Roby, a 2005-2007 Helen Jensen Howe scholar and 2007-2009 Jane Greimann scholar, earned a bachelor's degree in history and women's studies with a certificate in community leadership and public service in 2009 and a master's degree in educational leadership and policy studies with a certificate in social justice in 2011 from Iowa State.
As part of her scholarship, Roby participated in the Catt Center's learning community, which she says provided her with her first opportunity in leadership. Other leadership opportunities that she participated in at Iowa State included serving as vice president for her residence hall floor, as a residence hall Student Government senator, Student Government and City of Ames student ex-officio city council member, and vice president of Student Government.
Roby said of attending the Democratic presidential candidate debates held in Des Moines in the fall of 2008 with Bystrom, "It really solidified how important civic duty is and how important it is to be a good citizen of the world and of your local communities, which is why I've stayed very active in some capacity pretty much my whole post-graduate life."
Now in her seventh year at the global food corporation Cargill, Inc., Roby is the pricing process implementation leader for Cargill Animal Nutrition-North America, helping to shape the company's business future.
Roby is the founding co-chair of the Cargill Animal Nutrition-North America chapter of the Cargill Women's Network and helped create a collaboration of all business resource and employee engagement groups in Cargill Animal Nutrition-North America into a DEI Advisory Council.
She is also a facilitator and past participant of BRIDGE, an employee-led leadership development program for women at Cargill that Roby describes as "women leading women and women talking to women about leadership development, what it's like and what barriers there are, how we can collectively change them, and how we can make their piece of their experience in the world better." She recently initiated a steering committee to expand BRIDGE to Cargill units around the world, which she sees her legacy project.
"During her tenure at Cargill, Roby has focused on pushing the boundaries of the status quo and building the road for the way the company will work for decades to come," said Bystrom, who nominated Roby for the award. "She utilizes what she learned from her undergraduate leadership studies certificate program and graduate work in social justice at Iowa State to create a present and future that allows for all intersections of our humanity to co-exist."
Roby is civically active in her personal life through her service on the board of directors of her homeowner's association, with her community's Parks and Recreation Citizen Advisory Council and Solid Waste Management Commission, and as an American Sign Language interpreter for the Archdiocese of Kansas City.
"I want to make the world a better place," Roby said. "Sometimes it's the grand gestures, but often it's a lot of micro efforts."
Hughes and Roby will receive their awards at the Iowa State Alumni Association's honors and awards ceremony on Friday, Nov. 4, at Stephens Auditorium. The event is open to the public. Hughes and Roby also will be recognized at a private dinner on Thursday, Nov. 3, hosted by the College of Liberal Arts and Sciences.
Published: September 12, 2022