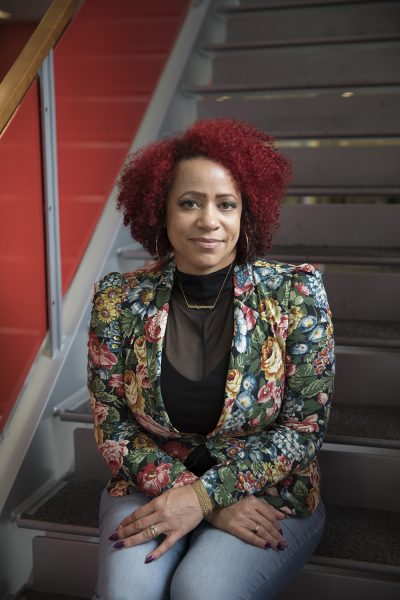 Nikole Hannah-Jones, the Pulitzer Prize-winning creator of "The 1619 Project" and staff writer at The New York Times Magazine, will visit Iowa State to present the 2022 Manatt-Phelps Lecture in Political Science on Nov. 2 at 6 p.m. in Stephens Auditorium. The event is free and open to the public.
"Nikole Hannah-Jones' upcoming Manatt-Phelps lecture is an incredible opportunity for our campus community to hear from one of the most important and influential voices in America on the subject of race," said Alex Tuckness, chair of the Department of Political Science, which sponsors the annual event.
Hannah-Jones has spent her career investigating racial inequality and injustice, and her reporting has earned her the MacArthur Fellowship, a Peabody Award, two George Polk Awards and the National Magazine Award three times. Hannah-Jones is also Knight Chair of Race and Journalism at Howard University, where she is founding the Center for Journalism & Democracy at Howard University. She is also the co-founder of the Ida B. Wells Society for Investigative Reporting, which seeks to increase the number of investigative reporters and editors of color. In 2022, she opened the 1619 Freedom School, a free afterschool literacy program in her hometown of Waterloo, Iowa.
Hannah-Jones holds a Master of Arts in mass communication from the University of North Carolina at Chapel Hill and a Bachelor of Arts in history and African American studies from the University of Notre Dame.
"Bringing Ms. Hannah-Jones to campus is an exciting opportunity to engage with a gifted journalist with Iowa roots," said Karen M. Kedrowski, director of the Carrie Chapman Catt Center for Women and Politics, a co-sponsor of the lecture. "Her work has literally changed how many people understand American history."
Additional co-sponsors of this year's lecture include the African American Studies Program; the College of Liberal Arts and Sciences; the Margaret Sloss Center for Women and Gender Equity; the Office for Diversity, Equity, and Inclusion; Parks Library; the University Committee for the Advancement of Women and Gender Equity; and the Committee on Lectures (funded by Student Government).
The Manatt-Phelps Lecture series, established in 2002 by the late Ambassador Charles T. Manatt and Kathleen Manatt and Thomas and Elizabeth Phelps, brings to campus a prominent practitioner or scholar to address issues of significance to the United States and to Iowa in international political economy. It is now overseen by Michele Manatt.
Previous Manatt-Phelps lectures have featured ambassadors from crucial American allies and friends – France, Germany, India, Spain and Sweden – as well as distinguished leaders from America's largest trading partners, such as Mexico's secretary of foreign affairs and Canada's former minister of foreign affairs. Other lectures have been presented by then-U.S. Sen. Joseph Biden (D-Delaware), then-U.S. Sen. Chuck Hagel (R-Nebraska), U.S. Sen. Ben Sasse (R-Nebraska); former U.S. Rep. Lee Hamilton (D-Indiana), Washington Post columnist and Brookings Institution senior fellow E.J. Dionne, counterterrorism expert Malcolm Nance, MSNBC anchor and business correspondent Ali Velshi, NBC News national security analyst and former senior FBI counterterrorism official Frank Figliuzzi, and former Republican National Committee chair and popular podcast host Michael Steele.
Published: July 11, 2022