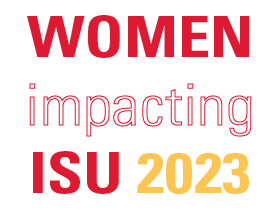 Nominations are being accepted for the 2023 Women Impacting ISU calendar through Friday, Sept. 30.
The annual calendar highlights the positive impact of 12 women currently on the Iowa State campus as students, faculty, professional and scientific staff, or merit staff. Faculty and staff must be employed by Iowa State University for the 2023 calendar year to be eligible for nomination. Students graduating in May 2023 may be nominated.
"Since 2007, the Women Impacting ISU calendar has recognized women who have impacted the university through their actions, involvement and achievements," said Sue Cloud, communications specialist at the Carrie Chapman Catt Center for Women and Politics. "Over the summer, we encourage you to think about the women you interact with on campus – your co-worker, professor, student, advisor, mentor or mentee, friend – and consider nominating someone whose impact really stands out."
Selections are made by a committee composed of previous honorees, past nominators, students affiliated with the Catt Center, and staff and faculty members from across campus. When reviewing the nominations, the committee considers the nominees' achievements in academics, administration, teaching, research and/or service – depending on each nominee's role at Iowa State – as well as their involvement in campus activities and mentoring.
If you are interested in serving on the 2023 selection committee, please let the Catt Center know by emailing srcloud@iastate.edu. In the fall, potential committee members will be contacted about their availability to attend two review meetings in October. Please note that if you nominate someone for the 2023 calendar, you will not be able to serve on the selection committee this year.
Publication of the calendar is coordinated by the Catt Center, with funding provided by the Office of the Vice President for Diversity, Equity and Inclusion.
Instructions for nominating someone and a link to the nomination form are available on the Catt Center website. You do not need to be employed by Iowa State or be an Iowa State student to submit a nomination. Completed nominations must be received by Friday, Sept. 30, 2022, at 11:59 p.m.
If you have questions about the calendar nomination or selection process, you can check the frequently asked questions on the Catt Center's website or contact Sue Cloud at srcloud@iastate.edu or (515) 294-9867.
Published: May 9, 2022