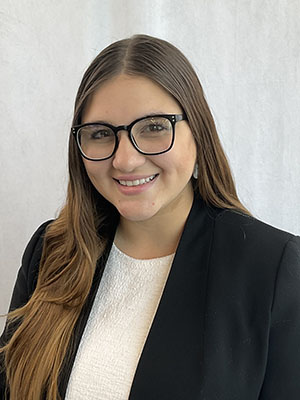 Natalia Ríos Martínez, an Iowa State senior and a Kedrowski and Fitzgerald Family Legacy of Heroines scholar since 2021, was named a 2022 Truman Scholar last month. She is one of 58 undergraduates nationwide to receive this honor.
Where to start with this successful student? Ríos Martínez is triple majoring in political science, international studies and public relations, and is the founder and president of the Political Science Club at Iowa State.
Ríos Martínez is passionate about creating change within families.
"One of the first things I was involved with was the Save the Children Action Network. I started as a volunteer, and as members graduated I took on that leader role," she said. "The organization focuses on advocating for students' rights and I went to many campaigns to talk about kids. For example, I spoke to Joe Biden when he was running [for president] and I got him in a video saying he was going to invest in kids."
"The Truman Foundation looks for students who excel in the classroom, have demonstrated leadership abilities and look forward to careers in public service," said Karen Kedrowski, director of the Carrie Chapman Catt Center for Women and Politics and one of the nominators for Rios Martinez's Truman Scholarship application. "Natalia excels in all areas. She is just a rock star."

The Puerto Rican native started her first internship while still in high school. Starting at the local level, Ríos Martínez has worked her way all the way up to internships at the federal level. She currently holds two internships – one as a government contracting assistant at the Center for Industrial Research and Service (CIRAS) and the other as an intern at the headquarters of the U.S. Department of Justice Community Relations Service.
"I started working remotely during the pandemic for a contracting office at the Research Park. I've been working there for two years part-time now," Rios Martinez said. "When I started working for the Department of Transportation, I got to transfer my skills there in-person."
Ríos Martínez is also doing undergraduate research through the Department of Sociology on legal deserts in Iowa and other parts of the United States – places where there are not enough lawyers to cover cases.
For her last semester as a Cyclone, Ríos Martínez hopes to study abroad in Urbino, Italy, for the second time. Unfortunately, her first study abroad experience in the spring of 2020 was cut short due to the COVID-19 pandemic.
Ríos Martínez hopes to pursue a master's degree in American government at Georgetown University, and then earn a joint law degree and Ph.D. in government with a specialization in public policy.
The Truman Scholarship, the premier graduate scholarship for aspiring public service leaders in the United States, is awarded to college juniors who demonstrate outstanding potential for and who plan to pursue a career in public service. Recipients are awarded up to $30,000 for graduate study and priority admission and financial aid at some graduate institutions, as well as leadership training, career and graduate school counseling and special internship opportunities within the federal government.
Article by Arwa Hassan, Catt Center public relations and events planning intern
Published: May 9, 2022