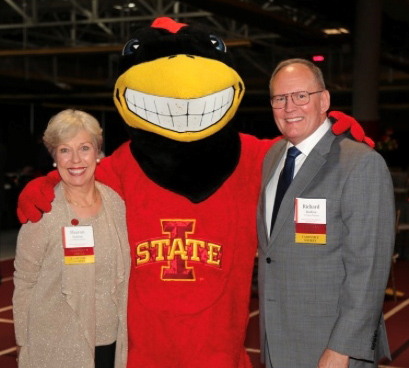 By Sharon (Miller) Rodine, ISU Political Science 1971, ISU Foundation Governor
As president of the bipartisan National Women's Political Caucus, I traveled to two-thirds of the states between 1989-1991 to recruit, train and support women seeking public office. To commemorate the 70th anniversary of the 19th Amendment in 1990, we met in Nashville, Tennessee, to mark its role as the last state to ratify—the Perfect 36th. It was there I heard the high drama saga with its cliff-hanger ending of the final push for ratification in their legislature, all white males in a former Confederate state.
It was there, also, where I learned the pivotal role that Carrie Chapman Catt—brilliant political strategist, orator and organizer—played in the final victory, down to the very last vote. Their state Senate passed the bill, but the first two ballots had ended in a tie in the House of Representatives. If the bill didn't pass on the third and final ballot, it would be defeated and the ratification of the 19th Amendment would fail.
That morning, Harry Burn, the youngest member of the Tennessee legislature who had voted against suffrage on the first two ballots, received a very important letter from a constituent who advised him to "help Mrs. Catt put the R-A-T in ratification … hurrah, and vote for suffrage." On the third ballot, Harry Burn unexpectedly changed his vote in favor of suffrage. The bill passed by his one vote, changed at the last minute thanks to the advice he'd received in that letter—from his mother. Carrie Chapman Catt's decades of work and "Winning Plan" had achieved victory, putting all women citizens in the U.S. Constitution for the first time, 144 years after the founding of our republic.
I left Nashville in awe of how revered Catt was in that state, almost their patron saint of suffrage. I had never learned about Catt in Iowa history class and had not heard about her at Iowa State as a political science major and American history minor. Recognition by her alma mater was overdue.
At that time, the ISU Foundation and university administrators were identifying projects for the upcoming Partnership for Prominence capital campaign. I had read that ISU archivist, Laura Klein, along with the League of Women Voters and other campus and community groups, were asking that "Old Botany" be renovated and named for Carrie Chapman Catt. The once-grand 1890s building on central campus was in a state of disrepair, with only the first floor safe enough to be used. It was time to do something with the deteriorating central campus structure—renovate it or demolish it.
I called Phyllis Lepke, ISU Foundation vice president, and learned that the building was about to be removed from the list of capital campaign projects. The old building would be costly to renovate, there were no major donors, it was proposed to be named for a dead woman and it was to be an administration building. Half in jest I asked her, "Is there anything else we can do to make this unappealing to donors?"
I had worked with women's rights and racial justice nonprofits that were primarily volunteer run. To sustain quality political education, training and learning opportunities, I felt these efforts needed to be anchored in more stable settings where they could grow and flourish, thus making a university an ideal location. It's said that "timing is everything"—and the timing was right to renovate the 100-year-old building and give it a new purpose.
After talking with Phyllis, I sent a letter to ISU President Martin Jischke and the ISU Foundation suggesting the idea of creating an academic center for women and politics as the centerpiece of the building renovation. It would be an education, training and research initiative, based in the LAS College and focused on students, but also engaging Iowans as part of ISU's land grant mission. It would be a living legacy honoring Catt and the causes to which she devoted her life, which were still relevant today.
All capital campaign projects had to start within the university. I was a member of the Political Science Alumni Advisory Committee, and with the support of the Foundation and department chair, Dr. Richard Mansbach, I presented the center idea at our meeting in April 1992. From that point on, it moved quickly through the university and Foundation committees and the Iowa Board of Regents, with green lights all the way.
John Axel and I were asked to co-chair the Carrie Chapman Catt Campaign for the LAS College. At the Foundation's campaign kick-off on September 25, 1992, I was asked to announce the Carrie Chapman Catt Center for Women and Politics. In my remarks, I said:
"The causes to which Carrie Chapman Catt dedicated her life—involving women in the political process, educating voters, and promoting world peace—are as critically important in 1992 as they were in 1892 … and perhaps more so.
"The lifetime achievements of Carrie Chapman Catt provide an exciting foundation for the development of the center named in her honor. The Carrie Chapman Catt Center will offer educational opportunities for women and men who are interested in politics, public policy and careers in the public sector. And, it will provide a wide variety of programs featuring national and international scholars and public figures."
Kay Kirkman, LAS Foundation program officer, was a major creative force in designing the fundraising campaign with its "Honor Women" theme. She developed the Plaza of Heroines as a way for ISU alumni and friends to honor women they admired. The arrival of the new LAS dean, Elizabeth Hoffman, brought more enthusiasm to the grassroots fundraising effort, as she traveled around the state and country talking with ISU alumni about the building renovation, center and Catt's story. All fundraising—the building, center, Plaza of Heroines, Legacy of Heroines scholarships, Mary Louise Smith Chair—was based on Catt's story. To bring that story to life, Jane Cox—ISU professor, actor, and playwright—created a one-woman play about the life of Catt, which she performed at the Kennedy Center in Washington, D.C., in 1995, and in hundreds of locations across Iowa and beyond.
Catt Hall was dedicated in October 1995, on the 75th anniversary of the 19th Amendment. In my remarks that day I used the verse, "Where your treasure is, there will your heart be also." From the naming of rooms to the bricks in the Plaza of Heroines, thousands of people had put their treasure and their hearts into the renovation of the building and creation of the center—students, alumni, friends of Iowa State, Iowans across the state and people across the country.
My husband, Richard Rodine (ISU '71), and I have invested our treasure and hearts in honoring Catt's story and legacy. In our early 40's with two young children, we started a deferred gift to the center that we have paid into for 30 years. We have also funded an endowed internship at the center. There are bricks in the Plaza honoring our mothers and other family members.
Most recently, we created the Yellow Rose of Suffrage Garden in front of the Plaza as a memorial to my parents, and in honor of Mrs. Catt as the inspiration for that one last vote in Tennessee.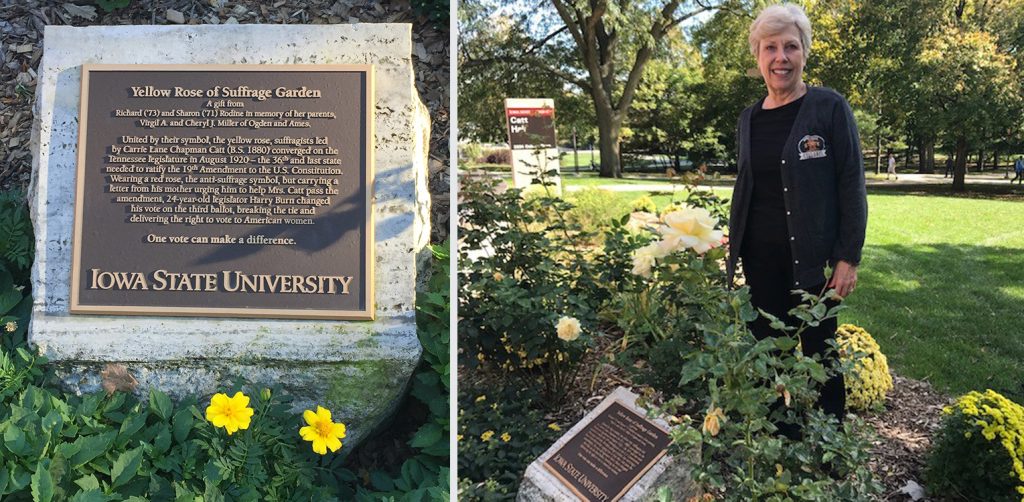 From her birth in 1859 as the Civil War was about to tear the country apart, to her death in 1947 in the aftermath of World War II, Carrie (Lane) Chapman Catt was a woman of her times, and in so many ways, a woman ahead of her times. A barrier-breaker, activist, organizer, orator, political strategist, educator, leader and visionary, Catt led the greatest expansion of voting rights in our country, put all women citizens in the U.S. Constitution for the first time, and championed women's rights and human rights around the globe. She changed history—for good. The issues to which she dedicated her life—expanding the right to vote and promoting world peace—are issues to which we need to dedicate ourselves at this time in our history.
Published: March 7, 2022