Better Ballot Iowa, Students for a Better Ballot, the Student Innovation Center and the Carrie Chapman Catt Center for Women and Politics are organizing a campus-wide mock election to educate students and community members about the ranked-choice voting system and how it might work in Iowa.
Voting will be available in the days leading up to an event on March 30 at 7 p.m. in the Cardinal Room of the Memorial Union, where participants who have not yet voted can cast their votes and a demonstration of how the ranked-choice votes are tallied will be held.
"Our voting system is something that most people take for granted. Yet the mechanics of how we vote gets at the core of the democratic process: how do we choose our leaders and hold them accountable?" said Matt Wetstein, assistant professor of physics and co-founder of Better Ballot Iowa, a nonpartisan, grassroots initiative. "Ranked-choice voting is a simple improvement to our voting system that has potential to help address many of the problems facing American politics – to make it broader, more competitive and more civil."
Ranked-choice voting is a voting method in which voters rank the candidates in order of preference on their ballots. If a candidate receives a majority of the first-choice votes, that candidate is declared the winner. If no candidate receives a majority of the first-choice votes, the candidate with the fewest first-choice votes is eliminated and voters who picked that candidate as their first choice have their second-choice votes counted. This process is repeated until a candidate receives a majority of the votes. This means that ranked-choice voting can accommodate competitive races with more than two dominant candidates, potentially opening elections up to new voices and more competition.
Unlike traditional "first past the post" (or plurality wins) elections, where voters can only pick one candidate, ranked-choice voting allows voters to select as many candidates as they like, ranked in preference order. It makes for a more expressive ballot that conveys nuanced voter opinions and allows ballots to remain in play rather than being immediately exhausted if a ballot's first-choice candidate is unpopular.
In November 2021, a record number of municipalities throughout the country used RCV.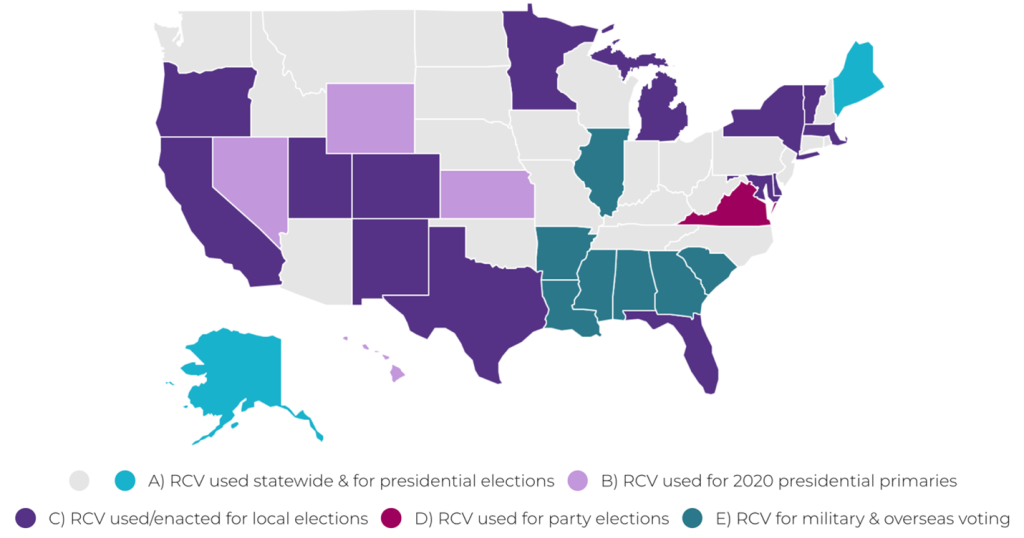 This simulation asks participating student groups to nominate their favorite restaurant. The attendees will then cast their ballots by ranking their restaurant preferences. Voting opens on March 23 at https://go.iastate.edu/SHJJ3H. Participants can also vote in person on the night of the event.
"Ranked-choice voting is becoming more popular across the country. This is a fun opportunity for Iowa State students and the community to learn how the process works," said Karen Kedrowski, Catt Center director.
Students who are interested in helping organize and execute the mock election can contact ISU student Justin Hollinrake at justinh7@iastate.edu to volunteer or get more information. All students are welcome, including those new to the issue.
RSVPs for the March 30 event are not required but are welcomed. To RSVP, go to https://www.betterballotiowa.org/isu_rcv_mock_election_night.
Other co-sponsors of the mock election include the Department of Economics, Department of Mathematics, Department of Political Science and Department of Statistics.
Published: March 7, 2022