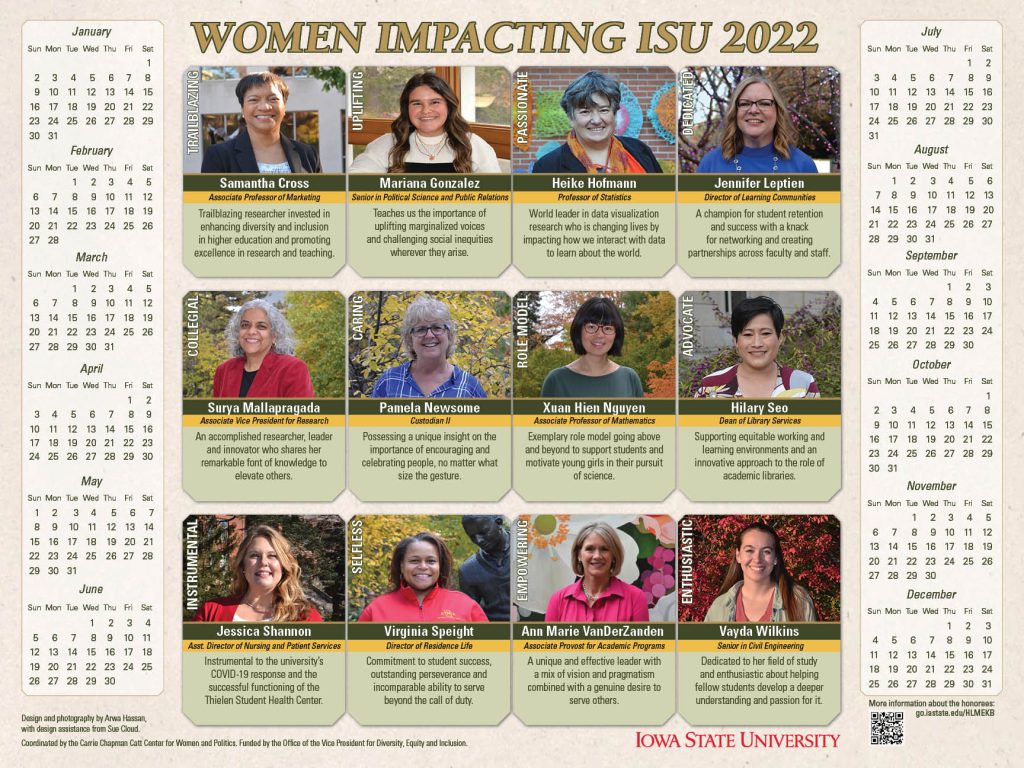 Twelve women whose leadership has made a difference at Iowa State University were honored on the 2022 Women Impacting ISU calendar.
The 2022 calendar was officially unveiled during a reception recognizing the honorees on Tuesday, Jan. 25 in the Sun Room of the Memorial Union, as well as via livestream. Because the 2021 calendar reception was cancelled due to the COVID-19 pandemic, the 2021 honorees were also be honored at the reception. After the program, copies of the calendar were distributed for free.
Students selected for the 2022 calendar are: Mariana Gonzalez, a senior in political science and public relations, and Vayda Wilkins, a senior in civil engineering.
Faculty selected are: Samantha Cross, associate professor of marketing; Heike Hofmann, professor of statistics and professor in charge of data science; Surya Mallapragada, associate vice president for research in the College of Engineering, Anson Marston Distinguished Professor and Carol Vohs Johnson Chair of Chemical and Biological Engineering; Xuan Hien Nguyen, associate professor of mathematics; Hilary Seo, dean of library services; and Ann Marie VanDerZanden, associate provost for academic programs and professor of horticulture.
Staff chosen for the calendar are: Jennifer Leptien, director of learning communities; Pamela Newsome, custodian II; Jessica Shannon, assistant director of nursing and patient services at Thielen Student Health Center; and Virginia Speight, director of residence life.
More information about the 2022 calendar honorees
Each year, a committee of students, faculty and staff – including past calendar honorees – evaluates the nomination packets to select the final honorees. The committee chooses the 12 honorees based on their achievements in service, teaching, research, administration and involvement in campus activities, depending on each nominee's role on campus.
This year's 17-member committee included five faculty, one merit staff, four students, five professional and scientific staff, and one Catt Center alumna and past calendar honoree. The members represented four undergraduate colleges, the Graduate College, the Department of Public Safety, the Margaret Sloss Center for Women and Gender Equity, Multicultural Student Affairs, the Program for Women in Science and Engineering, the Provost's Office, and Strategic Relations and Communications.
"Scoring was so much harder than I thought it would be, as all the applicants were excellent!" said committee member Natasha Greene, police officer with the ISU Department of Public Safety and 2021 calendar honoree. "I was so impressed with all the nominees and I want our campus to know what phenomenal women we have contributing to ISU's continued growth and success!"
Fifty-one women were nominated for the 2021 Women Impacting ISU calendar, including one merit staff member, three students, 27 professional and scientific staff members, and 20 faculty members.
"A huge thank you goes out the selection committee, who had the difficult job of selecting just 12 women from a remarkable group of nominees," said Sue Cloud, communications specialist at the Catt Center and organizer of the calendar selection process. "I also want to thank all the nominators, who wrote such strong letters of recommendation for their nominees. If you nominated someone who was not selected, please consider submitting a nomination again for the 2023 calendar."
The Catt Center sponsors the calendar with funding provided by the Office of the Vice President for Diversity, Equity and Inclusion.
Visit the Catt Center's website to see previous calendars and a list of past honorees.
Published: January 27, 2022