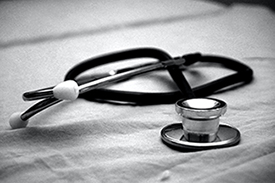 In recognition of the dedication of nurses during the ongoing COVID-19 pandemic, this issue of Voices honors six women in the Plaza of Heroines who have made careers out of helping and healing others.
If you are interested in purchasing a brick or a paver to honor a heroine in your life, fill out the online order form or email the Catt Center at cattcntr@iastate.edu. To add or edit a narrative or include a photograph in the profile of a woman you have previously honored on the plaza, email the Catt Center or mail your submission to Plaza of Heroines, 309 Carrie Chapman Catt Hall, 2224 Osborn Drive, Iowa State University, Ames, IA 50011-4009.
Alma Lydia Gonzalez was inspired by her late father to pursue her dream of being a part of the medical community. Gonzalez graduated from Black Hawk Community College in 2011 as a registered nurse and completed her bachelor's degree in nursing at Western Governor's University in 2017. Gonzalez is a pediatric intensive care unit nurse at Stead Family Children's Hospital in Iowa City, Iowa. Through her passion for her career, she inspires her local community and makes a positive impact on those around her. Gonzalez was honored on the plaza by Raul Hernandez.
Ann M. Bengtson dedicated more than 40 years of her life to the care of others as a nurse. Her passion for caring extended beyond her work to the unconditional love she shared with her family as an aunt, grandmother and mother. It was through her love and passion for family, animals and the Chicago Cubs that she enriched the lives of those around her. Bengtson was honored on the plaza by Marcus Cottrell.
Susan C. Walsh Wilmore began working after high school to save money to pay for nursing school. She graduated from St. Mary's Help Hospital School of Nursing in San Francisco, California, as a registered nurse. After graduation, Wilmore returned to Des Moines where she began a nursing career that would span 40 years, with all of it being dedicated to the care of children. It was her love for others that she is remembered for the most. Wilmore was honored on the plaza by her daughters, Suzanne Burris and Mara Wilmore.
Marlene A. Walton followed her mother's footsteps into the nursing profession, serving as an oncology nurse at Mary Greeley Medical Center in Ames, Iowa. Not only did she find a fulfilling career in her work as a nurse, but through caring for cancer patients also learned the importance of appreciating each day and living life to the fullest. Walton credits her mother's warm and kindness as inspiration for both career and motherhood. Walton was honored on the plaza by her husband, Duane Walton.
Loretta Jeanne Feeney Tarbox began her nursing career at St. Bernard's Hospital in Council Bluffs while expanding her nursing education at Creighton University in Omaha, Nebraska. Over the next 28 years, Tarbox continued her nursing career at Fort Dodge Mercy Hospital, Trinity Regional Hospital and in local nursing homes. Her passion for helping others extended to volunteer work, where she helped to establish Fort Dodge's Meals on Wheels program. In 1995 she was promoted to healthcare coordinator for Elderbridge Agency on Aging. Tarbox's career achievements also include the Edith E. Ruppert Award from the Iowa Nursing Association, the NAACP Award for community service and American Business Women's Association Woman of the Year. Tarbox was honored on the plaza by her son, James Tarbox.
Kristie Sward is known by her family and friends for her tenacity, strength and for being someone who stands against injustice. After retiring from her career as a nurse and a nurse practitioner in 2013, Sward continued to help others through her gardening. Her hobby of growing tomatoes became a way to give back when she began selling her tomatoes at farmer's markets, with the money earned from her sales donated to charity. Sward was honored on the plaza by her daughter, Grace Sward.
Published: January 10, 2022