Samantha Cross – Trailblazing
Samantha Cross, associate professor of marketing, is recognized internationally for her trailblazing research on culture and diversity and how it functions in the marketplace. Cross and her colleagues have identified several barriers to advancing diversity and inclusion-engaged marketing, work that is the first of its kind. Since arriving at Iowa State, Cross has published 19 peer-reviewed journal articles and seven books and method publications, and has been an invited speaker at over 100 conferences, workshops and events. She has received numerous awards and recognitions, including the 2020 Women in Marketing Scientist Award, a global recognition for her efforts as a member of the multicultural marketplaces network of researchers, and the 2019 Outstanding Article Award in the Journal of Advertising, for research with a former doctoral student. In addition to her committee service at Iowa State, Cross serves on several prestigious national and international committees. The first Black woman tenured associate professor in Iowa State's Ivy College of Business, Cross is invested in diversifying the pipeline of professionals and has had significant influence on colleagues and administrators to enhance diversity and inclusion in higher education. Cross is also engaged in leadership roles to promote excellence in research and teaching, and provides invaluable mentorship, guidance and support for students earning degrees in marketing and business.
Mariana Gonzalez – Uplifting
Mariana Gonzalez, senior in political science and public relations, connects with students across campus and constantly strives to make Iowa State a better place. She radiates positivity and motivates others to pursue their goals while supporting them every step of the way. A first-generation student dedicated to her studies, Gonzalez's impact is most keenly felt through her involvement outside the classroom. A member of Kappa Kappa Gamma, she has served on several committees and was elected to select women for leadership positions within the chapter. She participates in the Collegiate Panhellenic Council's Women of Color organization, including serving as president. Gonzalez is also active within Student Government, serving as an Inter-Residence Hall Association senator, Public Relations Committee member and Student Government office manager in 2019; College Panhellenic Council senator and vice speaker of the Senate in 2020; and candidate for vice president in 2021. Driven by her own experiences as the daughter of Mexican immigrants, Gonzalez is deeply committed to representing and uplifting the voices that tend to go unheard and to educating others about the dangers that harmful stereotypes and narratives carry for Latino immigrants in the United States. She inspires everyone she meets to follow the example she has set as a service-oriented humanitarian and teaches us every day about the importance of uplifting marginalized voices and challenging social inequities wherever they may arise.
Heike Hofmann – Passionate
Heike Hofmann, professor of statistics and professor in charge of data science, has a passion for helping others learn how to analyze and visualize data in insightful ways. A world leader in data visualization research and leader of Iowa State's Graphics Working Group, Hofmann has published more than 70 refereed journal articles, built computational tools for displaying data in creative and effective ways, and produced methods to help others gain insights from data. She is a contributor to the Center for Statistics and Applications in Forensic Evidence, where researchers work to improve the fairness and accuracy of our criminal justice system. In 2019, she was named Kingland Systems Faculty Fellow in Data Analytics in the College of Liberal Arts and Sciences. Through her teaching, contributions to curricular development and leadership of extra-curricular activities, Hofmann has had a life-changing effect on students at all levels. She played a key role in the establishment of the Data Science Program and has developed several undergraduate and graduate-level data science and statistics courses, including STAT 332: Visual Communication of Quantitative Information, one of the few courses in the country that addresses the need for writers to communicate quantitative information using state-of-the-art statistical visualization techniques. She has taught workshops, short courses and tutorials on statistical graphics, visualization and the R programming language. Her work with the Data Science for the Public Good Young Scholars Program, a summer program for Iowa students, has contributed to its success and helped win two awards in 2021.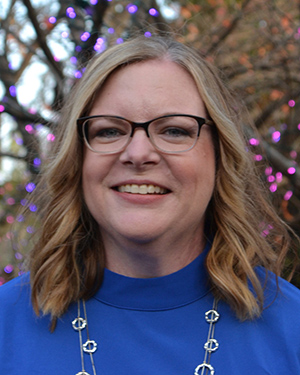 Jennifer Leptien – Dedicated
Jennifer Leptien, director of learning communities, is a champion for student retention and success and has a knack for networking and creating partnerships across faculty and staff that enhance undergraduate student experiences. As one of a very few Gallup-Certified CliftonStrengths coaches at Iowa State, Leptien has led dozens of Strengths sessions for thousands of students, faculty and staff, and participants have listed the workshops among the most impactful of their experiences that year. She is a hero of Iowa State's excellent first-year retention rates, consistently looking for ways to improve the student experience that impacts thousands of Iowa State students annually. She has also developed an Honors seminar with an optional study abroad opportunity. Hundreds of students have participated in the course over the years and are mentored by Leptien long after their enrollment in the course. Leptien is also a leader in diversity, equity and inclusion at Iowa State. Her leadership activities that have had a broad impact include the launch of Lunch and Learn monthly meetings focused on topics of diversity and inclusion facilitated by university partners; a Student Affairs Divisional Book Club focused on the book "Me and White Supremacy"; a survey implementation and workshop on results from Division of Student Affairs diversity and inclusion initiatives; co-leadership of a Women's and Diversity Grant that offered monthly professional development and leadership programming for women directors of ISU; and early adoption of the ISU Principles of Community.
Surya Mallapragada – Collegial
Surya Mallapragada, associate vice president for research, Anson Marston Distinguished Professor and Carol Vohs Johnson Chair of Chemical and Biological Engineering, is an accomplished researcher, leader and innovator whose greatest impact at Iowa State is the way she shares her remarkable font of knowledge to elevate others. Mallapragada serves the university selflessly in a way that promotes the collegiality and productivity of others. In addition to her administrative responsibilities, she has taken on 41 distinct departmental, college and university service activities. She has coauthored 191 scientific articles, 26 Proceedings papers and 11 patents. She has participated with multiple collaborators from multiple organizations in grants and contracts that have brought in more than $35 million from a variety of public and private funding sources. She is widely sought as a speaker, with 92 invited external talks, and has contributed to more than 140 conference presentations, often with students as presenters. She has supervised the completion of 28 student dissertations and theses, and nineteen of her students have received awards. Mallapragada has won numerous Iowa State, national and international awards for her research and service. One of the greatest mentors at Iowa State and the only female Distinguished Professor in the College of Engineering, Mallapragada paves the way for other women by serving as an exceptional role model and by using her influence to plant the seeds of success for those still climbing.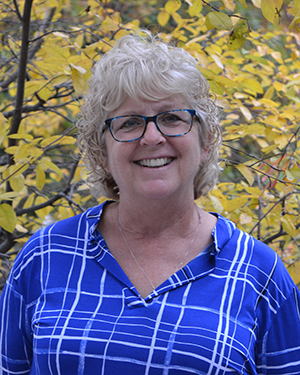 Pamela Newsome – Caring
Pamela Newsome, custodian II, is a hidden hero who creates an environment that helps others to succeed. She possesses a unique insight on the importance of encouraging and celebrating people, no matter the size of the gesture. She takes great pride in her work, and her attention to detail is noticed by the students, staff and faculty of the Department of Music and Theatre and visitors to Simon Estes Music Hall. In addition, she provides leadership for 14 buildings and 20 custodians in her work area. What makes her truly stand out is the care and attention she gives the students, her compassion for people, and her attention to how her work affects the ability of people to live, work and learn in the facilities she cares for. Among the personal touches from Newsome that make a difference are: learning the names of all the faculty, staff and students; leaving notes of encouragement for students, staff and visitors; sharing birthday cards and treats; being available to talk with anyone who needs a conversation; creating decorative bulletin boards for different events and times of the year; and sending notes of appreciation to her supervisor and manager. The positivity she brings into the building has been integral in creating an inclusive and supportive community within the Department of Music and Theatre. Her passion is genuine for both her work and her community, and she devotes her time and energies to making both better in every possible sense.
Xuan Hien Nguyen – Role Model
Xuan Hien Nguyen, associate professor of mathematics, is an accomplished mathematician and exemplary role model. She has consistently exceeded expected faculty responsibilities to support female students and motivate young girls to pursue a career in mathematics and science. She is a model example of a successful, female academic who is capable of balancing research, teaching and a home life with young children. A mentor for all students, Nguyen has helped female graduate students successfully transition from graduate student to professor in a male-dominated field. She partners with others to promote an interest in mathematics and science in young girls, increasing the pipeline of women pursuing an education and career in STEM fields. She uses active teaching strategies that narrow the academic performance gap between students from over-represented and under-represented groups, and she is a supporter of the mathematics department's colloquium speaker series of underrepresented mathematicians that is run by graduate students. She was an organizer and the plenary speaker for the first-ever Sonia Kovalevsky Day, an event for local middle and high school students to visit Iowa State for mathematics talks, hands-on activities, and a chance to meet and talk with women in mathematics. A recipient of the 2020 ISU LAS Inclusive Excellence Award, Nguyen teaches others how to be leaders and advocates for growth within the academic and local communities, especially for underrepresented groups.
Hilary Seo – Advocate
Hilary Seo, dean of library services, is committed to working and learning environments that are supportive of all. Whether in her role as librarian, equity advisor, associate dean of preservation services, interim dean or dean, Seo has impacted the work and success of thousands of students, faculty and staff at Iowa State. As equity advisor, she built a mentoring structure for new librarians, developed a culture that advocates for work-life balance and trained search committees to be aware unintended bias. Navigating the COVID-19 pandemic response, she has demonstrated a commitment to ensuring the success of the university's academic librarians, prioritizing both their wellness and the needs of the university community. She partnered with other campus units to address student access to print and electronic resources, student computer and network needs, and support for faculty research efforts. Through her active participation in professional organizations, she brings new ideas and perspectives back to the Iowa State campus. Her leadership has placed the library at the center of ISU's emerging and strategic focus on innovation and entrepreneurship. Open to new partnerships, Seo has continued building the relationship and programming efforts with the Ames Public Library. She has been steadfast in her support of faculty, staff and student success; an equitable working and learning environment; and an innovative approach to the role and scope of academic libraries.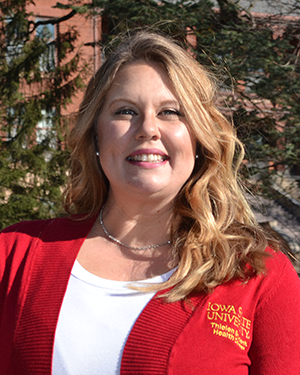 Jessica Shannon – Instrumental
Jessica Shannon, assistant director of nursing and patient services at Thielen Student Health Center, has been a steadfast leader of the team of medical professionals directly responsible for the health of Iowa State students. Her contributions have been instrumental to the university's COVID-19 response and the successful functioning of the health center. She helped establish COVID testing protocols and ensured that there was staffing available seven days a week, personally covering many early morning, evening and weekend hours. She sourced personal protective equipment so that the TSHC team could safely serve patients. She took the lead with ISU's application for TSHC to be an approved vaccine provider, ensuring access to vaccines for students, faculty and staff, and planned and executed small-scale vaccination clinics that laid the foundation for ISU's mass vaccination effort that provided more than 13,000 doses to 7,770 individuals by late September. She manages a team of 30 people who, this past year, supported over 40,000 patient visits, handled more than 53,000 phone calls and provided over 48,000 COVID-19 tests. She has maintained the morale of a nursing staff pushed beyond exhaustion, and her attention to detail and rigorous enforcement of infection control protocols were central in enabling the staff to accomplish these tasks without a single employee infection stemming from patient interaction. A certified sexual assault nurse examiner, Shannon is also the primary responder when a student arrives at TSHC after experiencing an assault, and she is part of the rotation that provides coverage to Story County emergency departments.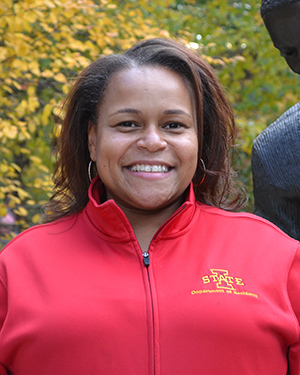 Virginia Speight – Selfless
Virginia Speight, director of residence life, has a selfless approach to leading the on-campus student experience for around 10,000 students annually. With an innate ability to connect with students who are in crisis, she listens to, encourages and mentors students through some of the most difficult circumstances they have encountered. She has implemented new and creative procedures and processes to ensure students feel connected to our community and receive the resources they need for their well-being and academic success. She serves as an outstanding mentor to new colleagues, with dozens of student affairs professionals benefiting from her teaching, coaching and support. She maintains an "open door," welcoming informal visits that become great discussions about how to better serve the residence community. She never asks of others what she would not do herself, often taking on after-hours tasks so staff can take time for themselves. During the COVID-19 pandemic, she volunteered without hesitation to live in as the residence life leader and after-hours response for students in isolation or quarantine. She managed the comings and goings of students moving in and out of the halls; facilitated communication on behalf of the university to students, campus partners and community at large; managed deliveries, emergencies and conflicts; and communicated with families who had concerns, questions and worries regarding their student. It is unlikely that Iowa State would have been able to provide an on-campus experience for students without Speight's leadership, and the Department of Residence will be forever grateful to her due to the generosity she has displayed.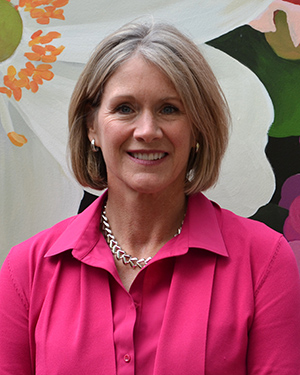 Ann Marie VanDerZanden – Empowering
Ann Marie VanDerZanden has positively impacted the Iowa State community as an award-winning faculty member, director of the Center for Excellence in Teaching and Learning (CELT), and her current position, associate provost for academic programs. She is helping lead the way to continuously improve the quality of education and overall experience for Iowa State students. A leader who values and nurtures the commitment Iowa State faculty and staff have to the success of our students, her unique mix of vision and pragmatism combined with a genuine desire to serve others truly makes her a unique and effective leader. Skilled at creating spaces where multiple perspectives and concerns can be voiced, she is able to think broadly, weigh the factors that may impact the topic at hand and coalesce these aspects into working policies, recommendations, solutions and advocacy. She has provided unflappable and indefatigable leadership during the COVID-19 pandemic. Her leadership with the Academic Continuity Working Group and the Winter Session planning group has been critical to the success of the university as it navigated the impact of the pandemic on students, faculty and staff. She coordinated and supported efforts to get ISU students studying abroad in spring 2020 back to Ames safely and able to complete their coursework in a meaningful way. She is an excellent role model for faculty aspiring to leadership positions, and her passion and commitment, centered on student and faculty success, is something from which we can all learn and be inspired.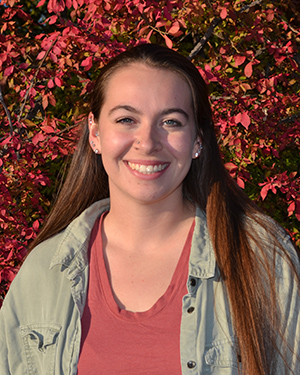 Vayda Wilkins – Enthusiastic
Vayda Wilkins, senior in civil engineering, has an enthusiasm for engaging with, mentoring and helping others that has made a positive difference in the lives of hundreds of students at Iowa State. Early in her academic career, she developed a reputation with her peers as someone who was always willing to explain something from class and walk through a problem or question. She became an undergraduate teaching assistant during the COVID-19 pandemic and has gone out of her way to ensure the success of each of the students in her lab sections. Her student hours in the help room are among the most popular sessions of the week and even during unscheduled times, she will come in to work with a struggling student. She runs both one-on-one tutoring and exam review sessions students on problem-solving skills and the importance of resiliency within the engineering program. She has worked with over 400 students in civil, construction and environmental engineering in their first core engineering course alone, as well as in three other engineering courses. Her enthusiasm extends beyond the classroom. She is involved with the student chapter of the American Institute of Steel Construction and with the Steel Bridge Competition Team, serving in several leadership roles with the team, and is co-coordinating the Region 7 American Society of Civil Engineers Student Symposium to be hosted by Iowa State University in spring 2022. Wilkins has also participated in research projects with two professors. In addition to her contributions to the research, she co-developed a poster that was presented at the CCEE department's 150th celebration.
Published: November 17, 2021