Are you following the Catt Center on social media?
In addition to subscribing to the Voices newsletter, friends of the Catt Center can follow the center on one or more of its social media channels to get up-to-the-minute information about the center's activities and events, watch videos of some of the speeches included in the Archives of Women's Political Communication, enjoy special features such as Fierce Friday and participate in the occasional social media challenge.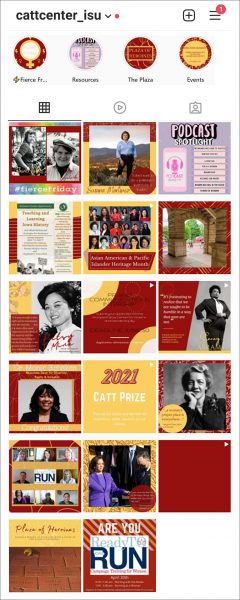 The center has been active on Facebook (@cattcenter) and Twitter (@CattCenter_ISU) for several years, and recently added Instagram (@cattcenter_isu) to its social media presence.
"By adding Instagram to our social media platform, we hope to connect to a whole new network of women interested in politics and activism," said Ashley Marsh, the Catt Center staff member coordinating the center's Instagram account. "When we combine our voices and support each other, we can empower women to be leaders of change, and social media can help us accomplish that goal."
One of the highlights on the center's Instagram account is Fierce Friday, where each week we feature a woman who has made a positive impact on the world as an elected official or through her activism. Recent features have included Elaine Noble and Kathy Kozachenko, the first openly lesbian or gay candidates to run successfully for political office in the United States; Patsy Mink, the first woman of color elected to the U.S. House of Representatives and first Asian-American woman to serve in Congress; and Susana Martinez, the first female governor of New Mexico and first woman of color governor in the United States.
We will also be issuing social media challenges through Instagram to connect with members of our community and bring attention to issues related to the center's mission. Stay tuned for our first challenge for Women's Equality Day, which will be announced in the next few weeks!
Published: July 12, 2021