No election? No problem! The Carrie Chapman Catt Center for Women and Politics continues to lead Iowa State's student voter engagement efforts and earn national recognition.
GO VOTE design sprint
In March, the Catt Center partnered with ISU's new Student Innovation Center, the Department of Political Science, and the College of Liberal Arts and Sciences to sponsor a three-week design sprint, "Ready, Run, Race: Go Vote!" Six student teams competed for cash prizes by designing voter engagement messages targeted to low-turnout groups, particularly STEM majors. Their ideas will be implemented in future voter engagement campaigns, starting with fall 2021 local elections.
The winning team, Eva Newland (journalism and mass communication and genetics) and Mackenzie Donald (chemical engineering), proposed using the introductory engineering courses to have working engineers talk with current students about the importance of voting.
Two teams tied for second place. The first team – Sehba Faheem (biological systems engineering), Abigail Meehan (political science), and Legacy of Heroines scholar Rachel Junck (chemical engineering) – proposed developing a large network of student voting ambassadors to reach out to their social networks to promote voter engagement. The other second place team – Faith Toweh (political science) and Sarah Ng (industrial engineering) – designed a series of targeted social media messages, such as "Design Your Future: Vote" and "Engineer Your World: Vote."
The GO VOTE design sprint was the first social innovation project undertaken by ISU's Student Innovation Center and will be featured at the 2021 Iowa State Fair.
Voter Friendly Campus designation
Also in March, Iowa State University became the first, and so far the only, Iowa university to earn the Voter Friendly Campus designation for the 2021-22 election cycle. This award recognizes campuses that intentionally promote student voter engagement and reduce barriers to voting and is sponsored by the Fair Elections Project Campus Vote Project and the National Association of Student Personnel Administrators.
Silver Seal and Gold Seal awards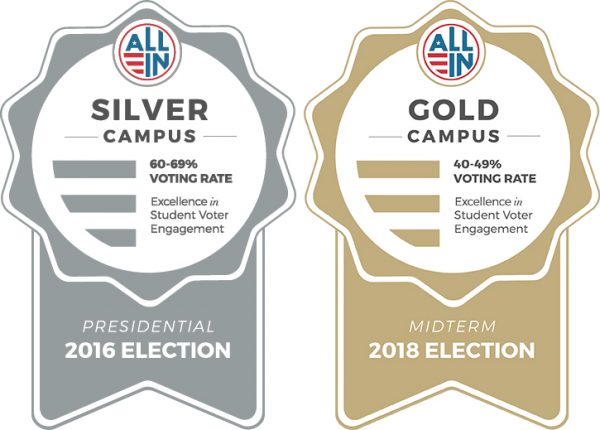 ISU student voter turnout reached 62% in the 2016 presidential election and 43.4% in the 2018 midterm election, according to the National Survey of Learning, Voting, and Engagement. NSLVE tweaked its methodology to account for out-of-state students who voted at their college campuses. These percentages are well above the national turnout rates of 52.9% and 38.5%, respectively.
The ALL IN Campus Democracy Challenge recognized Iowa State voter engagement success with a Silver Seal award for 2016 and a Gold Seal award for 2018. NSLVE results for the 2020 election will be available in September and the ALL IN awards will be announced in February 2021.
Published: May 10, 2021