Amidst the 2020 COVID-19 pandemic, the Carrie Chapman Catt Center teamed up with Girl Scouts of Greater Iowa to create a new scouting patch – the Women's Right to Vote Patch.
The patch program was created to educate young girls on the importance of voting, as well as create an appreciation for the historic achievement of women's suffrage. Fronting the creation of this patch was none other than the center's director, Karen Kedrowski.
"It was nice to have a tangible work project during such a time and it was a great way to make an impact on this community," Kedrowski said.
In late 2018, the 19th Amendment Centennial Commemoration Committee was formed to coordinate the state's recognition of the 19th Amendment centennial. Kedrowski joined this committee after becoming director of the Catt Center in January 2019, which led to her collaboration with Girl Scouts of Greater Iowa.
With the Catt Center being one of the only centers in Iowa with a focus on women and politics, Kedrowski felt this collaboration only made sense.
"The committee's theme was 'Hard Won. Not Done.' It means that women's suffrage was hard won, but in terms of equality, we are not done…which tied perfectly to the goal of the patch," said Kedrowski.
Scouts earn the patch through a series of educational activities, which Kedrowski and the Girl Scouts of Greater Iowa Council hope will create conversations among young people about the progression of women's suffrage, as well as the current state of women's equality.

Troop leader and Iowa State University academic advisor Emily Olson saw the importance of this patch and quickly began to teach her troop on the matter.
"Our troop's intention with this patch was to try and not have it feel like school for the girls. The girls responded very well to the patch program and began talking about the differences they wanted to see, especially within voting rights," Olson said.
The troop reacted especially well to a Girl Scout cookie mock election activity, which Olson described as being particularly influential in the girls' learning. She found that the number of girls participating in each round of voting created differences in the activity's outcome.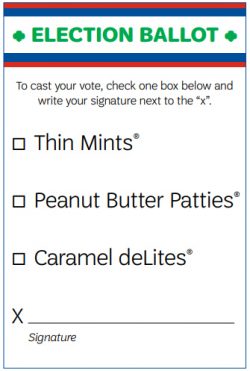 "With the voting activity, the girls were able to see how their voices truly count. It showed them that they are not just a number and that with their active participation, they can make a difference, which was refreshing," Olson noted.
Olson also mentioned the attitude shift she noticed in the girls while they were completing the Women's Right to Vote patch. They began to recognize the inequality within the voting activity, which sparked further conversation about the United States' current voting system.
This discussion was exactly what Kedrowski had hoped for when creating the program.
"American democracy is a work in progress. The voting exercise shows how women's suffrage was one step on the nation's journey to full participation," said Kedrowski.
"Overall, I would tell every troop to go out and complete this patch," Olson said. "It is a great opportunity to show young women that they can really do some amazing things when they use their voices."
Published: May 10, 2021