The 2021 Ready to Run® Iowa six-part workshop series kicked off Feb. 26 with its first-ever virtual workshops. The next two workshops will be held on March 26, with the final two workshops on April 30.
The March and April workshops will also be held virtually. There is no cost to attend the 2021 workshops, and people can register separately for as many workshops as they wish to attend.
Register for the March 26 workshops here.
The Feb. 26 workshops focused on getting started in Iowa politics and launching a campaign. Kelly Winfrey, assistant professor in journalism, research and outreach coordinator for the Catt Center and Ready to Run organizer, opened the morning workshop with a discussion of the current status of women in Iowa politics.
"Women make up 50.2% of Iowa's population but only 29% of state legislators," said Winfrey. "Women offer unique perspectives that need to be represented."
Panelists Linda Murken, member of the Story County Board of Supervisors; Molly Severn, former director of the State of Iowa Boards & Commissions; and Susie Wienacht, member of the Iowa Board of Parole, then shared their experiences and insights on serving on a public board or commission.

A second panel including Heidi Burhans, director of elections at the Iowa Secretary of State's Office; Barbara Hames-Bryant, president of the Iowa Federation of Republican Women; Mark Smith, former chair of the Iowa Democratic Party; and Maggie Tinsman, president of Maggie Tinsman, LLC and former Iowa senator and Scott County supervisor, provided an overview of Iowa elections, including the types of races, how to get on a ballot and the importance of finding a mentor.
In the afternoon workshop, Jackie Norris, former senior advisor on Joe Biden's general election team, discussed creating a campaign plan, and Josie Albrecht, president of Latitude 41 Public Relations, provided guidance on developing and communicating a campaign message.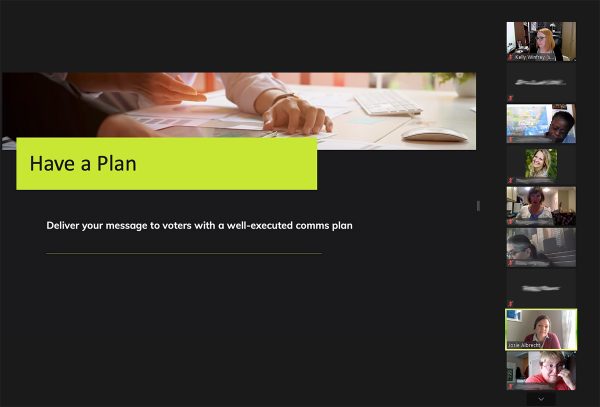 "I think participants left the workshops with a good grasp of how to be more involved and launch their own campaign," said Winfrey. "Our upcoming workshops will go into more depth on how to run and win."
The March 26 morning workshop, "Funding Your Campaign," will cover fundraising basics and Iowa campaign finance rules and regulations. The afternoon workshop, "Online Strategy," will cover website essentials and discuss how to use websites and social media strategically. Speakers will include Cohl Bultje, statewide and legislative auditor for the Iowa Ethics & Campaign Disclosure Board; Greg Hauenstein, owner of One Voice Message & Media; and Ashley Hunt, founder of IAstrategies. Visit the Ready to Run Iowa webpage for workshop agendas and to register.
Ready to Run Iowa will conclude on April 30 with the final two workshops, "Working With the Media" and "Running as a Woman. " Full agendas and speakers will be announced later this month, and registration for workshops will open on March 30.
In an effort to increase the number of women in elected and appointed political office, the Catt Center has offered the Ready to Run® Iowa program every other year since 2007. The nonpartisan program prepares women to run for elected office, serve in appointed office or become more involved in community leadership. Presenters include public officials, former candidates, campaign strategists and journalists.
"I'm glad I signed up for this, and am thinking of signing up for the other sessions, which originally I hadn't thought I would do," wrote one attendee in the survey sent to all February participants.
Catt Center director Karen Kedrowski remarked, "Ready to Run is a great program that demystifies the political process. Participants walk away with the knowledge, skills and confidence to get involved in public affairs."
The 2021 program is sponsored by the Ames Chamber of Commerce, the League of Women Voters of Ames and Story County, and the late Richard and Mary Jo Stanley. Their sponsorships provide funds that allow the Catt Center to offer the virtual workshops at no cost and to provide live closed captioning.
If you would like to be added to the Ready to Run® Iowa mailing list, please email the Catt Center at cattcntr@iastate.edu.
Published: March 8, 2021