On Feb. 26, U.S. Rep. Katie Porter presented the Spring 2021 Mary Louise Smith Chair in Women and Politics lecture, "Truth to Power" via Webex. This lecture series is sponsored by the Carrie Chapman Catt Center for Women and Politics through the generous support of donors. This year's lecture was the first one presented virtually, and was attended by 200 people from the Iowa State community and beyond.
Porter, a native of Iowa, has represented California's 45th Congressional District since 2018.
Sehba Faheem, a senior in biological systems engineering and voting rights activist who worked with Catt Center director Karen Kedrowski on student voter engagement in the fall of 2020, introduced Porter as someone who "creates history" and is "relentless" in creating positive change in the country.
"Anyone who runs for office is making a promise and asking voters to take them up on it," Porter began her lecture by saying. "In 2018, I campaigned on the promise that if I was elected, I would do things differently, that people, that ordinary people would recognize themselves in what I did, in what I said, in the decisions that I made."
Porter then described the spoken and unspoken rules in Congress that she encountered when she took office that she felt seemed designed to prevent people like her from doing the job they were sent to do. Partisan gridlock is only a small part of the problem. A bigger problem, she said, is how systems operate—including in elected politics—to keep power in the hands of certain people.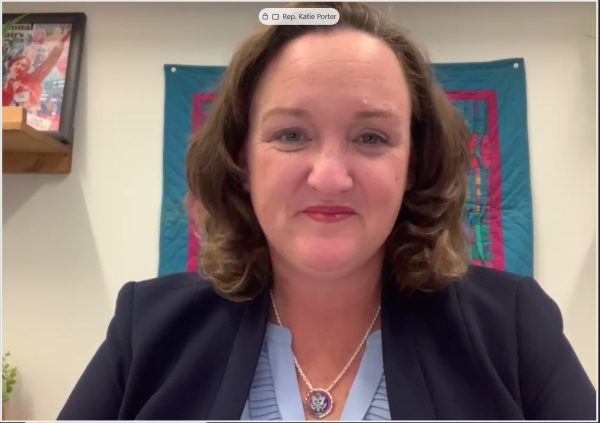 Committee hearings, however, did offer her an opportunity for her "five minutes" to ask for truth from powerful people.
She recounted her exchange with JP Morgan CEO Jamie Dimon that went viral, as she used calculations on a white board to get him to admit that he did not know how someone who worked full-time as a teller at the bank could afford to live on the salary the bank paid them. She said that she later heard from the bank teller in that scenario, who said that she felt empowered by Porter's actions.
"For me, that's the job of elected officials. It's the purpose of democracy itself to make powerful people ordinary and to make ordinary people powerful," Porter said of the exchange.
The best parts of the American story, she said, have been when ordinary people have used their power to make life easier and better for each other, "including when we insist that our fellow Americans be treated fairly and that we all get the same deal."
Porter cited the historic number of people voting in recent elections – "the most fundamental element of democracy itself" – as an example of how Americans are starting to take their power back.
Speaking truth to power can look like many things, she explained. As a single parent, she said, "For me, it often means pushing back against legislation that would hurt families, children and people like me."
Porter closed her remarks by urging participants to use their voices to speak truth to power in whatever unique ways that might look like for them. After the lecture, she took a number of questions from attendees.
A recording of Porter's presentation, including a transcript of her lecture and the question-and-answer session, is available on the Lectures Program website.
The Mary Louise Smith Chair in Women and Politics was established in 1995 to honor the Iowa native and longtime political and civic leader. Smith was the first woman to chair the Republican National Committee, and dedicated her life to civic, government and community affairs. This event brings political activists, leaders and scholars to Iowa State once or twice a year to share their stories and inspire students with their experiences.
Published: March 8, 2021