This issue of Voices features three women honored in the Plaza of Heroines who were born before the passage of the 19th Amendment to the U.S. Constitution and were likely among the women who voted for the first time in the 1920 general election.
If you are interested in purchasing a brick or a paver to honor a heroine in your life, fill out the online order form or email the Catt Center at cattcntr@iastate.edu. To add or edit a narrative or include a photograph in the profile of a woman you have previously honored on the plaza, email the Catt Center or mail your submission to Plaza of Heroines, 309 Carrie Chapman Catt Hall, 2224 Osborn Drive, Iowa State University, Ames, IA 50011-4009.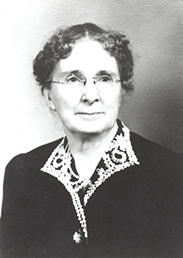 Laura Jordan Goff
Laura Jordan Goff was born in a log cabin in 1868. She taught in a one-room school just south of Guthrie Center until she married Milton Sheridan "Sherd" Goff in early 1890. The school is now a museum on the Guthrie County Fairgrounds. During the next 21 years, Goff bore eleven children as the family moved at least thirteen times.
When three of her sons were drafted in World War I, Goff knitted socks and mittens for the Red Cross and helped roll bandages. Two more of her sons served in World War II, as did six grandsons. Three of her grandsons lost their lives during the war.
On October 19, 1920, Goff wrote her oldest daughter, Leora Goff Wilson (also honored in the Plaza of Heroines), "Miss Grisell speaks at the Christian Church at 2:30 tomorrow and tells the women how to vote. Think I will learn how its done. Love Momma." Goff probably attended and was probably the first woman in the family to cast a ballot in the first general election that women were allowed to vote–November 2, 1920.
Goff passed away in 1962. She was honored on the plaza by her six granddaughters: Doris Wilson Neal, Darlene Wilson Scar, Maxine Goff Allgood, Connie Goff Elston, Shirley Bittner and Phyllis Goff Lopez.
Louise Huntington Rowe
Louise Huntington Rowe was born on August 14, 1891, in Rock Rapids, Iowa. She graduated from Knox College in Galesburg, Illinois, in 1914. While at Knox, she joined Pi Beta Phi sorority, later joining Chapter Al PEO in Rock Rapids. She married Thomas Tipton Rowe on January 5, 1916, and they had three children, all of whom graduated from Iowa State University.
In 1941, Iowa State passed a rule that fraternities must have a housemother. Rowe, who had two children at Iowa State at the time, was persuaded by the Alpha Iota chapter of Phi Gamma Delta during Veishea to stay for the rest of the spring. She stayed until she was forced by illness to resign in 1959.
Rowe was also a liaison between the students and university deans. As an amateur composer, she contributed to the authorship of the song "Pi Phi Fiji." She maintained extensive contact with alumni and the extra motivation to return for the annual alumni event was to visit Mother Rowe.
Voting was very important to Rowe, who lived through the suffrage movement and could not vote until age 29. One alumnus explained after he hitch-hiked back to Ames from a Des Moines trip to vote: "It was easier to make the trip than to explain to Mother Rowe why I did not vote."
Rowe passed away on April 14, 1959. She was honored on the plaza by Frank A. Anderson.
Grace A. Harmes Loomer
Grace Harmes was born in Rockford, Illinois, on January 25, 1862. She married John Milton Loomer in Thiensville, Wisconsin, in 1890, and they had three children.
Loomer was a teacher, journalist, poet and suffragette. She served as president of the Minnesota Women's Christian Temperance Union, attending the World WCTU convention in Switzerland in 1928. She was also active in the Methodist church in Sherburne and Austin, Minnesota. She loved to travel, write and paint, and served as a role model for her only granddaughter, Marian.
Loomer wrote the following in the Fairmount (Minnesota) Sentinel in 1919: "Women are not greatly interested in politics but they are progressive. We can take 20 minutes to read and grasp what is read, and women will not barter their votes for a mess of pottage. Read good books, make good friends and the world will be a better place for our having been here."
Loomer died December 19, 1955 in Austin, Minnesota. She was honored on the plaza by her granddaughter, Marian Grace Loomer Solomon.
Published: November 17, 2020