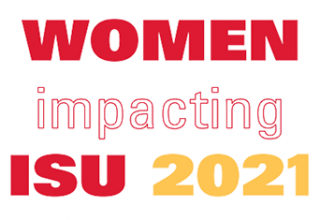 Twelve women whose leadership has made a difference at Iowa State University will be honored on the fifteenth annual Women Impacting ISU calendar.
Students selected for the 2021 calendar are: Helen Barton, senior in graphic design, and Rachel Junck, a senior concurrently pursuing a bachelor's degree in chemical engineering and a master's in business administration.
Faculty selected are: Theressa Cooper, assistant dean for diversity in the College of Agriculture and Life Sciences and adjunct assistant professor of agricultural education and studies; Shelby Doyle, assistant professor of architecture; Monica Haddad, associate professor of community and regional planning; Tera Jordan, assistant provost for faculty development and associate professor of human development and family studies; Ebby Luvaga, teaching professor of economics; Geetu Tuteja, associate professor of genetic, development and cell biology; and Courtney Vengrin, director of curricular assessment and teaching support in the College of Veterinary Medicine and assistant teaching professor of veterinary clinical sciences.
Staff chosen for the calendar are: Erin Baldwin, director of Thielen Student Health Center and associate vice president for student health and wellness; Natasha Greene, police officer with the ISU Department of Public Safety; and Betsy Matos, assistant director and biosafety officer for Environmental Health and Safety and assistant teaching professor of global resource systems.
Each year, a committee of students, faculty and staff – including past calendar honorees – evaluates the nomination packets to select the final honorees. The committee chooses the 12 honorees based on their achievements in service, teaching, research, administration and involvement in campus activities, depending on each nominee's role on campus.
This year's 20-member committee included three faculty, three merit staff, three students, nine professional and scientific staff, and two Iowa State University Foundation employees. The members represented all six undergraduate colleges, the Margaret Sloss Center for Women and Gender Equity, the Department of Residence, Strategic Relations and Communications, the athletics department, and the Iowa State University Foundation.
"During these stressful times this project has been a wonderful reminder of all of the strong women at Iowa State who are truly changing the world!" said Lisa Eslinger, chief financial and administrative officer at the Iowa State University Foundation.
Howard Tyler, assistant dean of student services for the College of Agriculture and Life Sciences, said, "This was really challenging because they are ALL great candidates and deserving of recognition."
Sixty-four women were nominated for the 2021 Women Impacting ISU calendar, including one post-doctoral scholar, three merit staff members, five students, 25 professional and scientific staff members, and 30 faculty members.
"Once again, we received many nominations for women who have all made significant contributions to Iowa State through their impact on their fellow students, co-workers, the campus community and beyond," said Sue Cloud, communications specialist at the Catt Center and organizer of the 2021 calendar selection process.
"I really want to thank the selection committee, who had a tough task selecting just 12 of these amazing women," Cloud said. "I also want to encourage anyone who nominated someone who was not selected this year to consider submitting a nomination again next year."
The Catt Center sponsors the calendar with funding provided by the Office of the Vice President for Diversity and Inclusion. The 2021 Women Impacting ISU calendar will include photographs and narratives of the women who were selected.
Because of the COVID-19 pandemic, the 2021 calendar reception has been cancelled and the 2021 honorees will be honored along with the 2022 honorees at the reception on Jan. 12, 2022.
Copies of the calendar will be available in early January at various campus locations, including the Catt Center (309 Catt Hall) and several locations in the Memorial Union. If you would like calendars for distribution at your campus office, email the Catt Center at cattcntr@iastate.edu.
Visit the Catt Center's website to see previous calendars and a list of past honorees.
Published: November 17, 2020