Catt Center director Karen Kedrowski was busy this summer and fall planning for the fall election cycle and mobilizing Iowa State students to vote.
"When I arrived on campus, I found there was a lot of energy around student voter engagement and not much coordination. So there was unnecessary duplication of effort," Kedrowski observed. "Therefore, my first goal was to find out who was working on voter engagement, introduce myself and set up a coalition that could coordinate activities."
Iowa State University has been affiliated with the Andrew Goodman Foundation (AGF) for several years. AGF sponsors student ambassadors to promote voting on the member campuses. Other advocates have worked to reduce barriers to student voting for years, and in 2018, Iowa State participated in the first Big XII Votes Challenge. All of these efforts provided a strong foundation for 2020.
Kedrowski took Iowa State's involvement to the next level. She signed up Iowa State for the ALL IN Campus Democracy Challenge, the Voter Friendly Campus Initiative, the Big XII Votes Challenge, and the Iowa Campus Voting Challenge. Stephanie King, director of strategic initiatives for ALL IN, invited Kedrowski and Lauren Schuler of the University of Oklahoma to coordinate the Big XII Votes Challenge.
"President Wintersteen's support has been invaluable," Kedrowski notes. "She recruited all of the other Big XII presidents to participate in ALL IN. This gave the Big XII Challenge a huge boost." Wintersteen also designated Kedrowski as the campus voter engagement coordinator. Taken together, these early successes led to a feature in Forbes.
Student involvement was also crucial to voter engagement success. Sehba Faheem, a senior studying biological systems engineering, took an early lead in organizing the residence halls. She worked with recent Iowa State graduate Taylor Blair to design literature stands for voter registration and absentee ballot request forms that were placed in all 14 residence halls and in other high-traffic areas on campus. Faheem also produced a guide for residence hall leaders to answer questions about voting.
Faheem and AGF ambassadors Zachary Johnson and Hayat Sumael were also crucial to recruiting student voting interns. These student interns contacted student organizations; posted on social media; conducted voter registration drives; texted parties; targeted outreach to various student groups and post-docs; and distributed forms to Greek houses and leaflets at area apartment complexes. The interns, enrolled in an independent study supervised by Kedrowski, earned course credit for designing and implementing these voter engagement activities.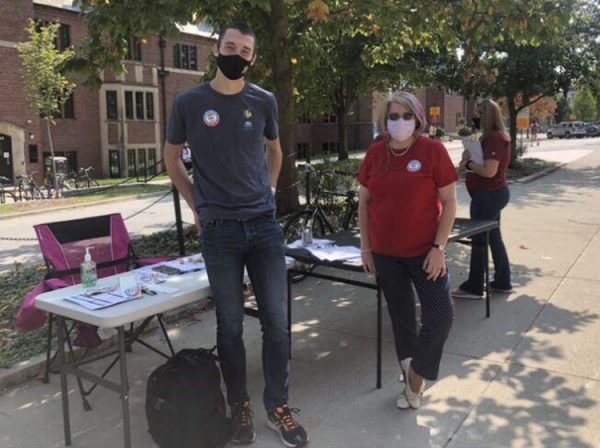 AGF and Ask Every Student also provided funding for CyRide bus and ISU Daily ads and several all-student emails.
In addition, Kedrowski adapted the template module for Canvas, the university's online learning platform, and released it to university faculty and staff. The module was downloaded 195 times.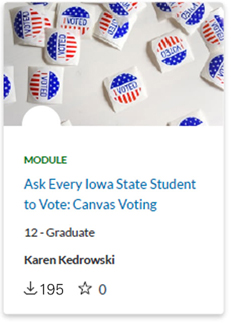 Approximately 2,000 people voted early at the Scheman Building during four days in October, and four Election Day polling places were located on campus. According to preliminary results from the Story County Auditor, voter turnout in the seven precincts adjacent to or on campus was about 50%. "This would not include students who voted absentee in other locations," Kedrowski noted. "Even in a pandemic, Cyclones vote."
"Working with the students, my colleagues, the League of Women Voters and Story County auditor Lucy Martin has been very rewarding," Kedrowski reflected. "This great success is due to the energy and efforts of many dedicated people."
Published: November 17, 2020