Nearly 200 people attended the six 2017 Ready to Run Iowa: Campaign Training for Women workshops, which were offered on Feb. 17, March 31 and April 28.
"In the 10 years we've offered this program, we've never seen enrollment numbers this high," said Dianne Bystrom, director of the Carrie Chapman Catt Center for Women and Politics. "We had to move the workshops off Iowa State University's campus to local hotels to accommodate the overwhelming interest."
Among the six workshops offered in 2017, 216 people registered for at least one of the sessions. Of those registrations, 172 people attended at least one of the workshops offered. Attendance at the workshops ranged from 55 people at the April 28 morning workshop to 82 people at the March 31 afternoon workshop and 110 people at the Feb. 17 afternoon workshop. Some 40 people attended four or five workshops and 22 attended all six sessions.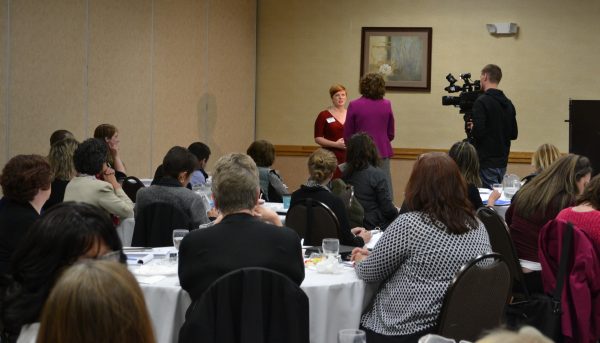 "The turnout this year was great," said Kelly Winfrey, coordinator of research and outreach for the Catt Center and assistant professor of journalism at Iowa State University. "Compared to the 2015 workshops, where we hosted 57 different participants from 20 Iowa counties, it's really inspiring to see so many women interested in seeking elected or appointed political office."
Since the Catt Center first started offering Ready to Run Iowa in 2007, a total of 432 different people have attended the workshops.
"Most attendees this year were women, but we had some men attend every workshop session," Winfrey said. "We even had two college students from Missouri attend the first two workshops in February."
The 2017 workshops series concluded on April 28 with "Communicating With Voters" and "Winning Internet Strategies." During the morning session, participants learned how to write a stump speech. And some brave participants practiced being interviewed on camera by ISU News Services' Angie Hunt, who previously worked as a news reporter for the CBS affiliate KCCI-8 of Des Moines, Iowa. This session also addressed strategies for working with the news media, how to handle oneself when giving a public speech, and communicating with difficult constituents. Speakers leading the morning session were Winfrey; Hunt; Karyn Finn, president of the Hudson Community School District Board; Rep. Lisa Heddens of Iowa's 46th District; and Susie Weinacht, an at-large member of the Cedar Rapids City Council.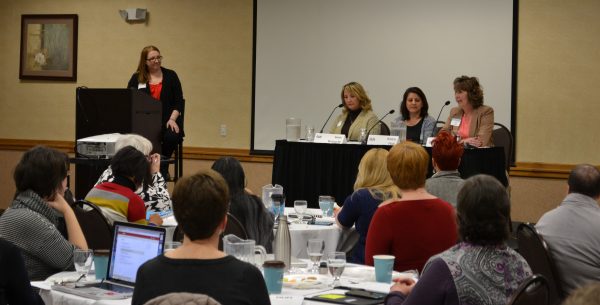 During the afternoon session, participants learned how to build a website and effectively use social media platforms such as Facebook and Twitter in a campaign. A panel of campaign strategists and candidates discussed how they used online communication and provided suggestions for future candidates. Speakers leading the afternoon session were Lane Till, executive vice president of marketing and communication for Capture Marketing; Sam Roecker, senior associate for Link Strategies; Brad Anderson, of counsel for Precision Strategies; Rep. Liz Bennett of Iowa's 65th District; and Emily Schettler, communications director for the Iowa Association of Business and Industry.
The 2017 Ready to Run Iowa sponsors were: the Ames Chamber of Commerce; Elizabeth Baird and Kenneth Cameron of Ames, Iowa; the League of Women Voters of Ames and Story County; and Mary Jo and Richard Stanley of Muscatine, Iowa. Scholarships were provided by the following sponsors: the Ames Progressive Alliance; Norah Carroll of Des Moines, Iowa; Chris Gleason of Ames, Iowa; and the ISU Women's and Diversity Grants Program. These sponsorships help provide the funds necessary to keep registration costs at $20 per workshop.
Ready to Run Iowa is a non-partisan campaign training program to encourage women to run for elected office, position themselves for appointive office, work on a campaign or become involved in public life as leaders in their respective communities. The Catt Center has offered the program every other year since 2007 and plans to host the program again in 2019.
Published: May 8, 2017