This spring, Will Stone, analyst/programmer for the College of Liberal Arts and Sciences, and Sue Cloud, communication specialist for the Carrie Chapman Catt Center for Women and Politics, completed an update of the website for the Plaza of Heroines.
The plaza, located in front of Carrie Chapman Catt Hall, is a mosaic of engraved bricks and granite pavers that was dedicated in 1995 to honor Catt and other women who have made an impact on their families, communities and society. In the 21 years since the first bricks and pavers were placed, more than 3,600 women have been honored in the plaza, with additional bricks and pavers installed each year.
The plaza's website lists the location of the brick or paver for each woman honored and the name of the person or people honoring her. Many profiles also include a narrative from the donor explaining why the heroine is being honored and a photo.
When the plaza was originally dedicated, this information was available only through a kiosk located on the second floor of Catt Hall. After several years, the plaza's website was created to make the information more accessible to people outside of Iowa State and during times when Catt Hall is closed. In March 2013, an online order form was added to the website, allowing people to submit their brick and paver orders electronically.
Since that time, the boom in the ownership of mobile devices such as smartphones and tablets had created a need for a website that could be accessed on these devices and automatically adjust how it is displayed to accommodate the screen size of anything from a large desktop monitor to a smartphone.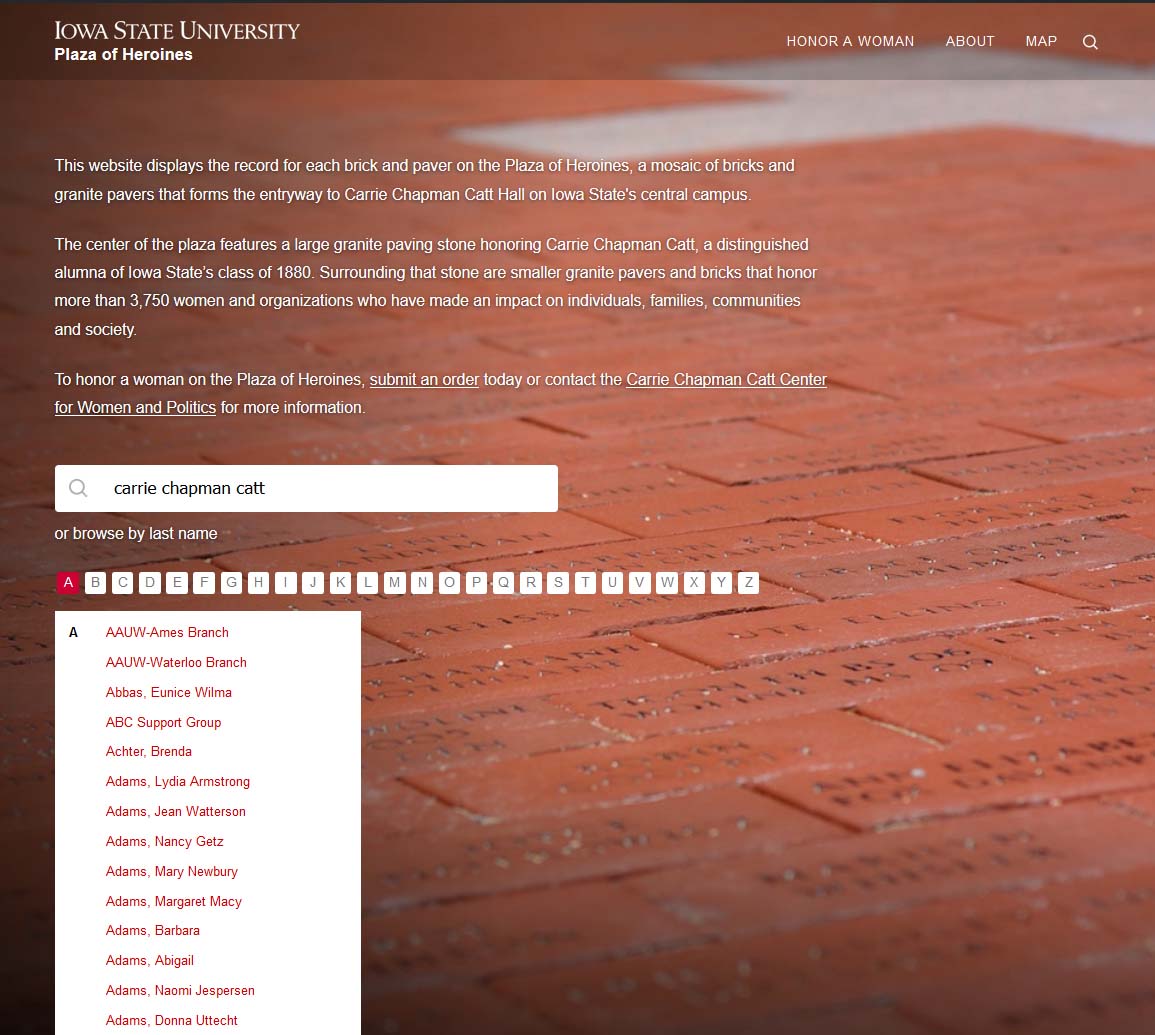 "We are so pleased to have launched the new Plaza of Heroines website," Cloud said. "Now, evening and weekend visitors to the plaza will have full access to the website on their mobile devices. It is easier than ever to locate a heroine's brick or paver on the plaza and to read the amazing stories about the women honored there."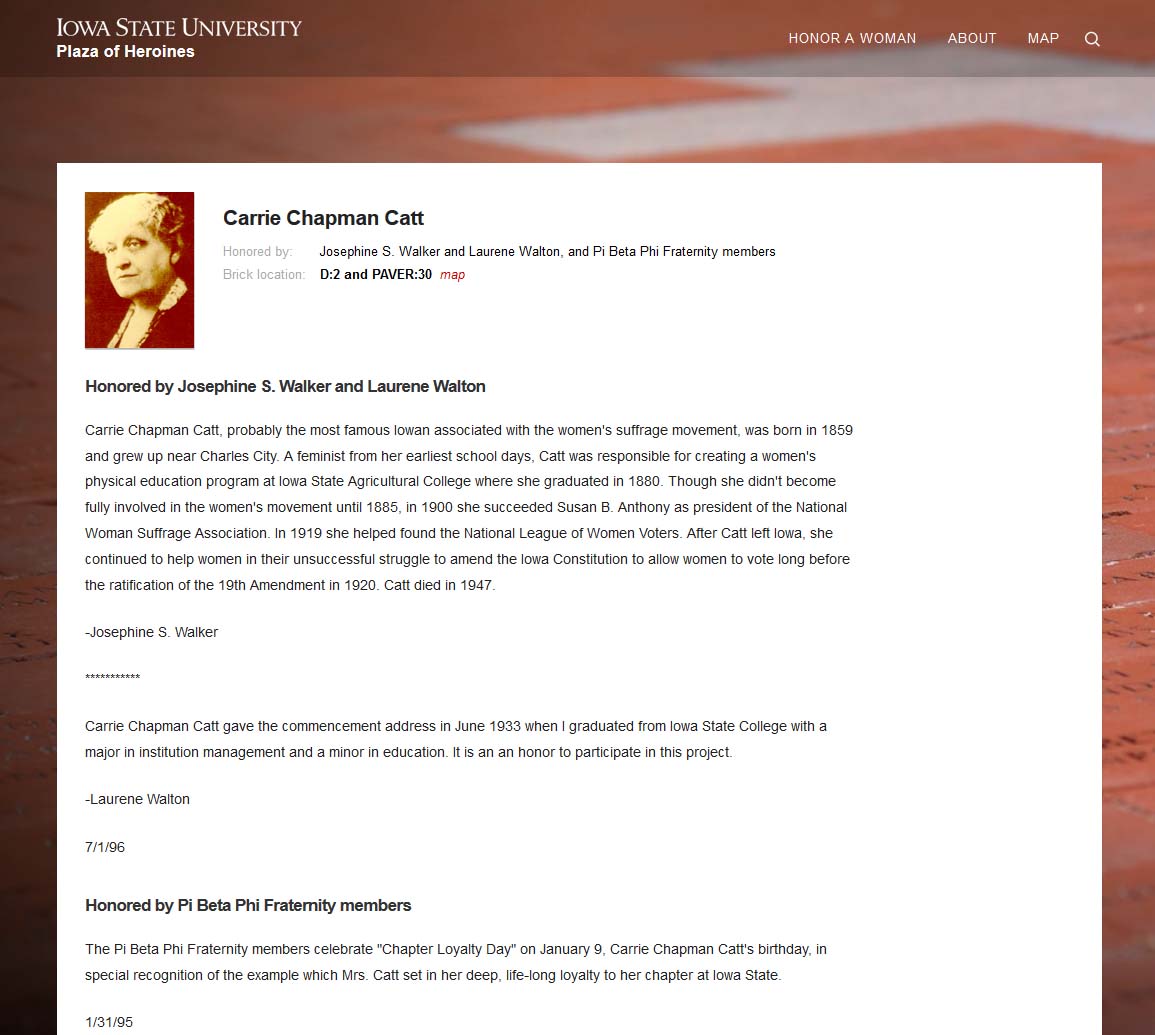 The plaza's order form also has been updated and, unlike the former order form, can be used on a mobile device.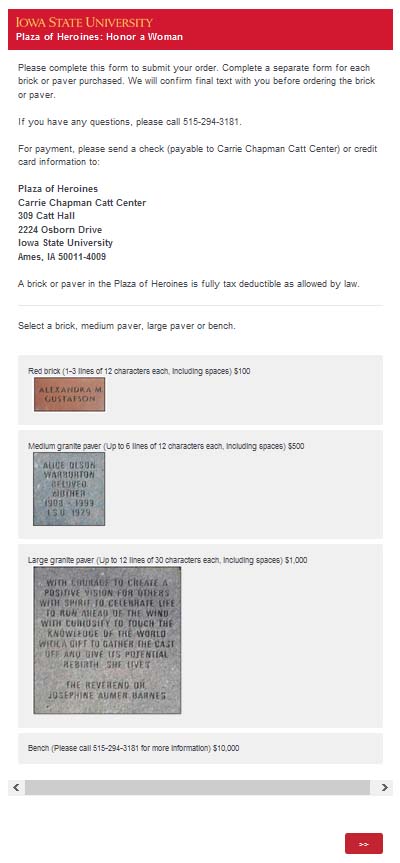 Published: July 11, 2016