This issue of Voices features three women who, like so many honored in the Plaza of Heroines, were beloved for their importance to their families and communities. The example that they provided in their lives made them heroines in the eyes of their family members and friends.
If you are interested in purchasing a brick or a paver to honor a heroine in your life, fill out the online order form or contact the Carrie Chapman Catt Center for Women and Politics by calling 515-294-3181. To add a narrative or photograph to the profile of a woman you have previously honored on the plaza, email the Catt Center at cattcntr@iastate.edu or mail your submission(s) to 309 Carrie Chapman Catt Hall, 2224 Osborn Drive, Iowa State University, Ames, IA, 50011-4009.
Johanna Maria Abberger Gamez
Johanna Maria Abberger Gamez's narrative was written by her sons, Robert and Paul Gamez, who wished to acknowledge her with gratitude for having introduced them to many of the qualities that characterize a well-guided life.
Gamez was born July 12, 1937, in St. Georgen Schwarzwald, Germany. Her early childhood was marked by the material deprivations and uncertainties of World War II.
Raised within the traditions of the Roman Catholic Church, Gamez impressed upon her sons the value that faith brings into everyday life and passed on the recognition that worship requires sacrifice if it is to be truly meaningful.
She demonstrated personal independence, marrying Ruben Gamez, an American serviceman stationed in Heidelberg, Germany, in 1963 and leaving her family, friends and native country to build a new life with her husband in Iowa. They raised their sons with the same independence, giving them the freedom to follow their own paths of self-determination.
Although her formal education was cut short by the gender-biased mores of the 1950s, Gamez holds education in high regard and her love of learning has never subsided. She engages her family in lively discussions on diverse topics around the kitchen table and enjoys taking trips around the country to gain a fresh perspective on the natural and historical features of America. Her sons understood that it was not whether a post-high school education was a worthwhile endeavor, but merely a question of which discipline to pursue. Both earned advanced degrees.
Carrying forward a tradition rooted in her early family life, one of Gamez's favorite activities is to stroll or hike along a nature trail with members of her family at her side, capturing the scenes of nature with her camera. At home, she delights in cultivating prairie flowers in the gardens surrounding her home.
Her sense of humor usually finds expression in the form of an observation that locates the humor within any given experience. This ability not only served to shape her sons' sense of humor, but more important, infused their memories with much happiness.
Adalyn Victoria Parris Meredith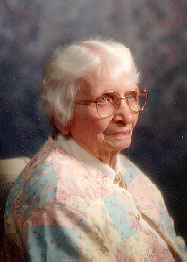 Adalyn Victoria Parris Meredith was born October 1, 1906, in Winamac, Indiana. She came to Iowa in 1912 with her family on an emigrant train with families from Ohio and Indiana.
Meredith graduated from high school in Laurens, Iowa, in 1924 and received a Bachelor of Arts degree from the State University of Iowa in 1929. Educated as a teacher, she taught at Swan Lake Township No. 3 – a one-room rural school in Pocahontas County – and in Denison, Wellman, Ware, Havelock and Laurens, Iowa. She retired from teaching after 23 years, was a substitute teacher for nine more years and an instructor at Iowa Central Community College for another six years.
In her years of teaching, she helped hundreds of children and youth to be more than they thought they could be. Meredith demanded more than they thought they could do. She took them to places they never thought they would go and to heights they never thought they could reach. Teaching mathematics, history, literature and speech, Meredith taught them to read good works, appreciate the passage of time, enjoy solving tough problems and create great performances.
After school and in the summer, her family's farmhouse became the center of 4-H activity. Meredith was a 4-H leader for 21 years. She served on the Pocahontas County 4-H Committee for four years and on the County Extension Council for four years.
For 35 years, Meredith taught Sunday school and vacation bible school at Ware Methodist Church. She also served as chair of the Christian Education Committee at Havelock United Methodist Church for eight years and as president of United Methodist Women for eight years.
An historian at heart and a gifted story teller, Meredith helped her family remember the heroines who influenced her life. Her family wants others to know that she is a heroine in her own right.
Meredith passed away at the age of 97 in January 2004. She was honored by Donald G. Miller and Nancy L.M. Miller, who said that her most important question was, "Well, are you happy?"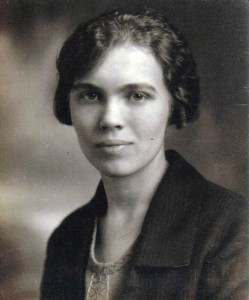 Alice Young Dau-Schmidt
Alice Young Dau-Schmidt was born August 23, 1905, and raised on a farm near Traer, Iowa. She graduated from Iowa State University in 1927 with a degree in home economics education. She married Vern Dau-Schmidt, a 1926 ISU graduate in agriculture economics and Cyclone wrestler, on August 22, 1928. They farmed in Grundy, Tama and Black Hawk counties, and had four children. Dau-Schmidt was active in the Tama County Homemakers and a 4-H judge at many fairs. The family was active in the Amity United Presbyterian Church, where she sang in the choir, taught Sunday school and was a youth fellowship leader.
Having lost her mother when she was 11 years old and with three younger siblings to help raise, Dau-Schmidt took on family responsibilities at an early age. She learned to knit in sixth grade and would knit vests for World War I soldiers while walking to school. Many afghan blankets were given to family members over the years. At age 89, she was still knitting caps for newborn babies in hospitals.
Dau-Schmidt always had a large garden, canning and freezing the harvest. Influenced by the Depression, she recycled rather than discarded. Dau-Schmidt was always constructing and sewing something out of something else. At age 89 and in a nursing home, she mended clothing for the patients, quilted baby blankets for the homeless, and sewed pillows and wall hangings.
The Dau-Schmidts traveled a lot. They shared an interest in genealogy and were active in the State of Iowa Historical Society.
Dau-Schmidt passed away in 1999. She was honored by her children, Phyllis Dunlap, Ross Dau-Schmidt, Glenn Dau-Schmidt, and Esther deLashmutt, who say that even though their mother did not use her college education for a job outside of the home, she spent her whole life teaching, helping and caring for others.
Published: May 9, 2016