Five new undergraduate student interns have joined the staff of the Carrie Chapman Catt Center for Women and Politics for the 2015-2016 academic year, and one intern from last year has returned.
Student interns assist the center in a variety of activities, including: the Archives of Women's Political Communication, Women in Iowa Politics database and Gender Balance Project, public relations and events planning, and support for the Leadership Studies and Vermeer International Leadership programs.
"Each year, our student interns provide vital support to the Catt Center's programs and activities, while gaining valuable work experience and mentoring by Catt Center faculty and staff," said center director Dianne Bystrom. "It's been a pleasure to interact with these students over the years, and this year's group has already exhibited the high level of performance that we've come to enjoy from our interns."
In addition to the student interns, the Catt Center is sponsoring three Iowa State students serving as ambassadors for the Andrew Goodman Foundation, an organization that seeks to involve young adults in the democratic process through on-campus engagement and social and traditional media.
The 2015-2016 student interns are:
Meg Oliver, a senior in communication studies, is a research intern working on the Archives of Women's Political Communication. A member of Alpha Gamma Delta, Oliver has been a participant in and public relations chair for Greek Alternate Spring Break and served as a counselor for this fall's sorority recruitment. She was a member of VEISHEA Corps in 2013 and the VEISHEA Security Committee in 2014 and has served as a Thielen Student Health Center preventative services volunteer. "I am interested in working for the Catt Center because I believe that all work being done to archive women's achievements helps empower women," Oliver said. She is from Elm Grove, Wisconsin.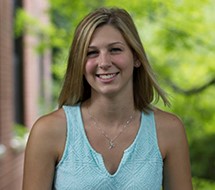 Emily Ramm, a sophomore in elementary education with a minor in child, adult and family services, is an intern for the Vermeer International Leadership Program, including serving as an undergraduate teaching assistant. Ramm is secretary of the Human Development and Family Studies Club and was a Destination Iowa State Leader this fall. She takes dance classes at the Robert Thomas Dancenter and teaches faith formation classes at St. Thomas Aquinas Catholic Church. "I'm looking forward to building relationships with Catt Center faculty and staff," Ramm said. "I've been in a variety of leadership roles through the years so I'm excited to start this new experience of being a TA in the classroom." Ramm is from Onawa, Iowa.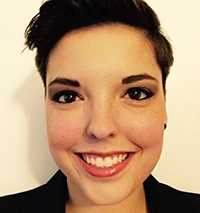 Elli Rigolle, a senior in political science and French, holds the Sharon Rodine Leadership and Advocacy Internship. She works on the Women in Iowa Politics database, Gender Balance Project and Women in Iowa Business research project. Rigolle is an undergraduate student representative on Iowa State's University Committee on Women. She has been named to the Dean's List every semester of her undergraduate career and is a recipient of the Whitaker-Lindgren Scholars in Political Science Award. "My internship at the Carrie Chapman Catt Center provides me with a great opportunity to make a difference in my community," Rigolle said. "I am passionate about women's equality and I feel lucky to be part of a team that works hard to realize this goal in the political realm." Rigolle is from Ames, Iowa.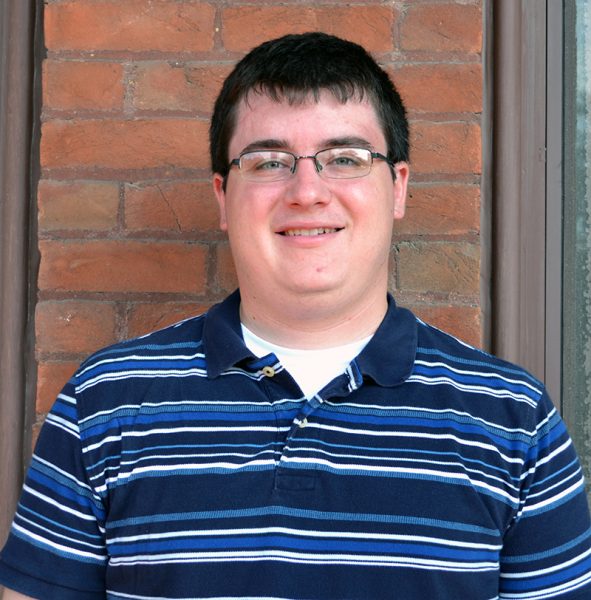 Brian Voss, a senior in history who is also pursuing the leadership studies certificate, is serving as an undergraduate teaching assistant for the online section of CLPS 322, Leadership Styles and Strategies in a Diverse Society. Voss is a sportswriter for KURE 88.5 and is president of the Iowa State chapter of No Labels. He also participates in the Memorial Lutheran Church International Student Ministry and Memorial Brass. "The leadership certificate is a wonderful way for students to develop leadership skills while at Iowa State," Voss said. "Being a teaching assistant for CLPS 322 will be a great way for me to improve my own leadership ability and also help other students improve their leadership skills." Voss is from Atkins, Iowa.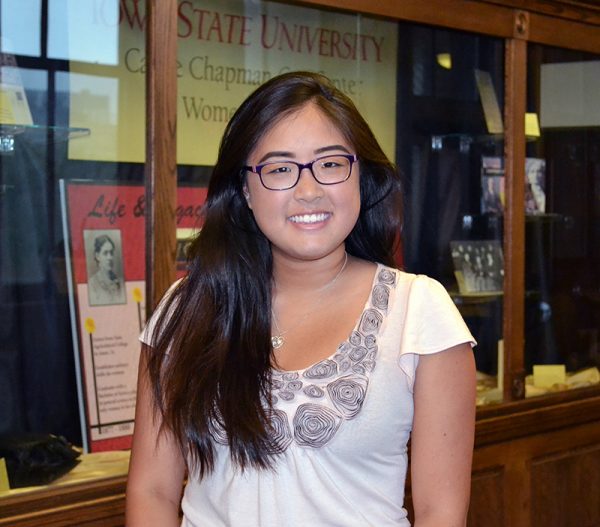 Olivia Weikum, a senior in public relations with minors in design studies and criminal justice, is the center's public relations and events planning intern. Weikum serves as a community adviser for the Oak-Elm Residence Hall and is a peer mentor for multicultural students through the Bridging Opportunities in Leadership and Diversity learning community. She is also a member of the Public Relations Student Society of America. "I have always wanted to pursue my dream of working in public relations," Weikum said. "The Catt Center helps me fulfill this dream and pair it with my love for higher education. I hope to find my niche through this internship and prepare myself for the working world after college." Weikum is from Norwalk, Iowa.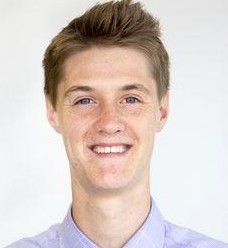 Sam Vander Forest, a senior in public relations who is also pursuing the leadership studies certificate, is returning to work at the Catt Center as the publicity intern for the Leadership Studies Program. Vander Forest, a member of the Greek community, has worked as a reporter with the Iowa State Daily and is now a mentor with the new Cardinal Leadership Scholars Program. "Being engulfed in a department like the Catt Center and working with such a unique department helps create such a perfect college experience," Vander Forest said. "It was an absolute honor last year working at the Catt Center, and this year I hope to fine-tune what I did last year and help grow the leadership program." Vander Forest is from Batavia, Illinois.
The Andrew Goodman Foundation ambassadors are: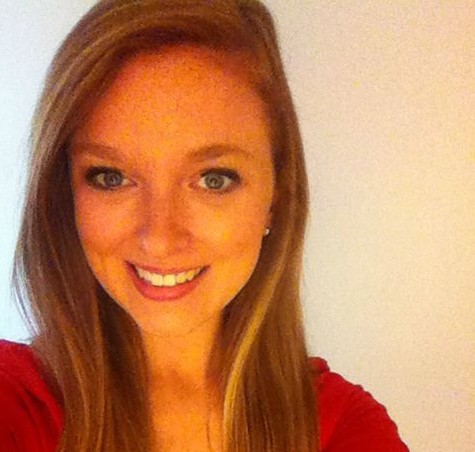 Chelsea Eret is a sophomore majoring in political science and English from Council Bluffs, Iowa. As a Cyclone Aide, she helped more than 6,000 students transition to Iowa State this past summer through orientation. Eret also has worked as a TeleStar to help prospective students decide to come to Iowa State. This year, she is involved with the United Residents of Off-Campus and the Political Science Club and serves as a member of the university's Committee on Lectures. As a member of Delta Zeta sorority, Eret has helped raise money and materials for the Starkey Hearing Foundation and the Painted Turtle Camp. "While working as an Andrew Goodman Foundation ambassador, I hope to educate Iowa State students on how and why to vote and make them passionate about their ability to get involved with politics," she said.
Steven Valentino is a junior with a double major in political science and economics from Long Valley, New Jersey. He also is pursuing a certificate in leadership studies. Valentino is a Student Government senator representing the Interfraternity Council. He serves as vice chair of the Student Government Finance Committee and as a returning member of the University Affairs Committee. He also serves as secretary of Tau Kappa Epsilon and has assisted the fraternity's efforts to raise funds for St. Jude Children's Research Hospital. "As an ambassador, I want to accomplish a university-wide awareness of popular public issues and policy decisions and knowledge about the political candidates," he said. "To make sure we have the best people for the job, it's important to know what the job requires and also who is the most qualified."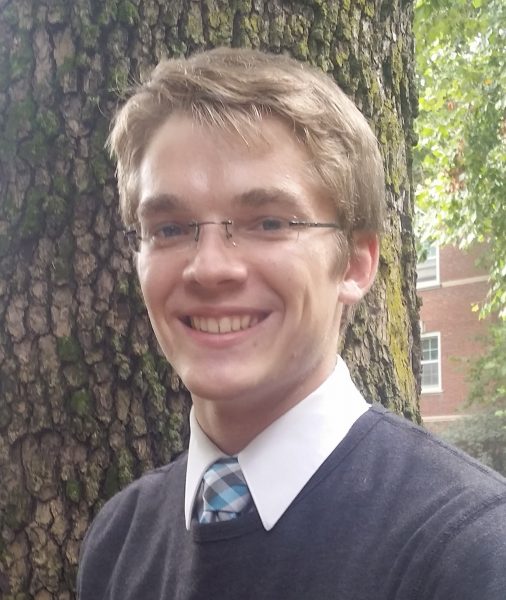 Jacob Zirkelbach is a sophomore majoring in psychology with the certificate in leadership studies. He is from Monticello, Iowa. Zirkelbach serves as a senator in both the Student Government and the Inter-Residence Hall Association. He is a member of the board for Freshmen Council and serves as its information technology director. Zirkelbach also worked as a Cyclone Aide this past summer. He is currently serving as a peer mentor for CLPS 270, Campus Leadership Development, and plans to attend graduate school to earn a degree in student affairs. "As an ambassador, I hope to motivate people to find their own voice in the election and become advocates for their own causes," Zirkelbach said.
The ambassadors receive a scholarship from the Andrew Goodman Foundation as well as funds to support civic engagement activities for Iowa State students.
The salaries of four of the six student interns are supported through private and corporate gifts to the Catt Center, with one intern funded through a grant and another from revenue generated from teaching online courses.
Published: September 14, 2015