More than 3,700 women have been honored by their friends, families and colleagues in the Plaza of Heroines, located in front of Carrie Chapman Catt Hall on
Iowa State University's central campus.
This issue of Voices features women from Iowa State who were pioneers in their fields. These women all broke barriers in their professional lives and
helped pave the way for subsequent generations of women at Iowa State.
To add a narrative or photograph for a heroine honored with an existing brick or paver, email the Catt Center at cattcntr@iastate.edu or mail your submission(s) to 309 Carrie Chapman Catt Hall, Iowa State University, Ames,
Iowa, 50011. Those interested in purchasing a new brick or a paver can use the online order form or contact the Catt Center at 515-294-3181.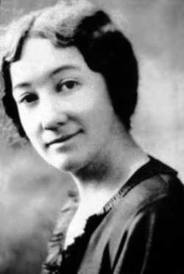 Ada Hayden
Ada Hayden was the first woman, and only the fourth person, to earn a doctorate degree at Iowa State College, now Iowa State University.
Hayden was born in 1884 on the family farm near Ames, Iowa. Louis Pammel, a botany professor at Iowa State College, encouraged her to study botany. Following graduation from Iowa State in 1908, Hayden received a master's degree from Washington University in St. Louis in 1910, then returned to Iowa State to earn her doctorate in 1918.
Hayden accepted a position as instructor while still a graduate student at Iowa State and was named an assistant professor in 1920, a rank she held until her death in 1950. During the first part of her career, Hayden assisted Pammel in his research. She contributed a great deal to all of his major works, assisting him with writing, photography and illustration. After Pammel's death in 1931, Hayden devoted herself to prairie preservation and research. Her research and publications covered wide areas of plant taxonomy, ecology and anatomy and included both technical publications and semi- or non-technical descriptive writings to stir public support for conservation of lowa's remaining natural areas. Today's State Preserves Advisory Board is a legacy of her efforts.
From 1934 to 1950, Hayden served as curator of Iowa State's herbarium. Under Hayden's direction, the herbarium grew in size and prestige to become a major national resource in plant taxonomy. During her time at Iowa State, Hayden collected more than 30,000 plant specimens for the herbarium and sent many duplicates to other institutions. The herbarium was renamed the Ada Hayden Herbarium in 1988.
Hayden was denied full professor status and received little public recognition for her accomplishments during her lifetime. She was honored on the Plaza of Heroines in 1995 by the Iowa State botany department, which noted her contributions as a scientist as well as an "artist and photographer, a poet in love with plants and prairies, and a visionary."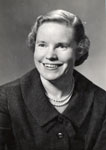 Helen LeBaron Hilton
Helen LeBaron Hilton was born in Morrisville, Vt., in 1910. She earned a bachelor's degree from the University of Vermont in 1932, a master's degree from Cornell University in 1938 and a doctorate from the University of Chicago in 1946. She served as professor and assistant dean of the College of Home Economics at Pennsylvania State University from 1946 to 1952. From 1952 to 1975, she was dean of Iowa State University's College of Home Economics (which is now a part of the College of Human Sciences).
Throughout her career, LeBaron Hilton was recognized as a visionary leader and strong advocate for the status of women and the well-being of children. In 1966, she was the first woman to run for and win a seat on the Ames City Council. She was involved in a number of local, state and national organizations; directed a home economics education project at Baroda University in India; was college editor of home economics books for Harper and Rowe; and served as the first president of the Association of Administrators of Home Economics. She was the first woman member of two corporate boards of directors: Jewel Companies Inc. and S.C. Johnson & Son Inc.
In 1970, she married James H. Hilton, retired president of Iowa State University.
Following her tenure as dean, LeBaron Hilton founded the ISU retirement advising program and served as its director. In 1980, the south wing of ISU's home economics building was named for her. In 1983, she was inducted into the Iowa Women's Hall of Fame. In 1993, she became the first recipient of the Carrie Chapman Catt award sponsored by the League of Women Voters of Ames.
LeBaron Hilton passed away in 1993 in Ames and is interred in the Iowa State University Cemetery. In 1994, she was honored in the Plaza of Heroines by the LeBaron ISU Retirees Committee.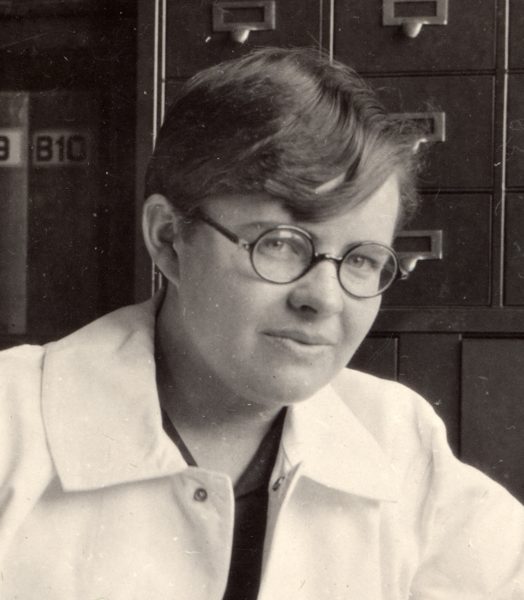 Margaret Sloss
Margaret Wragg Sloss was the first woman to graduate with a D.V.M. degree from Iowa State University and only the 27th woman in the nation to
complete a veterinary curriculum.
Sloss was born in 1901 in Cedar Rapids, Iowa. In 1910, her family moved to Ames, where her father was hired as the superintendent of buildings, grounds and construction at Iowa State College. The family lived across the street from the veterinary clinic, and Sloss attributed her experiences in growing up there to fostering her interest in science and veterinary medicine. She received a bachelor's degree in zoology from Iowa State in 1923 and a master's degree in veterinary anatomy in 1932. She was the first woman to enter the Iowa State College of Veterinary Medicine, receiving her D.V.M. in 1938.
During her career at Iowa State, Sloss served as a veterinary pathology technician, assistant instructor, assistant professor, associate professor, professor and professor emeritus. She was a pioneer in the development of photo micrographic technology at ISU. She authored or co-authored numerous articles and books, ran the pathology clinic laboratory, and designed and taught a class for wives of senior veterinary students. She was influential in opening up the College of Veterinary Medicine to women, believing that women should compete equally with men on their academic merits to gain entrance into
the college.
During her time at Iowa State, Sloss received many awards and citations for her service. Iowa State University named the Margaret Sloss Women's Center in her honor in 1981.
Sloss retired in 1972 at the age of 70 and died in 1979. She is interred in the Iowa State University Cemetery.
She was honored on the Plaza of Heroines in 1995 by the staff at the Margaret Sloss Women's Center, who noted that she will be remembered for her courage and tenacity in breaking barriers for women in the field of veterinary medicine and for her scientific ability. She was also honored by David R. Halfpap, who stated that Sloss holds a unique position of affection and respect among the graduates of the College of Veterinary Medicine.
Published: March 10, 2015