Since 1996, the Legacy of Heroines program has provided a number of scholarships to outstanding young women who seek involvement in and knowledge about the political process and public service. Students in the program are offered a variety of opportunities that include trips to the state Capitol to meet with legislators, personal interaction with guest speakers, leadership development programs and mentoring.
In this issue of Voices, we begin a multi-part series that features the women honored by each of the scholarships funded by donors through the Legacy of Heroines scholarship program.
Katherine Bruntlett Annin
Katherine Bruntlett Annin was born on April 21, 1917, in Minneapolis, Minn., and graduated from Washburn High School. In 1939, she earned a degree in household appliances from Iowa State University. The image to the right, taken in 1939, shows her posing as "professor of laundry" with the message that laundry is not women's work—it's work for machines.
After college, Annin worked briefly with Minnesota Power and Light in Coleraine, Minn. In early 1940, she received an appointment to the Bureau of Home Economics in the U.S. Department of Agriculture, working first in Washington, D.C., and then at the research laboratories in Beltsville, Md.
Annin was married in 1942 to Phillip W. Bailey, but returned to the USDA after he was reported missing in action during World War II in early 1943. She later left Beltsville to become a regional home economist with the Rural Electrification Administration. Her territory covered North and South Dakota, Minnesota and, after six years, also Iowa, Illinois and Wisconsin.
In 1954, Annin received a master's degree in home management from Ohio State University. In 1955, she joined the faculty of the University of Wisconsin College of Agriculture and Home Economics as a home management specialist in the extension service. She retired in 1968 when she married Gerald E. Annin.
Annin passed away on Feb. 12, 2004.
Annin's interest in Carrie Chapman Catt stems from her mother, Edith Stevens Bruntlett, a 1904 graduate of Iowa State, who told her about the women's suffrage leader being in their home in Boone. In 1995, Annin established the Katherine Bruntlett Annin Legacy of Heroines scholarship fund. In addition, Annin and several of her family members contributed to the renovation of Catt Hall. The foyer on the third floor of Catt Hall is named for Annin's grandmother, Rowena Edson Stevens.
Elverna Christian
Emma Alvira Clute was born March 2, 1900, in Elk Valley, Iowa, to Mary Jane (Taylor) and Arthur Eugene Clute. After the death of her mother in 1906, she was adopted by Emma Minnie and Henry John Kuhlman and given the name Elverna Emma. She grew up in Colesburg, Iowa, and attended Upper Iowa University, where she graduated from both the school of drama and school of speech. She taught for one year and then attended business school in Chicago, where she worked for two years for the Western Union Telegraph Company.
She married Carl B. Christian on June 24, 1925, and they lived in Terril, Iowa. A daughter, Darleane, was born in 1926 and a son, Sherril Duane, in 1931. The family moved to Coon Rapids, Iowa, in 1933 and to West Union, Iowa, in 1941.
After the death of her husband in 1950, Christian moved to Ames to live with her children, both students at Iowa State University at the time. In 1951, Christian became housemother of Alpha Tau Omega fraternity. During this time, she was chosen Ames Mother of the Year, an honor which meant much to her. She continued as housemother at the ATO house until the death of her adoptive father in 1956, when she moved to Waterloo, Iowa, to work and care for her mother.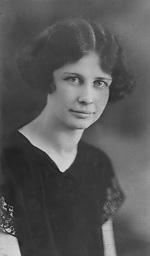 Christian was active in school, church and community affairs. She wrote and directed plays and skits for a variety of occasions and was a correspondent for local newspapers. She was an outgoing, friendly person who made new friends easily, and was especially interested in young people. After the death of her husband, her son taught her to drive, which became one of the most liberating influences in her life. Soon she was driving everywhere around Iowa and across the country – going by herself or with her sisters or friends on long trips.
After the death of her mother in 1961, Christian moved to Los Alamos, N.M., where her daughter, Darleane Christian Hoffman, and husband, Marvin Hoffman, were employed at the Los Alamos Scientific Laboratory. In 1993, Christian moved to the Glenwood Inn retirement center in Menlo Park, Calif. She passed away on June 29, 1994.
The Elverna Christian Legacy of Heroines scholarship was established by Darleane Hoffman to honor her mother's life-long interest in music, the performing arts and journalism.
Darleane Christian received her Bachelor of Science in chemistry in 1948 and her doctorate in physical (nuclear) chemistry in 1951, both from Iowa State University. She met Marvin Hoffman, a physics doctoral student, after beginning her Ph.D. program. They were married in December 1952 after she completed her degree.
Darleane Hoffman moved to Tennessee in early 1952 to work as a chemist at the Oak Ridge National Laboratory while Marvin Hoffman completed his degree. In the fall of 1953, the couple moved to Los Alamos. She was employed at Los Alamos Scientific Laboratory from 1953 to 1984, as a staff member of the radiochemistry group (1953 to 1971), associate group leader of the radiochemistry group (1971 to 1979), division leader of the chemistry-nuclear chemistry division (1979 to 1982), and division leader of the isotope and nuclear chemistry division (1982 to 1984). Hoffman was a professor in the department of chemistry at the University of California at Berkeley from 1984 to 1991 and professor emeritus from 1991 to 1993. She is currently a senior scientist at the Lawrence Berkeley National Laboratory and professor in the graduate school at the University of California at Berkeley.
Hoffman has won a number of awards for her work. In 1983, she was the first woman to win the American Chemical Society's Glenn T. Seaborg Award for Nuclear Chemistry and in 2000 was the second woman to win the ACS's Priestly Medal. Among her other honors, Hoffman was awarded the National Medal of Science in 1997 and the George Hevesy Medal Award in 2010.
Jane Greimann
Jane Greimann was born January 25, 1942, in Klemme, Iowa, to Chet and Ina Mae (Jarchow) Renner. She grew up on a farm learning to love horses and holding leadership positions in 4-H. She graduated from Klemme High School in 1960.
Greimann earned a degree in textile and clothing in 1964 and a teaching certificate in 1980, both from Iowa State University. She married Lowell Greimann on June 7, 1964. They moved to Boulder, Colo., where she worked as a seamstress and office worker to support his further education and where their first son, Chad, was born. The family then moved to San Antonio, Texas, where their second son, Blair, was born. The Greimanns returned to Ames in 1973. In 1975, their adopted daughter, Amy, arrived from Vietnam.
Greimann taught art, health, and family and consumer science at Nevada (Iowa) Junior High for 16 years, retiring from full-time employment in 1998. She served in the Iowa House of Representatives from 1999 to 2005, working on such issues as public education funding, human services, the environment, human resources and natural resources.
Active in the community, Greimann was a member of the Ames League of Women Voters and served on the Ames Public Art Commission, the Education and Prevention Board of Youth and Shelter Services, and in many volunteer positions at Collegiate Presbyterian Church.
Greimann died in Ames on Feb. 4, 2006.
The Jane Greimann Legacy of Heroines scholarship was established by her family and friends to honor her memory and was later endowed by her husband, Lowell Greimann.
Lowell Greimann earned a Bachelor of Science in civil engineering from Iowa State University and a master's degree and doctorate in structural engineering from the University of Colorado. After working at the Southwest Research Institute in San Antonio, Texas, from 1968 to 1973, he was a professor in ISU's civil, construction and environmental engineering department from 1973 to 2005, specializing in structural engineering. He served as department chair from 1990 through 2005.
Currently professor emeritus, Greimann has been recognized with the Iowa State Alumni Association Award for Superior Service and the College of Engineering's D.R. Boylan Eminent Faculty Award for Research. He is a life member of the ISU Alumni Association, a member of ISU's Order of the Knoll President's Circle, and active in his church and in the Ames community.
Published: January 12, 2015