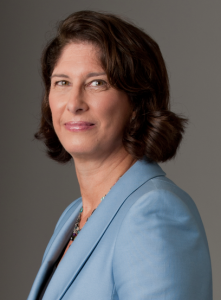 Mara Liasson – the national political correspondent for National Public Radio and a contributor to the FOX News Channel – will analyze the results of the Nov. 4 midterm elections as the fall 2014 Mary Louise Smith Chair in Women and Politics.
Liasson will present "What Just Happened? The 2014 Elections and Beyond" at 7:30 p.m. Thursday, Nov. 13, in the Sun Room of the Memorial Union at Iowa State University. The presentation, which is free and open to the public, is sponsored by the Carrie Chapman Catt Center for Women and Politics.
"The 2014 election is shaping up to be a very interesting one, both in terms of the high-profile races featuring women candidates as well as the battle for control of the U.S. Senate," said Dianne Bystrom, Catt Center director. "We are once again pleased to bring a nationally known political reporter to the Iowa State campus just days after the election to analyze the results and share her insights."
At NPR, Liasson provides extensive coverage of politics and policy from Washington, D.C. — focusing on the White House and Congress — and also reports on political trends beyond the Beltway. Each election year, she provides key coverage of the candidates and issues in both presidential and congressional races.
Her reports can be heard regularly on NPR's award-winning newsmagazines All Things Considered and Morning Edition. Liasson also serves as a panelist on the "FOX News Sunday" weekly public affairs program.
Prior to her current assignment, Liasson was NPR's White House correspondent from 1992 to 2000. From 1989-1992, she was NPR's congressional correspondent. Liasson has received numerous awards and honors for her reporting, including the White House Correspondents' Association Merriman Smith Award in 1994, 1995 and 1997 for excellence in daily news reporting.
Liasson was a freelance radio and television reporter in San Francisco before joining NPR in 1985 as a general assignment reporter and newscaster. In 1997, she joined the FOX News Channel. She is a graduate of Brown University, where she earned a bachelor's degree in American history.
The Mary Louise Smith Chair in Women and Politics was established at Iowa State in 1995 to honor the Iowa native and longtime political and civic leader. Smith – the first and only woman to chair the Republican National Committee – was a mentor, friend and role model to many in the world of politics, government and community affairs.
The purpose of the chair is to bring nationally known political leaders, scholars, journalists and activists to Iowa State to enrich the experiences of students and educate citizens about the role of women in the political process. Liasson is the 26th woman leader to visit Iowa State through the sponsorship of the Smith chair.
Published: September 16, 2014