To help keep pace with student interest in courses offered as part of the certificate in community leadership and public service, two new lecturers will join the faculty affiliated with the Carrie Chapman Catt Center for Women and Politics in August.
Cameron Beatty, who graduates in August from Iowa State University with a Ph.D. in higher education administration, and Kelly Winfrey, who earned a Ph.D. in communication studies from the University of Kansas in May 2012, will join the center's leadership faculty.
"We are excited to have Dr. Beatty and Dr. Winfrey join our leadership faculty," said center director Dianne Bystrom. "Enrollment in the certificate program has quadrupled under the leadership of Dr. Clint Stephens, and some 500 students were enrolled in 19 sections of seven leadership courses taught by center-affiliated faculty in the 2013-2014 academic year. We appreciate the commitment of the College of Liberal Arts and Sciences to increase the number of faculty teaching courses as part of our growing leadership program to keep up with student interest."
In the fall 2014 semester, Beatty will teach two sections of CLPS 122, "Leadership with Purpose," and two sections of CLPS 270, "Campus Leadership Development." He also will co-teach LAS 151, "Dean's Leadership Seminar," with LAS Dean Beate Schmittmann. All are elective courses in the leadership certificate program. Winfrey will teach SP CM 312, "Business and Professional Speaking," which is a required course for the leadership certificate, and CLPS/WS 333, "Women and Leadership," and SP CM 417, "Campaign Rhetoric," which are elective courses for the certificate. Both will teach in the center's new global leadership study abroad program, which will begin in summer 2015 with a trip to Stockholm, Sweden.
In addition to teaching, Beatty will advise students enrolled in the leadership certificate program, and Winfrey will oversee such research and outreach programs as the Archives of Women's Political Communication, Women in Iowa Politics database and Ready to Run™ Iowa: Campaign Training for Women as part of their appointments with the Catt Center. Their academic homes are in the department of psychology.
"Dr. Beatty is bringing a wealth of leadership education experience to the center's leadership program," said Stephens, who coordinates the program for the Catt Center and teaches several courses, including the required CLPS 322, "Leadership Styles and Strategies in a Diverse Society." "Students will learn a great deal from him in the classroom, and his study abroad expertise is already contributing to our upcoming trip to Sweden.
"Dr. Winfrey's coaching, teaching and research skills will be an asset to the leadership program and will contribute in numerous ways to educating ISU students," Stephens said. "Further, her work in political communication will be valuable to the center's programs focused on preparing women to run for office."
Beatty taught leadership courses offered through the Catt Center in 2013-2014 as a graduate teaching assistant. He has taught leadership courses for LAS, the College of Engineering and the Honors Program at Iowa State and also at Indiana University. As a graduate assistant in ISU's School of Education, Beatty taught a diversity course and assisted faculty teaching classes in student development theory, evaluation and assessment in student affairs, and organization and administration of student affairs.
"I am excited to continue working with the Catt Center team as a lecturer for the leadership program," Beatty said. "I have enjoyed working with the students as a graduate assistant and am excited to start my career as a faculty member as we continue to grow the leadership program. I would like to see the leadership program grow with students from all across campus enrolled in our courses."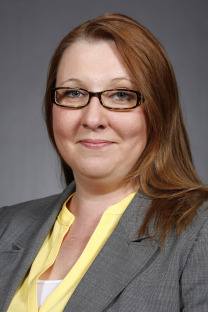 Winfrey currently serves as a communication studies instructor and assistant director of debate at Kansas State University. She has taught courses in business and professional speaking, public speaking, small group discussion methods, effective business communication and political communication at Kansas State and the University of Kansas.
"I am very excited and honored to be joining Iowa State and the Catt Center this fall," Winfrey said. "I have admired the work of the Catt Center for a long time, and I am thrilled that I will be able to contribute to their mission. I am deeply committed to engaging citizens of all ages and background in politics, and I am particularly interested in increasing women's participation and representation."
Beatty earned a master's degree in higher education student affairs and a bachelor's degree in sociology and African and African-American diaspora studies, both from Indiana University. His doctoral dissertation focused on exploring the leadership identity development of students of color at a liberal arts college. He co-authored a journal article on factors that influence retention, attrition and graduation of college students and has contributed to professional publications on such topics as definitions of masculinity, student affairs research, engaging students of color, black student leaders and team advising.
Winfrey earned a master's degree in communication with an emphasis on gender from Missouri State University and a bachelor's degree in communication with a minor in ethnic and gender studies from Emporia State University. Her doctoral dissertation focused on explaining women voters through gender group identification and sex-role ideology. She has published five co-authored peer-reviewed journal articles and three book chapters on such topics as gender identification in young voters, the effects of gender in presidential and U.S. Senate campaigns, perceptions of candidate image by debate viewers, online self-presentation strategies of political candidates, campaign coverage of Hillary Clinton and Sarah Palin in 2008, and the content and effects of presidential campaign television ads.
Published: July 15, 2014