Last fall, the Catt Center sent out letters to everyone who has honored a woman on the Plaza of Heroines – the brick and paver entryway outside Carrie Chapman Catt Hall that honors Catt and other women role models – to encourage them to provide updated information and photos for their heroines' profiles on the plaza's website.
Catt Center staff were pleased with the immediate response to the letters, and updates have continued to come in throughout the spring semester.
A recent issue of Voices featured a number of shorter profiles that illustrate a variety of the reasons why people have chosen to honor a heroine. This issue of Voices features three women whose profiles contain more extensive biographical information. As these profiles demonstrate, heroines are a diverse group but share something in common – they have inspired the people around them and made their world a better place.
To add a narrative or photograph for a heroine honored with an existing brick or paver, email the Catt Center at cattcntr@iastate.edu or mail your submission(s) to 309 Carrie Chapman Catt Hall, Iowa State University, Ames, Iowa, 50011. If you are interested in purchasing a new brick or a paver, you can use our online order form or contact the Catt Center by calling 515-294-3181.
Mabel Nair Brown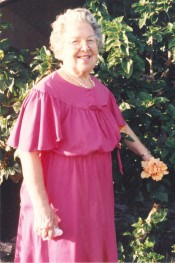 Mabel Nair Brown was born March 20, 1911. From her first day at school, she loved learning. In the seventh grade, Brown passed the eighth grade examinations and was eligible for high school, but her family could not pay the bus fee to the "town school." After a year of doing advanced work with her teacher and another year working to help support her family, Brown entered Scranton High School in September 1926. She graduated as valedictorian on May 16, 1930.
The Depression made college beyond the family's means, so Brown attended a summer session through Iowa State Teacher's College (now the University of Northern Iowa), and then taught three years at her former elementary school.
On June 28, 1933, she married Dale Louis Brown. They had three children—Carroll Dale, Regina Edith and Sharon Ruth. Brown was active in the neighborhood and Providence Church community, helping with children's programs and neighborhood events.
After moving to the Glidden and then the Lanesboro, Iowa, areas, Brown served as PTA president, led a youth choir, and helped obtain and remodel a building for a youth center. She wrote an article about the youth center project that was accepted by the Des Moines Register, and for nearly 10 years, she wrote for the Register's farm and home section. Her writings expanded into the Farm Journal, Successful Farming, and other Iowa magazines and newspapers. She also began writing for Kitchen Klatter magazine and did so for more than 40 years until they ceased publication in 1986.
In 1947, the family purchased a farm near Ogden. Brown continued writing, developing a reputation as a speaker and spearheading community fundraising events. She was a longtime member of the Ogden, Iowa, Women's Club and the Business and Professional Women's Club, and was the secretary of the committee that established the Hickory Grove Schoolhouse Museum at Don Williams Lake.
When her husband's health forced them to sell their farm, Brown became co-owner of a department store. She used her skills as a seamstress to give the store a prestigious reputation in the area and sponsored annual style shows. Brown and her husband made sure that their children received a college education – something Brown had always wanted for herself. Carroll and Regina both graduated from ISU and Sharon from AIB College of Business in Des Moines.
Through the years, Brown made hundreds of original greeting cards for her friends and family, often including original poems or songs.
Brown and her husband retired to Florida in 1984, and he died in 1986. She remained active in the church and began writing professionally again for Home Talk magazine. She died on Sept. 8, 1997.
"Mabel Nair Brown's life and living stand as a symbol of personal integrity, human dignity and altruism. Her humble beginnings, enthusiasm for learning, warmth and caring for others, and community involvement have made her a gift to those who have known her," stated her daughter, Regina Brown Fineran, who honored her in the plaza.
Jeanette Richardson Rosenbusch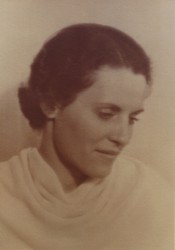 Jeanette Richardson was born in New Brunswick, N.J., on May 23, 1915, as the oldest of three children. When she was 13 years old, her mother died of appendicitis. Seeking a safe and comfortable community in which to raise his children alone, her father, Charles Howard Richardson, became a professor of entomology at Iowa State University and moved his family to Ames.
After graduating from Ames High School, Rosenbusch obtained a Bachelor of Arts in letters and sciences with a major in history from the University of Wisconsin at Madison in 1936, graduating with honors. The following year, she was a graduate student in American history at Iowa State.
While on a climb with her family on Pike's Peak in Colorado, Rosenbusch met her future husband, Carlos Rosenbusch, who was from Buenos Aires, Argentina, and a student at the ISU College of Veterinary Medicine. They were married in Buenos Aires on Aug. 17, 1939.
In Buenos Aires, Rosenbusch integrated into Argentine society and learned to speak Spanish. Their daughter, Dora, was born in 1941, followed by Ricardo in 1942, Francisco in 1944 and Enrique in 1946.
When her children were entering their school years, Rosenbusch taught American history at the American Grammar and High School in Buenos Aires for three years. She was a member of the University Women's Club for many years and of the Central Methodist Church of Buenos Aires.
During World War II, Argentina slipped from democracy to military regimes, followed by the populist dictatorship of Juan Peron. During the Peronist period, many were fearful of disappearances and informants, and yet women's suffrage and integration of the rural poor into the national economy came out of that time. As a historian, Rosenbusch was fascinated by the unfolding events and encouraged her students and children to make a critical analysis of the political events. She is remembered for her insistence on a broad base of facts on which to develop a historical context and for her interest in politics as a mold for social changes.
Rosenbusch lived in Argentina until her death in October of 1978. She is survived by her husband, three of her children, her four grandchildren and three great-grandchildren. Her son, Ricardo, and his wife, Marcia, reside in Ames with two of her grandchildren, Karina and Adrian.
"Jeanette Richardson Rosenbusch was an avid student of the political world in which she lived," said her son Ricardo, who honored her in the plaza for her "courage in leaving home and family and immersing herself in another language and culture."
Mary (Meg) E. Graf Speer
Mary (Meg) Speer was born in Elkader, Iowa. She graduated with a Bachelor of Science in food and nutrition from Iowa State University in 1946 and completed a dietetic internship at the University of Minnesota Hospitals in 1947. She married Vaughn C. Speer in 1947.
For many years, she was a consultant dietitian for numerous small hospitals and nursing facilities in central Iowa. She was also an instructor collaborator in food science and human nutrition in the College of Family and Consumer Sciences (now the College of Human Sciences).
Speer participated in and contributed to both state and national dietetic associations, holding numerous leadership and committee roles. She shared her expertise with many groups and provided nutrition knowledge for radio, television, lectures and newspaper articles. She taught classes for the university, ISU extension and community groups and was a guest lecturer for Des Moines Area Community College health care administration classes and health-related associations in Iowa.
Speer was a Cub Scout mother, Campfire Girl leader, president of the Faculty Women's Club at ISU, and chair of the board of trustees and a member of the council at her church. She was a member of the HN chapter of PEO. She served as association secretary and chair of the membership committee of the Iowa State University Alumni Association board of directors and was a member of the League of Women Voters.
In 1986, she received the ISU Alumni Association's Professional Achievement Award from the College of Family and Consumer Sciences. She was honored as the Iowa Outstanding Dietitian of the Year in 1991; received the prestigious Medallion Award from the American Dietetic Association in 1992; and the 1993 American Dietetic Association Foundation Award for Excellence in the Practice of Community Dietetics, which is endowed by the Ross Products Division of Abbott Labs.
After her retirement, she and her husband remained active in numerous ISU and Ames community programs. She served on committees for her church, Mary Greeley Medical Center, Master Gardeners of Story County and Heartland Senior Services. Both were involved in the growth and development of Reiman Gardens and served as co-presidents of the CoHorts in 1998 and 1999. Speer read for the blind through a radio program called IRIS for about eight years and volunteered at the Israel Family Hospice House in Ames.
The family includes David (deceased in 2012) and Joyce Speer, their children Ryan and Staci Speer and grandchildren Katelyn, Madison and Ella; Rob and Christina Speer and their children Mayla and Molly; Jim and Julie Speer and their children Brad and Wendee and grandchild, Autym; Mathew and Karyn Speer and their children Gage, Trent and Kendra; and Kevin and Tanya Speer and their children Andrew and Olivia.
"Quite a brood for a single child great–grandmother, and it is only the beginning," said her husband, who honored her in the plaza.
Speer died on August 26, 2013.
Published: May 13, 2014