This spring, the Carrie Chapman Catt Center for Women and Politics unveiled several changes on its Archives of Women's Political Communication website to provide more advanced search capabilities.
"We're excited to have enhancements to the search functionality that will help visitors to the archives more quickly identify speeches relevant to their research," said Dianne Bystrom, center director.
On the browse speeches page, one can now search for speeches by any combination of keyword, date, speaker, speech type, location or speaker category. One can then sort search results by date, speech name or speaker.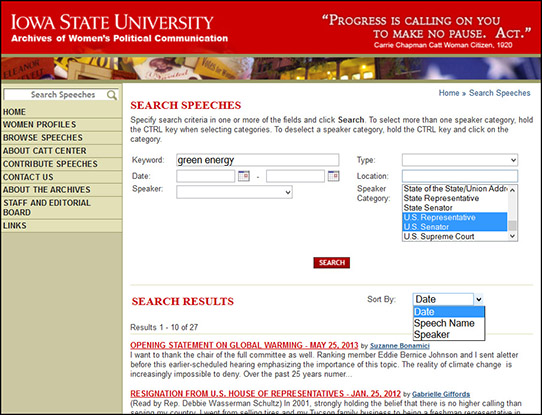 The search functionality on the women profiles page has also been enhanced. Now, one or more speaker categories on the right side of the page can be selected, and one can choose to display the names of the women who match "all" or "any" of the selected categories. Browsing for a speaker's profile using the alphabetical links across the top of the page is still available.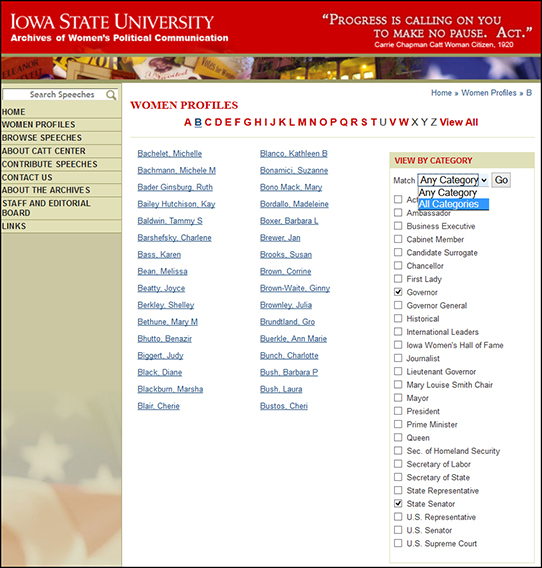 The other upgrade made this spring helps tie the archives to the Catt Center's YouTube channel, a growing collection of political speech videos. If a speech in the archives is available in video format on the center's YouTube channel, viewers will now see a link in the speech info box that one can click to access the video.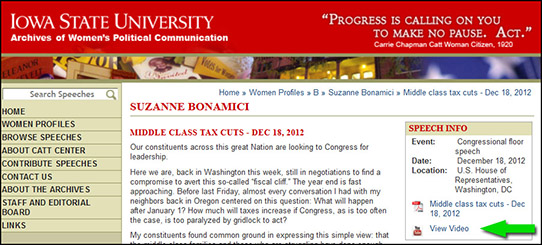 "Many of the speeches that we have added to the archives over the past year include both a transcript that is available through the archives and a video available through our YouTube channel," said Sue Cloud, communications specialist at the Catt Center and archives curator. "The combination of a fully searchable transcript and a video is a valuable resource for researchers."
The Archives of Women's Political Communication is made possible through a generous gift from Mary Jo and Richard Stanley of Muscatine, Iowa. The archives currently includes more than 930 speeches by 296 current and historical women political leaders from the United States and several other countries. Videos of more than 140 of the speeches and 99 campaign ads are also available on the Catt Center's YouTube channel. Visits to the archives have steadily increased since its launch, now averaging more than 15,000 hits per month, with visitors from around the world.
Published: May 13, 2014