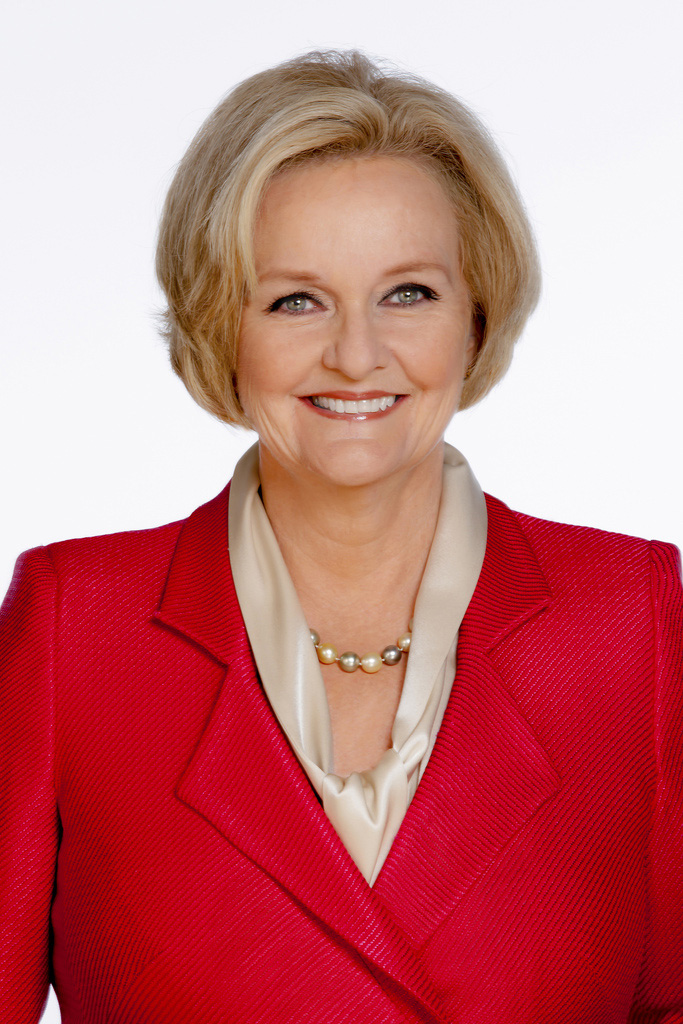 U.S. Sen. Claire McCaskill of Missouri – who is known for her candor and willingness to take political risks throughout her more than 30 years in public service – will visit Iowa State University on Friday, March 28, to give a public presentation as the spring 2014 Mary Louise Smith Chair in Women and Politics.
McCaskill will present "Women, Leadership and Politics: Taking Risks is 'Ladylike'" at noon in the Sun Room of the Memorial Union. The presentation, which is free and open to the public, is sponsored by the Carrie Chapman Catt Center for Women and Politics.
"With recent studies showing that women are more averse to taking risks – including running for political office – than men, Sen. McCaskill will bring an important message based on her own personal experiences," said Dianne Bystrom, center director. "She often encourages students to take risks to fulfill their dreams and achieve success."
McCaskill has taken risks throughout her career in public service at the county, state and federal level. For example, after serving six years in the Missouri state Legislature, she made history in 1992 as the first woman to be elected as head of the state's largest prosecutor's office. McCaskill also defied political odds when she successfully ran for Missouri state auditor – with a degree in law instead of accounting – in 1998. In 2004, she took on her own Democratic Party establishment to become the first person to ever defeat a sitting Missouri governor in a primary election.
Although McCaskill lost her bid to become the state's first woman governor in a close election, she succeeded in becoming the first woman elected in Missouri to serve in the U.S. Senate by defeating the male incumbent in 2006. In her first term as senator, McCaskill focused on legislation implementing historic wartime contracting reforms, teamed up with her Republican colleagues to establish a ban on congressional earmarks, and helped lead efforts to repeal automatic pay raises for Congress.
McCaskill was re-elected to the U.S. Senate in 2012, winning her race by more than 15 percentage points – the largest margin for a Missouri Senate candidate in nearly two decades – and earning more votes than any other candidate in the state that year. During that election, McCaskill's male opponent criticized her for not being "ladylike" during a debate – a comment that was widely criticized as offensive and demeaning toward women.
Currently, McCaskill serves as a senior member of the Senate's Armed Services Committee. She has helped lead efforts to confront sexual assault in the military and renew the Violence Against Women Act. A recognized technology leader with a penchant for communicating directly with constituents via Twitter, McCaskill also serves as chair of the Commerce Subcommittee on Consumer Protection. She continues to lead a subcommittee to target waste, fraud and abuse throughout federal contracting.
McCaskill also takes pride in consistently ranking as one of the most moderate members of the U.S. Congress. In February 2014, she was ranked 50th on a scale of zero to 100 as the most moderate member of Congress by the nonpartisan news magazine, the National Journal. Since joining the Senate, the National Journal has consistently ranked McCaskill as one of the 10 most moderate U.S. Senators.
"I haven't made folks on either extreme of the political spectrum happy, but I think that means I'm probably doing something right," McCaskill said in a news release about the rankings. "I've stepped on a lot of toes since I came to the Senate. But that's okay, because I wasn't elected to make friends. I was elected to get results for Missouri families – to expand job opportunities, cut wasteful spending and help clean up Washington."
A 1978 graduate of the University of Missouri College of Law, McCaskill returns to her home state nearly every weekend, where she enjoys spending time with her six grandchildren. She and her husband, Joseph, have a blended family of seven children, all but two of whom live in St. Louis.
Published: March 11, 2014