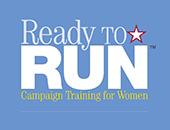 A fundraiser through Eileen Fisher Inc. will benefit partners in the Ready to Run national network of women's political campaign schools, including the Ready to Run Iowa program offered by the Carrie Chapman Catt Center for Women and Politics.
On Saturday, March 22, all of Eileen Fisher's women's clothing stores in the U.S. – as well as www.eileenfisher.com – are donating 10 percent of their proceeds to support these programs. In addition, shoppers will receive $25 off their purchase of $50 or more on March 22. Details will be available in mid-March on the Eileen Fisher website.
The proceeds raised will be divided among the partners in the national Ready to Run campaign school network coordinated by the Center for American Women and Politics at Rutgers University in New Jersey.
March 22 will mark an international day of Eileen Fisher shopping events focused on "women and public leadership," said Jean Sinzdak, director of the program for women public officials at CAWP. "The event is designed to attract regular and new in-store and online shoppers who wish to support the advancement of women's leadership; engage shoppers in each store with local women leaders and rising stars in the region; and provide meaningful support to dozens of local organizations."
The Catt Center has offered Ready to Run Iowa every other year since 2007. From 2007 through 2013, some 275 participants have been trained to seek elected and appointed office in Iowa and become more active in their communities through the campaign school, said director Dianne Bystrom.
"Our next Ready to Run Iowa campaign school – which will meet in spring 2015 – is currently in the initial planning stages," Bystrom said. "Support through this national fundraising campaign will serve to reduce the costs for people wishing to participate in the 2015 program. We encourage the supporters of our Ready to Run Iowa program – as well those who are interested in increasing the political representation of women in Iowa – to take part in this fundraiser."
Published: March 11, 2014