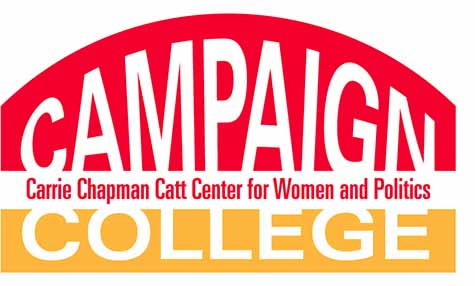 An interactive, half-day workshop designed to train Iowa State University students how to run for positions in the Government of the Student Body (GSB) as well as seek other campus leadership positions will be offered Saturday, Jan. 18, by the Carrie Chapman Catt Center for Women and Politics.
Campaign College will meet from 1 to 5:30 p.m. in the Campanile Room of the Memorial Union. Check-in will begin at 12:30 p.m. Refreshments and light snacks will be provided. The workshop is free, but space is limited and registration is required. Interested students can sign up for Campaign College on the Catt Center's website.
Although Campaign College is designed to recruit and train university women to get involved in campus leadership, it is open to all Iowa State students.
"As a part of this leadership training program, participants will hear firsthand from current student leaders about what they can do to become involved in GSB," said Valerie Hennings, scholar-in-residence at the Catt Center and lead coordinator for Campaign College. "They will not only learn about what GSB does, but also how their participation as active campus leaders can make a positive impact at Iowa State."
During the workshop, students will discover leadership experiences that will shape their future, develop key leadership skills and practices, and build their campus networks.
"We are excited to be joined by two ISU alumnae – Dr. Deborah Ann Turner and Sophia Magill," Hennings said. "They will discuss what they gained from their campus leadership experiences and share advice on leadership development." Turner is currently director of gynecologic oncology at Mercy Cancer Center in Des Moines and Magill is assistant director of government relations at Iowa State.
An agenda for Campaign College can be found here. The leadership training workshop is being presented with funding by the Catt Center and GSB.
Published: January 13, 2014