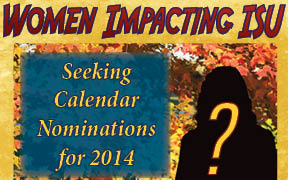 The deadline to submit nominations for the 2014 Women Impacting ISU calendar is Monday, Sept. 30, at 5 p.m.
Nomination forms are available on the Catt Center's website.
"Anyone can nominate a current student, faculty or staff member," said Kristine Keil, public relations/student programs coordinator for the Carrie Chapman Catt Center for Women and Politics. "Even if you don't work at Iowa State University yourself, you can still recognize what a great job a friend has done – or is doing – and nominate them to be honored on the calendar."
In its eighth year, the annual calendar highlights the accomplishments and achievements of 12 women who are currently students, faculty or staff on the Iowa State University campus. Selections are made by a committee comprised of previous honorees, past nominators and Catt Center staff based on the nominees' achievements in administration, teaching, research and service as well as their involvement in various campus activities.
"Choosing just 12 women to be honored on the calendar each year is always a difficult process for the selection committee," said Dianne Bystrom, director of the Catt Center. "One of the highlights of this competitive process is reading about all the outstanding women who serve Iowa State as faculty, staff and students."
Funding for the calendar is provided by Iowa State's Office of the Senior Vice President and Provost. Catt Center staff and students publicize and collect the nominations; organize the recognition reception held in January of each year; and design, order and distribute the free calendars.
"Mark your calendar," Keil said. The 2014 Women Impacting ISU calendar reception will be Wednesday, Jan. 15, from 3:30 to 5 p.m. in the Sun Room of the Memorial Union.
For more information about the calendar nomination process, contact Keil at kskeil@iastate.edu or (515) 294-9867.
Published: September 14, 2013