The display case on the third floor of Carrie Chapman Catt Hall has a new look featuring the building's namesake and legacy, Carrie Chapman Catt.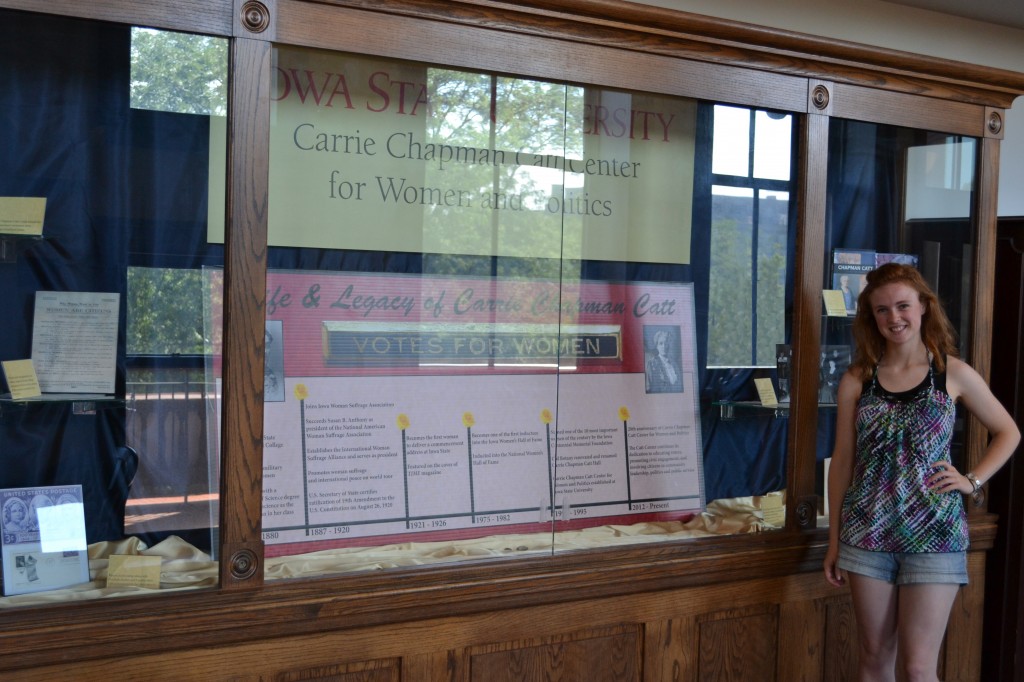 Sarah Synovec, a senior in marketing, designed the new display for the case outside the Axel Conference Center, Room 302 Catt Hall, when she worked as the center's Plaza of Heroines intern in 2012-2013. Synovec also is an Elizabeth Hoffman and Brian R. Binger Legacy of Heroines scholar in 2013-2014.
"I love that I got to be a part of this project," Synovec said. "The display case is seen by hundreds of people each month who come to Catt Hall for meetings and workshops. As a marketing major, it was invaluable to get hands-on experience working on something that will be around for a long time."
Kristine Keil, the center's public relations/student programs coordinator, had asked Synovec to take on the revamping of the display case in February.
"Sarah was very excited to have the opportunity to conceptualize a new theme for the display case," Keil said. "She had fun shopping for supplies, gathering photos and facts, and designing the timeline. This was her project to complete before the spring semester ended, and I think she did a wonderful job."
Synovec's vision was to have the display focused more on Carrie Chapman Catt, rather than the general theme of the women's suffrage movement. She identified key milestones in Catt's life and legacy to include in a timeline for the center of the case. The design of the timeline also incorporates the signature yellow roses of the suffrage movement and two photographs of Catt.
Synovec gathered memorabilia stored at the Catt Center and visited the Catt archives at Iowa State's Parks Library.
"Interacting with the collections and memorabilia was my personal favorite part of the project," Synovec said.
Glass shelves on either side of the display case hold some of these materials, which include a copy of the 1926 Time magazine cover of Catt; publications by suffrage organizations in which Catt played a key role; an enlargement of the U.S. postage stamp featuring Catt, Susan B. Anthony and Lucretia Mott, two other leading suffragists; books about Catt; and a photograph of suffragists including Catt.
The final piece of the display case's new look is a banner with the Catt Center's nameplate.
"The new display really highlights the important role that Carrie Chapman Catt — an Iowa State alumna — played in the U.S. women's suffrage movement," said Dianne Bystrom, center director. "We've been pleased to see many recent visitors to the floor stop and view it."
Published: September 14, 2013