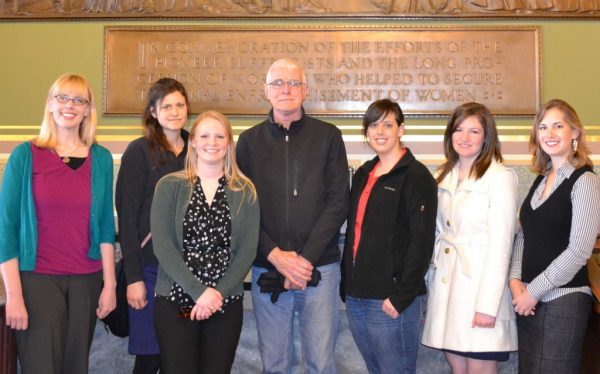 Students participating in the Catt Center's 2012-2013 Legacy of Heroines scholarship program visited the Iowa state Capitol on March 27 and were greeted by Carrie Chapman Catt's great-great-nephew, Tim Lane.
Lane recounted stories about his great-great-aunt and posed for a photograph with the scholars in front of the Nellie V. Walker plaque commemorating the work of Iowa women in the fight for political equality.
After viewing the governor's office and members of the state legislature at work, the Legacy of Heroines scholars met with 11 female legislators who took time out of their busy schedules to visit with the Iowa State students. Legislators meeting with the scholars were: Rep. Nancy Dunkel (D-Dyersville); Rep. Lisa Heddens (D-Ames); Rep. Megan Hess (R-Spencer); Sen. Pam Jochum (D-Dubuque), president of the state senate; Rep. Anesa Kajtazovic (D-Waterloo); Rep. Vicki Lensing (D-Iowa City); Sen. Janet Petersen (D-Des Moines); Rep. Kirsten Running-Marquardt (D-Cedar Rapids); Sen. Amy Sinclair (R-Allerton); Rep. Beth Wessel-Kroeschell (D-Ames); and Rep. Cindy Winckler (D-Davenport).
"The face-to-face interaction was great," said Elizabeth Hagan, a sophomore in family and consumer science. "Having the opportunity to ask them questions was very cool."
The Legacy of Heroines scholarship program will continue to provide opportunities for students to interact with female elected officials each academic year, said Kristine Keil, the Catt Center's public relations/student programs coordinator.
"The students in the Legacy of Heroines program are all interested in public policy and public service," Keil said. "We're too close to the state capital to not take advantage of the opportunity to meet with female legislators in person."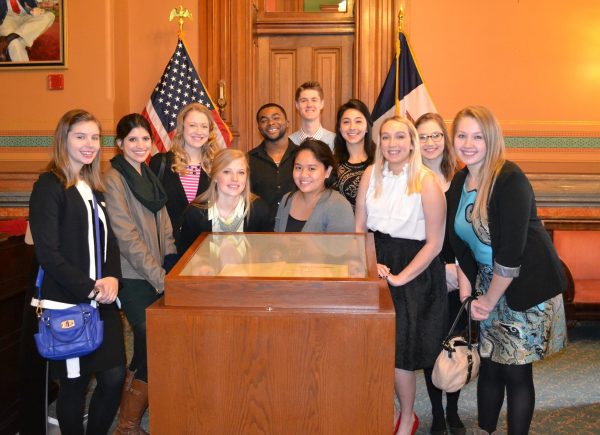 After the tour of the state Capitol, scholars visited the State Historical Society of Iowa. While there, students learned more about women's roles in Iowa during the Civil War and World War II. The scholars ran out of time to view the Iowa Women's Suffrage Collection, which contains documents from 1868 through 1951. The collection includes correspondence and other documents related to Carrie Chapman Catt.
The Legacy of Heroines program, launched in 1996, provides scholarships to outstanding young women who seek involvement in and knowledge about the political process and public service. Awards are based on academic merit, leadership and specific criteria established by scholarship donors. As part of the criteria set by donors, Legacy of Heroines scholarship recipients participate in mentoring and leadership development programs through the Carrie Chapman Catt Center for Women and Politics. These programs include field trips, dinners with speakers, campus activities and skills development workshops.
Published: May 13, 2013