Sawyer Baker, the Catt Center's Alice Rodine Intern in Community Activism and the Jane Greimann Legacy of Heroines scholar, was selected as one of the 21 recipients of the College Women's Leadership Award – a national recognition for social activism and political engagement.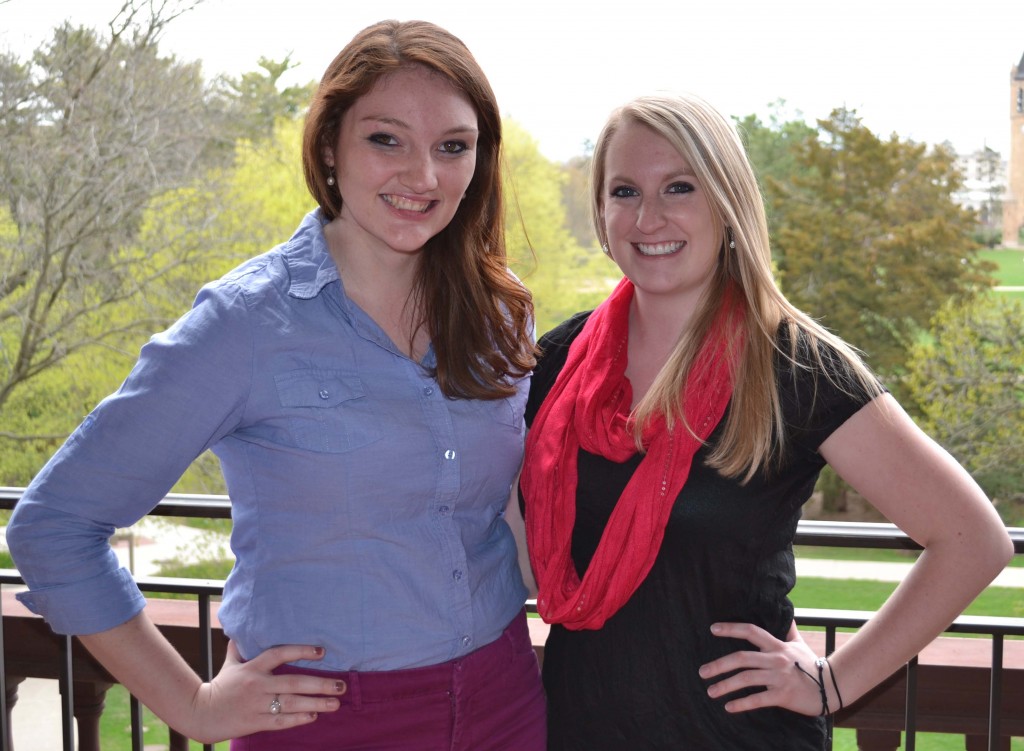 The award recognizes emerging young women who have exhibited outstanding leadership skills and a commitment to social activism or political engagement. The recipients of the award represent a diversity of political and social interests.
Kristine Ahlfield, the center's research intern for its Archives of Women's Political Communication, was one of 20 college women who received honorable mention recognition for their leadership efforts and contributions.
The Carrie Chapman Catt Center for Women and Politics nominated Baker and Ahlfield for the award.
"We are so proud of Sawyer and Kristine for many reasons," said center director Dianne Bystrom. "Both have contributed significantly to the research mission of the Catt Center through their internships. We are pleased that both students received national recognition for their leadership efforts, social activism and political engagement."
Baker graduated in May with a bachelor's degree in political science and sociology. She will attend George Washington University beginning next fall to pursue a master's degree in public administration. Ahlfield, who graduated in May with a bachelor's degree in political science with a minor in journalism and mass communication, will intern this summer in the online communication department of The Heritage Foundation in Washington, D.C.
Throughout her time at Iowa State, Baker has been active in public service to the university and Ames communities. She served as the ex-officio student representative on the Ames City Council, was a Government of the Student Body senator at Iowa State, and interned with the National Foundation for Women Legislators in Washington, D.C.
Baker's interest in women and politics is most apparent in her work for the Catt Center. Since fall 2011, she has assisted Valerie Hennings, the center's scholar-in-residence, as a research assistant through internships funded by Sharon and Dick Rodine of Dallas, Texas, and the Friends of the Iowa Commission on the Status of Women. Through the Rodine internship, Baker has conducted research on women who have run for local, county and state office in Iowa in every election year since 2000. With support of the Friends, Baker has collected data on the gender composition of county and municipal boards and commissions in Iowa. Through her research, she helped create a database that is available on the center's website.
"I'm flattered to be one of 21 recipients selected for this award," Baker said.
During her internship at the Catt Center since fall 2012, Ahlfield has helped compile biographical information and speeches of women political leaders in the United States and abroad for the web-based Archives of Women's Political Communication. The operation of the archives, including the student research internship, is funded through a gift from Mary Jo and Dick Stanley of Muscatine, Iowa.
Prior to her Catt Center internship, Ahlfield was a press intern with U.S. Sen. Chuck Grassley (R-Iowa) in Washington, D.C. She drafted press releases, compiled and organized daily news clips, attended interviews with the senator, summarized meetings for staff and worked on promotional videos.
While at Iowa State, Ahlfield served as a Career Fair ambassador for the College of Liberal Arts and Sciences, was a senior writer for Ethos magazine, was a member of the Public Relations Student Society of America, and was an undergraduate research and teaching assistant for Richard Mansbach, professor of political science.
"To have been nominated for this award is such a great way to end the year," Ahlfield said. "I'm very honored to have received honorable mention."
The 21 award winners and 20 honorable mentions were selected by 51%: Women and the Future of Politics from nominations received nationwide to highlight the commitment, aspirations and potential of women in politics and social change. This theme – changing the future of politics – is also the focus of an upcoming book, "51%: Women and the Future of Politics," to be released later this year by Sugati Publications. The book features exclusive statements from U.S. congresswomen including Rep. Nancy Pelosi (D-Calif.) and former Sen. Olympia Snowe (R-Maine) and many other women leaders as well as comments from men and women across America. The award recipients and honorable mentions will also be recognized in the book as "young women to watch in the future."
A compilation of the recipients' statements, photographs and comments by their nominators was recently published in an online anthology "The Future of Politics and Social Change: Young Leaders to Watch." It is available to the public at no cost for downloading here.
"These college women have distinguished themselves as leaders through social activism or politics at their schools, communities or with statewide or national initiatives," noted Terri Spahr Nelson, author of the upcoming book. "They exemplify passion and characteristics of emerging leaders who are making a difference in our world," she said. "These are some truly noteworthy young women who will lead us into the future."
Published: May 13, 2013