A new leadership course that was developed in collaboration with College of Liberal Arts and Sciences (LAS) Dean Beate Schmittmann for the fall 2012 semester has received positive feedback from the students enrolled. The LAS dean's leadership class continues into the spring 2013 semester.
Evolving from the Dean's Leadership Council, the new class was initiated in fall 2012 with 20 undergraduate students selected by application. The students are gaining insights from Schmittmann into how the university works and are exploring their own personality strengths to help them grow and develop individually.
"With this course, I look to invite guests who will give students food for thought and practical advice for their academic and professional careers – something they can take with them after they leave the university," Schmittmann said. "These students also have the opportunity to develop and grow as individuals in a very interactive course."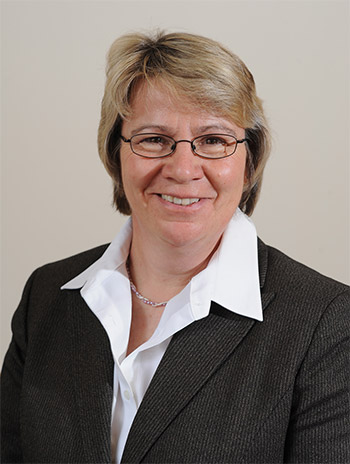 Schmittmann approached staff of the Carrie Chapman Catt Center for Women and Politics in July about re-organizing the Dean's Leadership Council into a for-credit course targeted toward first-year students. That discussion resulted in hiring Tammy Reichelt to co-teach the class with Schmittmann.
A second-year doctoral student in the School of Education studying community college leadership, Reichelt has more than 14 years experience in college student affairs and has taught business courses at three community colleges since 2007. Her research interests are incoming student success and college completion.
"We designed the course to bring first-year LAS students into contact with their dean and learn directly from her," said Clinton M. Stephens, scholar-in-residence for leadership education at the Catt Center. "Students recognized the unique opportunity and have appreciated the efforts of the dean and Tammy in leading this course."
With the first semester of the class now completed, students have responded positively to their experience with the new leadership course.
"The dean's leadership class has been a great experience for my first semester of college," said Zach Dahl, first-year psychology major at Iowa State. "It has helped remind me of all the things I can accomplish through leadership practices."
Students also appreciate Schmittmann's role in teaching the course. "The best part about the leadership class was being in touch with the dean herself," said Varad Diwate, first-year pre-journalism and mass communication student. "It gave me some insight into the dean's responsibilities and the workings of a large institution like ISU. Also, we have had an opportunity to listen to accomplished people from different walks of life."
In addition, participants said they enjoy meeting and making friends with students from a variety of majors. "I met some great friends in the class who have similar goals when it comes to academic achievement and that made my transition to college that much easier," Dahl said. "I have met new friends that I probably would not have met otherwise," added Ropafadzo Matangira, first-year biology major.
The class runs the full academic year for a total of two academic credits, meeting for two hours every other week. Schmittmann brings in outside speakers, shares how the university is organized, and provides insights on leadership from her years of experience in academic administration.
The course curriculum is based on The Leadership Challenge, a research-based book that is accessible with practical applications of the five practices of respected leaders identified by the authors. During the course, students complete a variety of activities including reflections, class discussions and presentations that demonstrate their understanding of key concepts.
By the end of the course, students will understand the university governance structure and the dean's role; engage in co-curricular campus involvement opportunities; confront ethical dilemmas and examine ethical decision-making; learn their own Myers-Briggs personality type; articulate the value of multiple personality types in teams; and reflect on their own leadership practices and how to improve, understand and adopt the five practices of exemplary leadership outlined in their textbook.
Working with Schmittmann, Reichelt and Stephens have begun to plan the 2013-2014 academic year course, modeled off this pilot year. The class will continue to serve incoming LAS students from a variety of leadership backgrounds, reaching beyond the students who were highly involved in high school to all students who are seeking to further develop their leadership capacity.
Published: January 15, 2013