Candy Crowley, CNN's award-winning chief political correspondent and the second woman in history to moderate a nationally broadcast presidential debate, visited Iowa State University on Nov. 13 as the fall 2012 Mary Louise Smith Chair in Women and Politics.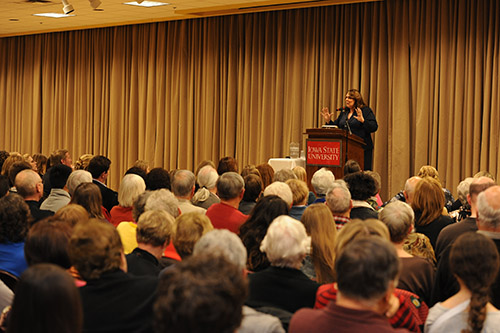 More than 640 people attended Crowley's "Post-Election Analysis" presentation in the Sun Room of the Memorial Union. During her presentation, she dissected the election results and answered questions from the audience. Questions ranged from Crowley's role as moderator of the town hall debate between President Barack Obama and former Gov. Mitt Romney to predictions on who may run for president in 2016.
According to Crowley, Obama was re-elected as the "first president who has won a second term with less popular votes than he had received when he ran for his first term" by turning out more city, minority and youth voters. "Romney won the suburbs, and that's where elections are won. . . . The reason it wasn't enough is because Obama received more votes in the cities than usual, around 69 percent, and minorities and young people turned out in far higher numbers," she said.
Crowley also attributed Obama's win to his ability to connect with more voters and his status as the incumbent. "It was 'OK, who do you like, who understands you best, who are you most comfortable with?'" she said. "And when those are the questions, it tends to favor the incumbent."
Crowley's presentation was slightly delayed due to having to set up more chairs for the audience.
"We expected a crowd, but were delighted by the turnout of people from the university and surrounding communities who came to listen to Crowley's analysis of the election results," said Dianne Bystrom, director of the Carrie Chapman Catt Center for Women and Politics. "In addition to providing a comprehensive analysis of the election results, she was gracious in the time she spent answering questions and meeting with members of the audience after the presentation ended."
Crowley – the anchor of State of the Union with Candy Crowley – is the 23rd prominent woman leader to visit the Iowa State campus through the Mary Louise Smith Chair, which is sponsored and hosted by the Catt Center.
In addition to her public presentation analyzing the election, Crowley led a question-and-answer session with invited students representing the Catt Center's leadership programs and the Greenlee School of Journalism and Communication. She also was honored at a private reception and dinner for Catt Center students and supporters prior to her public presentation.
"I had the honor of introducing Candy Crowley before her lecture and it was an experience I will never forget," said Catt Center student intern Kristine Ahlfield, a senior majoring in political science. "I was able to spend most of the day with her at the forum, and then dinner, and it was great to be able to hear her stories and advice. She was such a great choice for the Mary Louise Smith Chair," Ahlfield said.
"Being able to meet Candy Crowley was a great experience," said Laura Wentworth, a senior in journalism and mass communication and the Catt Center's public relations intern. "I think it's really cool that she answered our questions. She's pretty funny, too."
As part of the dinner in her honor, Crowley answered questions from guests and briefly touched upon her experience moderating the nationally televised presidential town hall debate on Oct. 16, 2012, including some of the "heated" exchanges that occurred between the two candidates.
"The sizing up of each of the men was normal to me," Crowley said. "I raised boys. Their rivalry didn't come across as hot to me in person." She said viewers got more drama.
In her role as CNN's chief political correspondent, Crowley covers a broad range of stories, including presidential, congressional and gubernatorial races and major legislative developments on Capitol Hill. Her assignments have taken her to all 50 states and around the world. Since taking the anchor chair for State of the Union in February 2010, she has interviewed top newsmakers including Vice President Joe Biden; Secretary of State Hillary Clinton; and 2012 Republican presidential candidates U.S. Rep. Michele Bachmann, businessman Herman Cain, former Speaker of the House Newt Gingrich, former Gov. Jon Huntsman, U.S. Rep. Ron Paul and former U.S. Sen. Rick Santorum.
Crowley came to CNN in 1987 from NBC News, where she served as a general assignment reporter for its Washington bureau. She also worked as a general assignment reporter and White House correspondent for the Associated Press. Prior to her current role, Crowley served as a congressional correspondent for CNN. She has been honored with numerous awards for excellence in journalism for her reporting.
Published: January 15, 2013