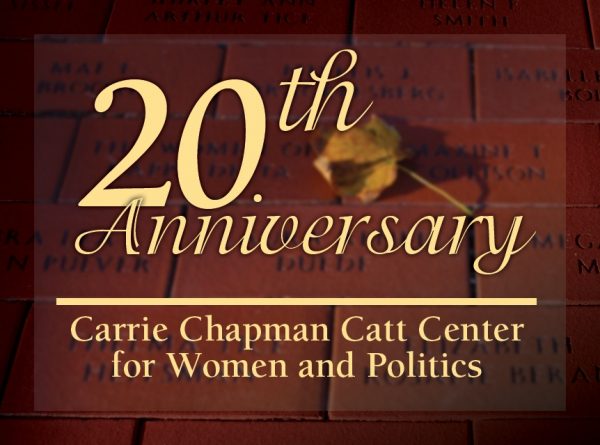 More than 1,200 people helped celebrate the 20th anniversary of the Carrie Chapman Catt Center for Women in Politics in 2012. The 20th anniversary also generated positive publicity for the center and its programs through several Iowa State University publications.
"We were very pleased with the turnout of people from the university and surrounding communities for our 20th anniversary events," said Dianne Bystrom, center director. "We received numerous comments that our anniversary events were educational, informational and inspiring."
The center kicked off its 20th anniversary celebration on Aug. 26, 2012 – Women's Equality Day – with the performance of the one-woman play, The Yellow Rose of Suffrage, by Jane Cox, professor and director of theatre at Iowa State. More than 250 people attended the performance, which was held at the Ames City Auditorium. The play illustrates the life and words of Catt, an 1880 graduate of Iowa State who devoted 33 years of her life to the women's suffrage movement. A tireless organizer and campaigner, Catt served twice as president of the National American Woman Suffrage Association, including in its final successful campaign to ratify the 19th amendment to the U.S. Constitution granting women the right to vote.
"Upon receiving my invitation to attend the show, I questioned how a single woman could possibly command a stage and entertain an audience completely on her own for two hours," said senior political science major Madeline Becker, one of the center's Legacy of Heroines student scholars. "However, as soon as the lights were dimmed, my outlook changed. I was completely engrossed in Cox's performance and was lost in her words. I quickly came to adore Carrie Chapman Catt—words cannot describe how grateful I am for the work of her and others who earned my right to vote."
The Catt Center celebrated the 20th anniversary of its official approval by the Iowa Board of Regents on Sept. 23, 2012, with a reception on the Plaza of Heroines in front of Carrie Chapman Catt Hall. More than 70 people attended the reception, which featured remarks by Elizabeth Hoffman, former dean of the College of Liberal Arts and Sciences (LAS) and former executive vice president and provost of Iowa State, and a performance by the Yellow Rose Singers. Guests also enjoyed anniversary cake, specialty ice cream made by the ISU Dairy Science Club and other refreshments.
"Betsy Hoffman played such an important role in the renovation of Catt Hall, including the Plaza of Heroines, as well as the development of the Catt Center," Bystrom said. "The audience enjoyed hearing about the history of the Catt Center and Catt Hall from Betsy's perspective. She remains one of our most loyal supporters."
The performance of the Yellow Rose Singers – a group affiliated with the Unitarian Fellowship of Ames – also drew positive comments. "It was such a beautiful day for the reception, and the Yellow Rose Singers made it even better," said Valerie Hennings, scholar-in-residence at the Catt Center. "Their creative arrangement using actual speeches set to period music really made the historical significance of the women's suffrage movement all the more meaningful."
Catt Center alumni, donors, students, current and former staff members, and supporters were among the more than 75 people who attended the 20th anniversary reunion reception and dinner on Oct. 26. The dinner featured remarks by Joni Axel, a longtime center donor and supporter from Muscatine, IA; LAS Dean Beate Schmittmann; and center alumni Quincie Ellen Cooper, who graduated from Iowa State in 1999 with a B.A. in sociology, and Liz Ogren Koenig, a 2005 ISU graduate with a B.S. in elementary education. Both Cooper and Koenig were Legacy of Heroines scholars, Catt Associates and Catt Center interns during their time at Iowa State.
"Our 20th anniversary reception and dinner added more personal value to my Legacy of Heroines scholar experience," said Olivia Palmer, a senior biology major. "A scholar from previous years reflected on her past as a student and shared her current experiences as a mother. Graduates like this young woman and gracious donors inspired me to consider what a privilege my time at Iowa State is and how I will contribute to our world after graduation this spring."
The reception and dinner also provided an opportunity for junior physics major Laura Hansen to talk with her Legacy of Heroines scholarship donor, Helen Jensen Howe, of Muscatine, IA. "I found it so inspirational speaking to all these women who are making a difference for the better," Hansen said.
On Nov. 12, the Catt Center hosted a presentation by author Suzanne O'Dea on her new book on Mary Louise Smith, Madam Chairman: Mary Louise Smith and the Republican Revival after Watergate. More than 20 people attended the presentation about the Republican National Committee's first and only woman chair. O'Dea examined Smith's rise and fall within the party and analyzed her strategies for gaining the support of its leaders.
The 23rd woman to hold the Mary Louise Smith Chair in Women and Politics – CNN's chief political correspondent Candy Crowley – spoke to an estimated crowd of 640 people on Nov. 13. In addition to her public presentation analyzing the 2012 election results, Crowley met with invited student leaders affiliated with the Catt Center and Greenlee School of Journalism and Communication for a question-and-answer session and attended a dinner in her honor with students, staff, faculty, administrators and supporters affiliated with the center.
"What an opportunity to have CNN's Candy Crowley visit Iowa State," said Legacy of Heroines scholar Jennifer Musgrove, a junior majoring in interdisciplinary studies. "Personally meeting her and being able to ask her questions during the student leadership forum was an honor. What stood out the most during the forum was her desire not only to speak at length about her career accomplishments, but also to share with us the wisdom that she's gleaned from others. 'Everyone has a story to share,' she reminded us, 'if you'll just listen.' I came away inspired," Musgrove said.
"When I learned I'd be sitting with Candy Crowley during the Catt Center dinner, my heart skipped a beat," Becker said. "The opportunity to hear her speak about her experience covering the 2012 election would have been amazing in itself; having the chance to meet such an accomplished woman personally made for an evening I'll never forget."
Hansen, who attended the dinner and public presentation, also enjoyed Crowley's visit. "When I walked in to the Sun Room and saw a sea of people eager to learn, I knew that this was something special," she said.
The 20th anniversary celebration – and the work of the Catt Center and its programs – was featured in several Iowa State publications – the Alumni Association's Visions magazine; the Foundation's Forward magazine; and the LAS Link magazine. "We very much appreciate the interest and support of our colleagues at Iowa State and their efforts in promoting the Catt Center's 20th anniversary and publicizing how our programs are making an impact on the university and state of Iowa," Bystrom said.
Published: January 14, 2013