Five undergraduate students are working as interns at the Carrie Chapman Catt Center for Women and Politics during the 2012-2013 academic year. Student interns assist the center in a variety of activities, including the Archives of Women's Political Communication, Women in Iowa Politics database, Plaza of Heroines, public relations, events planning and research.
"We continue to rely on students – most of whom are funded with private money – to help with the operations and programs of the Catt Center," said Dianne Bystrom, director. "Not only do our student interns assist with the activities of the Catt Center, they also receive mentorship from our faculty and staff."
Student interns for 2012-2013 are:
Kristine Ahlfield, a senior in journalism and political science, is a research intern working with the Archive of Women's Political Communication. "I look for newly elected women and their political speeches to add to the archives as well as update existing profiles."
Ahlfield, who is from Donnellson, IA, has been involved in many activities at Iowa State including Ethos magazine as a senior writer, an active member in Students Helping Rescue Animals, and the ISU College Republicans. She is also working as an undergraduate teaching assistant for the "Introduction to International Relations" class.
"The Catt Center is such a great resource for students who have an interest in politics or are looking to be politically involved," Ahlfield said. "I am very excited to be working at the Catt Center this year and to help it keep growing."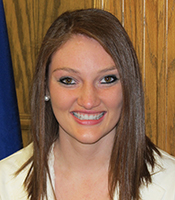 Sawyer Baker, a senior majoring in political science and sociology from Altona, IL, is the Alice Rodine intern in community activism. She researches the status of women in Iowa politics at the federal, state and local level for the center's Women in Iowa Politics database. She also holds the Jane Greimann Legacy of Heroines scholarship.
Baker serves on the Ames City Council as the Iowa State ex-officio student representative and is an active member of Kappa Alpha Theta sorority. She also has been involved with the Government of the Student Body. She has worked at the Catt Center since the fall 2011 semester.
"My internship has not only opened my eyes to the status of women in Iowa politics, but it has also given me an opportunity to contribute to the land grant mission of Iowa State University," Baker said.
Katherine Marcheski, a junior in journalism/mass communication and Spanish, is from West Dundee, IL. Her public relations internship at the center includes writing for its Voices newsletter and other publications and assisting with the Carrie Chapman Catt Prize for Research on Women and Politics.
Marcheski is also a community advisor in Helser Hall, humanitarian awareness director on the International Student Council, an active member of the coeducational service-based fraternity Alpha Phi Omega, and a member of St. Thomas Aquinas Catholic Church. She is studying abroad in Seville, Spain, in the spring 2013 semester. This is her second semester working at the center.
"I love working at the Catt Center," Marcheski said. "It's been a great way to meet leaders on campus and to be involved in the different projects offered through our center."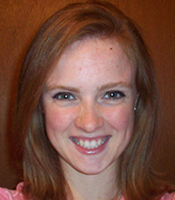 Sarah Synovec, a junior in marketing from Cedar Rapids, IA, works on the center's Plaza of Heroines database, editing and entering biographical information on the women honored. This is her second semester interning at the center.
Synovec was a two-year member of the Iowa State marching band, where she played trombone. Last year, she worked to help raise $27,000 for the St. Thomas Aquinas Church's annual Making a World of Difference auction and dinner. Synovec worked two internships with Rockwell Collins before coming to college, and has studied abroad in London in the summer of 2011.
"It is great to work with a wonderful group of people, and I love reading about the women whose biographies I edit," she said.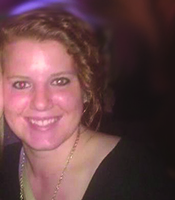 Laura Wentworth, a senior in journalism/mass communication with a minor in political science from Maquoketa, IA, is the center's public relations and events planning intern. This is her second year working for the center.
Wentworth is a Hixson peer mentor for the 2012 cohort and is in charge of teaching a recitation class to about 12 students to help them get to know their fellow Hixson peers and inform them about resources on campus. After graduating from Iowa State in May 2013, Wentworth plans to attend law school.
"I enjoy working at the Catt Center because of the projects and events that I get to plan and participate in," she said. "Plus, my internship is a great networking tool."
Published: September 4, 2012