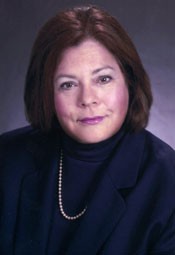 Barbara Marie Mack, or "B-Mack" as she was affectionately called by her students, unexpectedly passed away on Aug. 23 at her home in Des Moines, IA. She was 59.
Mack was a member of the Catt Center's Sapphire Club and attended many center activities and events, especially those involving students.
Mack was born on Oct. 26, 1952, to Eddie and Helen Mack in Des Moines, IA. She graduated from Iowa State University in 1974 with a bachelor's degree in journalism, and later worked at Iowa State for 26 years as an associate professor and assistant director in the Greenlee School of Journalism and Communication.
While a high school student at St. Joseph's Academy in Des Moines, Mack began her journalism career by working as a copy courier for the Des Moines Register & Tribune in 1969. She was promoted to reporter in 1971, blazing the trail for Register women covering courts and crime news. She became increasingly more aware and dedicated to the issues of the First Amendment and, in 1975, helped found the Iowa Freedom of Information Council, a media organization intended to demand honesty and openness from the government and political organizations.
This new passion led Mack to pursue a law degree, which she received in 1977 from Drake University. She also met her husband, Jim Giles, while attending law school. Mack joined the Register & Tribune Company's legal team following her graduation from law school and was promoted to serve as its general counsel from 1982 to 1986.
Mack joined the Iowa State journalism faculty in 1986. From 1991 to 1994, she worked in the President's Office as executive assistant to Martin Jischke. As a faculty member, Mack taught classes across the spectrum – from basic journalism for first-year students through media law and ethics for juniors and seniors. She served as an Iowa State Daily board member since 1999. Mack was on phased retirement, and intended this semester to be her last teaching.
Throughout her career, Mack was recognized for her teaching and service. She received the College of Liberal Arts and Sciences Outstanding Introductory Teaching Award in 1995 and its Master Teacher Award in 2000. In 2011, Mack received the Iowa State Alumni Association's Award for Superior Service and was named the Louise Noun Visionary Woman by the Young Women's Resource Center. She also remained active in her community and most recently chaired the Editorial Integrity Committee for Iowa Public Television.
Mack lived her life passionately in all aspects. She was known for her demanding yet engaging teaching style, sense of humor and warm laugh.
Two memorial services were held for Mack. On Sept. 7, faculty, staff and students gathered on Iowa State's central campus to remember Mack. Students wrote memories and messages in "bluebooks," which were used in her law class, to give to her family. A memorial service was also held on Sept. 9 at Hoyt Sherman Place in Des Moines.
Memorial contributions may be made to the Greenlee School of Journalism and Communication, Hamilton Hall, Iowa State University, Ames, IA 50011; Friends of Iowa Public Television, 6535 Corporate Dr., Johnston, IA 50131; and the Animal Rescue League of Iowa, 5452 NE 22nd St., Des Moines, IA 50313.
Published: September 4, 2012