The Catt Center's academic leadership development programs continue to grow with the addition of new staff members.
Under the direction of Clinton M. Stephens, the new scholar-in-residence for leadership education, enrollment in LAS 222, "Leadership Styles and Strategies in a Diverse Society," is substantially expanding. Also, a new leadership course has been developed in collaboration with Dean Beate Schmittmann, College of Liberal Arts and Sciences (LAS), with Tammy Reichelt hired as a graduate teaching assistant.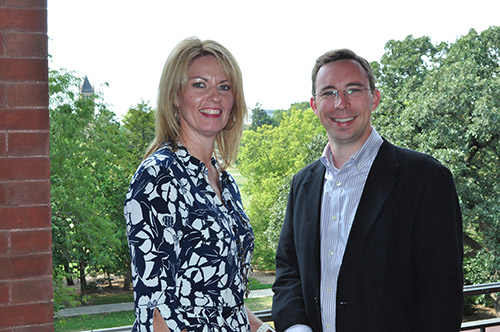 Stephens and Reichelt began their positions on Aug. 16. Through collaboration between the Catt Center and the College of Engineering, Stephens' lecturer appointment is in the Department of Industrial and Manufacturing Systems Engineering. His responsibilities include directing the undergraduate certificate program in community leadership, teaching its flagship LAS 222 course, and continuing his research on leadership development of college students.
Reichelt was hired with funding from LAS to help teach a newly developed Dean's Leadership Class with Schmittmann, who approached the staff at the Catt Center in July about re-organizing the Dean's Leadership Council into a for-credit course.
Stephens, who served as a predoctoral teaching assistant at the Catt Center while completing his doctoral dissertation in 2011-2012, has 10 years of experience working with college students. His research on student leadership development focuses on assessing the effectiveness of courses or workshops to develop participants' leadership skills.
"We expect college students to pick up all these leadership skills while they spend four to five years in college, but we rarely openly address them with most students," Stephens said. "In the community leadership program, we directly teach the skills that we expect students to graduate with. I'm honored to be joining the program with the Catt Center and having the opportunity to help Iowa State students further develop their leadership skills."
Enrollment in LAS 222 has grown substantially and is at record levels this fall. Since 2010, the course has grown from 20 students in one section per academic year to 132 students enrolled in four sections of 33 students each this academic year. Students in the course study leadership theories and develop their own skills through practice and reflection activities.
In the new Dean's Leadership Class, students will gain insight into how the university works and explore their own personality strengths to help them grow and develop individually. The class will run academic year-long, starting in the fall semester and continuing in the spring semester as a one-credit-hour course, for a total of two credits.
Reichelt, a second-year doctoral student in the School of Education studying community college leadership, is "well positioned to support Dean Schmittmann in teaching leadership skills to incoming college students," Stephens said. Reichelt has more than 14 years of experience in college student affairs and has taught business courses at three community colleges since 2007. Her research interests are incoming student success and college completion. "I'm looking forward to working with Dean Schmittmann and the Catt Center staff to develop the students' leadership skills" Reichelt said.
In addition to the new Dean's Leadership Class and growing enrollment in LAS 222, other changes are underway with the Catt Center's academic leadership development programs. A proposal has been submitted to move LAS 222 to a 300-level course to better reflect content and expectations.
"During the past two years, the course has had increasing expectations of students in the class, including writing four papers and also participating in three team projects," Stephens said. "These additional requirements have helped students gain even more from the course, and changing the course number will indicate this higher level of learning."
Also, to reach more students, LAS 222 was offered for the first time as an experimental online class this summer with 20 students enrolled from Minnesota to Texas. "We totally redesigned every lesson from the ground up with the online format in mind," Stephens said. He and Julie Snyder-Yuly, the former assistant director of the Catt Center, delivered the course with interactive components like team meetings on video chat, engaging discussion boards, and interactive video clips to which students commented on observed leadership behaviors. Student feedback was highly positive. "It wasn't like any other online course where I just read textbooks and took tests," said Jim Thomas, a sophomore in early childhood education.
The community leadership certificate program is on track to continue reaching more students. Stephens has been invited to speak to several classes and student organizations to both teach leadership skills and promote the community leadership certificate program. During his first semester, he is reaching out to partners in every college to identify additional courses to add as electives that will count for the community leadership certificate.
Stephens is also developing experimental leadership courses to propose. These course additions – along with the two new staff hires, growing enrollment in LAS 222, and development of the LAS Dean's Leadership Class – will broaden Iowa State's leadership development curriculum and move the community leadership certificate program forward.
Published: September 4, 2012